Why Use Animal Feed Making Machine
Any farmer would know that feeding thousands of animals like livestock, poultry is more than just a day's work. Single handedly this task would a physically exhausting (and mostly impossible) for even the most healthy and active farmers or livestock owners. Furthermore, owners of such huge numbers of animals like livestock, poultry would certainly have to hire a significant amount of help just to keep them feed and alive. Finding hundreds of workers to help take care of the cattle is firstly difficult in itself. Plus, immense time and effort would be needed on the part of the owners to show them how prepare feed for the animals.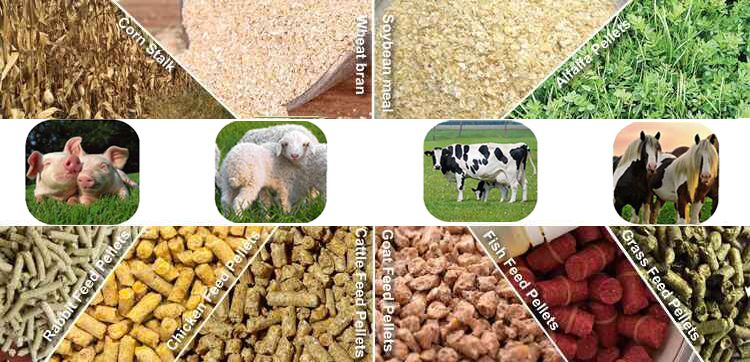 Secondly, farm owners would need to invest a lot of money not only to pay the laborers, but also invest in space for their food and lodging. Fortunately, in today's modern age of technology, all the owner needs to do is
buy animal feed making machines to prepare sufficient feed
needed for his animals on a daily basis.
Competition in the global market significantly grows innovation that has brought a variety of products. The market deals with several animal feed making machines. These animal feed making machine is highly appreciated by users around the world. This has seen significant demand for feed suppliers and thus a major result of the same as machine manufacturers. The feed pellet machine always used to feed pellet line.
How To Build An Animal Feed Pellet Plant?>>
How to choose animal feed making machine

animal feed making machines
When you go out to buy any kind of pellet feed machine, there are several things that you should consider. These reasons will help you to find out the specific details of the machine you want to buy. Using this information, you will be able to find the machine you want from a huge animal feed making machine type available. Some of the key factors to consider include:
First of all, according to different types of animals, such as poultry pellet feed, is mostly concentrated feed, and feed pellet machine is suitable for producing better granulation effect. The other is to determine how much production you need to choose what kind of feed pellet machine you need. For example, the flat mould pellet making machine is suitable for small production, and the ring model pellet machine is suitable for large production.
Second, make sure the animal feed pellet mill you use will be used for your desired purpose without any difficulty. You should consider the animal feed machine supplier among many others. You can visit the feed making machine manufacturers, make sure them have a perfect after-sales service system. Ask as many questions as possible. You can ask about manufacturers of feed pellet making machines and suppliers so they can be safe.
Get In Touch
We receive enquiries in
English, Español (Spanish), Русский язык (Russian), Français (French) and العربية (Arabic)
. Our professional team will reply to you within one business day. Please feel FREE to contact us!