Special Mobile Feed Mill for Small Scale Fodder Production
Applications for Mobile Feed Mill
The demand of people for meat has been increased a lot recently, leading the development of breeding industry, with many small scale breeding factories has been appears like mushroom after rain. However, that results feeding problem, traditional feeding method of "feed what you have" couldn't meet the requirement of their growth, and the nutrition demand can not be full, thus, many farmers chose to make feed by themselves.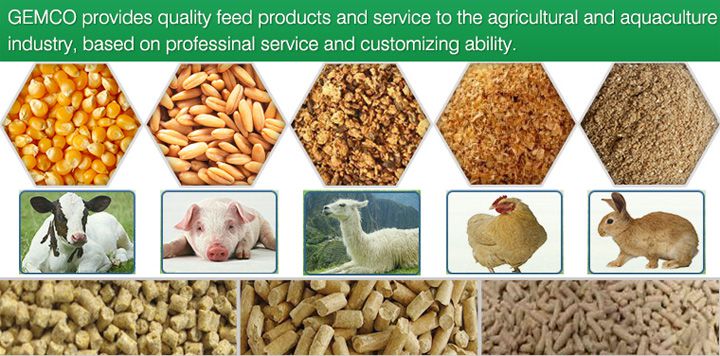 Mobile feed mill
,
as one type feed production equipment, making various raw materials into nutritional animal diet, is widely used for making animal fodder at home, on poultry farm, livestock farm, individual farms, in small scale animal feed factory, small ranch, aquaculture factory etc.
You can easily move it to any where that you like due to its small size and small weight.
Machinery Characteristics of Mobile Feed Mill
Generally,
mobile feed mill mainly means the small pellet mill based on the flat die design
, it is composed of feeding hopper, main shaft, pelleting die and pressing roller etc. Due the different rotating style, mobile feed machine is divided into two types, including D-type adopting rotary die and fixed roller and R-type adopting rotary roller and fixed die.
The mobile feed mill has a strict requirement for the raw material, it should be in the proper size less than the die hole diameter and moisture content ranging from 12% to 15%. If your materials can not meet the requirement, we also provide the hammer mill and dryer for mating your production.
The raw materials enter into the mobile feeding mill under their self-weight, after they are placed on the pelleting die of the pelleting chamber, the roller starts to press the raw material together with the die under the power transmission from the main shaft. Under the high temperature and compression between the die and roller, the lignin inside of the raw material will glue other part together, then the loose raw materials is easy to form into cylinders through the die hole. Due to its application in small scale feed production, the production capacity if this mobile fee mill ranges from 60kg/h to 800kg/h, meeting the daily requirement of animals.
Additionally,
we have a portable feed plant which can be called mobile feed mill as well
. It is designed with compact structure, complete related machines, covering a small area, thus the users can move this portable feed plant as a whole to any places that the users like. (
How to build feed plant?
)
Main Type of Mobile Feed Mill
| | |
| --- | --- |
| | |
| Electric feed pellet mill (ZLSP B/C series) | Diesel feed pellet mill (ZLSP A series) |
| | |
| PTO feed pellet mill (ZLSP P series) | Gasoline feed pellet mill (ZLSP Q series) |
More Feed Mill Parameters>>
Superiorities of Mobile Feed Mill
Wide raw material range. Various raw materials can be made into feed through the mobile feed machine, such as, grass, alfalfa, cabbage, corn, maize, soybean, straw meal, oil cake, filed pea, wheat, rice husk, rice bran etc, and you can add with vitamin agents if it is needed.
Wide applications. The mobile feed mill can make feed for many animals like chicken, horse, cattle, rabbit, goat, deer, pig, pigeon, fish, goose duck, sheep etc, even for the pet.
Mobile feed machine is equipped with four kinds of drives, including electric motor, gasoline engine, diesel engine and PTO, suitable for the fodder production in different regions, whether you make animal feed on farm, or at home, or in feed factory.
Compressed in the pelleting chamber, the finished feed is produced with high density, bright surface and full internal maturation degree resulting the death of common pathogenic microorganism and parasite, easy to digested by animals, having higher economical efficiency than the mixing powder feed.
The mobile feed mill is manufactured with thicker machine shell and strengthening rib, replacing the traditional technology, making sure the machine shell can not be break easily and stable machinery running.
Want to make feed for your animals with our mobile feed mill? Please contact us for more information.
Get In Touch
We receive enquiries in
English, Español (Spanish), Русский язык (Russian), Français (French) and العربية (Arabic)
. Our professional team will reply to you within one business day. Please feel FREE to contact us!