Wood Pellet Production Line: Journey to Profitability and Sustainability
Wood pellets are often used as a sustainable and renewable fuel made from waste wood materials. On the one hand, by being carbon neutral, they assist to reduce reliance on fossil fuels, reduce pollutant emissions, enhance air quality and human health, and combat climate change. On the other hand, wood pellet fuels are energy efficient, providing affordable heating and reducing energy costs. In summary, wood pellets are diverse and give numerous benefits to mankind.

Wood Pellet Production Line for Sale
What Can Wood Pellet Feedstock Consist of?
The raw materials for wood pellet production mainly come from wood and wood waste. The following are commonly used raw materials for wood pellet production of biomass pellet plants:
Logs: Fresh, unprocessed logs such as pine, birch, and willow are common feedstock for wood pellets. These logs are usually cut and treated to suit the size and moisture content of the pellet mill.

Sawdust: Fine wood chips produced when wood is sawed through a sawmill are widely used in wood pellet production.

Branches, Leaves and Bark: These come from trees and are usually by-products of tree felling and pruning.

Wood Chips and Chippings: Wood chips and chippings from wood processing are one of the most widely used feedstock. These wood chips and chippings can come from wood processing plants, furniture manufacturing plants, wood product processing plants etc.


Feedstock for Wood Pellets
---
Making wood pellets for fuel by using wood chips, sawdust branches and bark to produce wood pellets is a good way to reuse waste. It can not only reduce the waste of wood resources and improve the efficiency of resource utilization, but also improve economic returns, optimize the local energy structure as renewable fuel and protect the environment.
From F
eedstock to W
ood P
ellet V
alue E
nhancement
| Stage | Price(Currency Unit/Ton) | Value Enhancement |
| --- | --- | --- |
| Raw Material | 100 | Low value wood chips |
| Processed into Wood Pellets | 150 | Dried, pressed and sieved |
| Fuel and Energy Application | 200 | Substitute for fossil fuels and provide clean energy |
| Biomass Heat Utilization | 250 | Fuel for thermal equipment such as boilers and power plants |
| Household Heating and Cooking Use | 180 | Renewable fuel to replace traditional firewood or coal |
| Industrial Application | 300 | Used to produce products such as wood graphite, bioplastics, pulp, etc. |
| Reduction of Waste and Environmental Benefits | - | Utilizing waste wood, reducing landfill and air pollution |
(Please note that these prices are hypothetical based on multi-country market and can vary depending on various factors such as location, market demand, and availability of raw materials.)
Contact us for free to learn more about the raw materials for wood pellets and the market potential in your area!

How Does the Location of the Wood Pellet Plant Affect Profits?
These are some of the important factors affecting the location of a wood pellet production plant. Considering all these factors together can lead to the selection of a suitable location for sustainable development and profitability.
Site selection needs to consider whether there is an adequate supply of timber resources nearby. And the distance from the raw material supply will affect raw material price, production costs and transportation efficiency.
When choosing a site, you need to consider compliance with relevant policies and regulations to ensure the legality and sustainability of your production activities. It is also important to note that a number of countries and regions have supportive policies in place. For example, Canada, the United States, Australia, and European countries have policies to promote the establishment and development of wood pellet production plants for the dual purpose of increasing local economic revenues and developing renewable energy sources.
Labor and Human Resources
Whether there are enough skilled labor and related industry professionals near your wood pellet production plant to support the smooth running of production activities.
The proximity of the market in which the product is to be sold and the potential demand needs to be taken into account when selecting a site. Choosing a location that is closer to the main sales markets can reduce transportation costs and time and better meet market demand.
What Is a Complete Wood Pellet Production Line?
Wood pellet production line mainly includes five wood pellet production process. They are raw material treatment, granulator, cooling and screening, drying, storage and packaging.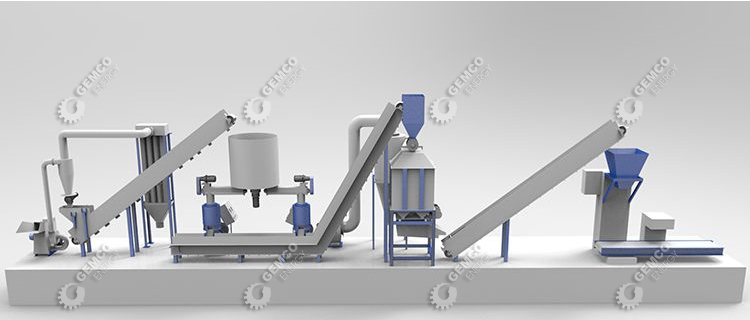 Wood Pellet Production Line in Small Plant
Raw Material Handling: Raw material handling is the starting stage of wood pellet production line. In this stage, raw materials such as wood chips, chippings or sawdust are cleaned, crushed and dried to ensure that the quality and moisture content of the raw materials meet the requirements for pelletizing.

Pelletizer: The wood pelletizer is the core equipment of the wood pellet production line. It feeds the pre-treated wood raw materials into the wood pellet maker for pressing and extruding, which heats the raw materials to a high temperature state and extrudes them through the holes of the mold to form wood pellets.

Cooling and Sieving: The pelletized wood pellets need to be cooled to reduce the temperature and increase the hardness and stability of the pellets. The cooled pellets are then passed through screening equipment to remove those that do not meet specifications.

Drying: Drying equipment is used to dry the moisture-laden pellets to reduce the moisture content and improve the quality of the pellets. Common drying methods include direct hot air drying and indirect hot air drying.

Storage and Packaging: The finished wood pellets need to be stored and packaged. Storage equipment, such as storage bins or silos, is often used. Packaging equipment is used to package the pellets in bags, bulk or containers for shipment.

Free consultation on our wood pellet production lines and wood pellet machines!

How to Select Ideal Wood Pellet Production Machine Manufacturer​?
When searching for an ideal wood pellet machine for sale supplier, there are several key factors to consider. Firstly, assess the supplier's reputation and experience in the industry. Secondly, evaluate the quality and efficiency of their wood pellet production machines. Additionally, consider the supplier's after-sales service, including technical support and warranty options. Finally, compare prices among different suppliers to ensure you are getting the best value for your investment. (Related to Gemco Pellet Machine Price>>)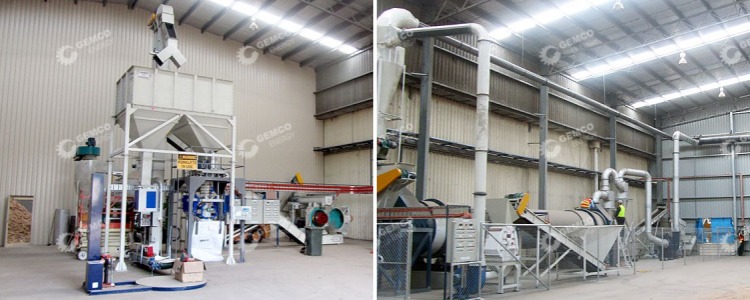 Small Scale Wood Pellet Production plant in Australia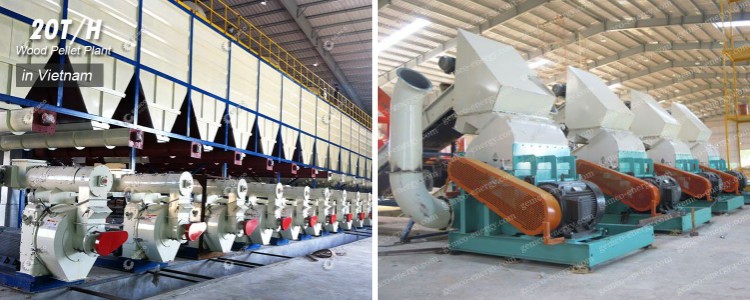 20 Ton/Hour Large Scale Wood Pellet Plant in Vietnam
GEMCO ENERGY, a professional biomass pellet mill manufacturer, has been in business for nearly 30 years. During these years, our pellet machines have been exported complete wood pellet production lines for sale to many countries and regions, such as Australia, Bulgaria, UK, Bulgaria, Vietnam, Malaysia, Serbia, Morocco, etc. and have been well received. Our pellet machines are known for their high performance and durability at a low investment cost and are popular for our comprehensive after-sales service to solve all questions of wood pellet production process, both online and offline. Therefore, if you need to buy a machine to start your wood pellet production business plan, we would be an ideal supplier of wood pellet production equipment to meet your needs and expectations of complete wood pellet production line for sale. (Related to Biomass Pellet Plant Projects>>)
Get In Touch
We receive enquiries in
English, Español (Spanish), Русский язык (Russian), Français (French) and العربية (Arabic)
. Our professional team will reply to you within one business day. Please feel FREE to contact us!