mobile pellet plant
Are you interested in biomass pellet fuel industry or interested in starting animal feed pellet making business? If yes, here introduces our one-in-all multi-functional mobile pellet plant that is the most popular equipment of GEMCO Pellet Mill. It can turn various raw materials into high quality pellets, including sawdust, miscellaneous wood, scrap wood, straw, peanut shell, grass, etc. (Read more: Poultry Feed Manufacturing Plant Cost >>)


High Quality Pellets Made by Mobile Pellet Machine
Latest Mobile Pellet Plant for Sale
Mobile pellet plant is our latest multi-functional biomass pellet production line that is designed and developed on the basis of integration of advanced foreign technology and through full understanding of the users's multi-level demand. After being selling on the market, it is welcomed by many European and American customers due to its superior performance and user-friendly operation.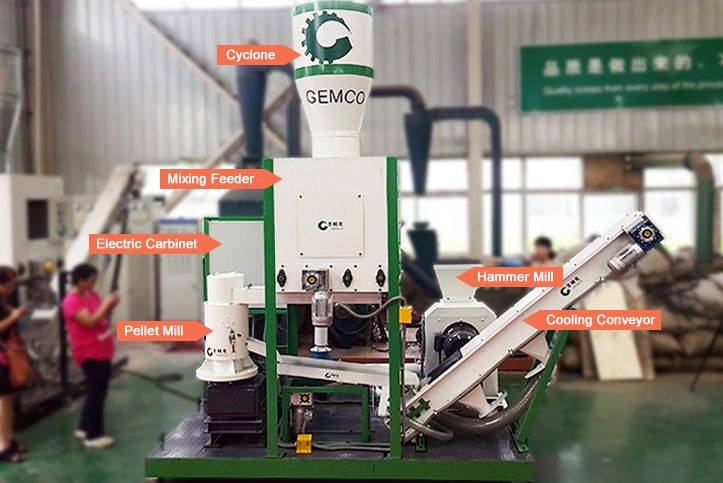 GEMCO Mobile Pellet Mill for Sales
This mobile pellet mill is combined with crushing, mixing, conditioning, pelletizing, cooling and other functions. It can produce both biomass pellets and animal feed pellets. so it can satisfy the needs of different users and also the BEST equipment to own your own business in biomass pellet manufacturing industry or animal feed pellet making industry. (Read more: Biomass Pellet Machine Manufacturers >>)
Specifications of GEMCO Mobile Pellet Mill Plant
| Model | MPL300/MPL400 |
| --- | --- |
| Pellet diameter | 6-12mm |
| Capacity | 250-350kg/h or 350-450kg/h |
| Pellet density | 1.1-1.3t/m3 |
| Moisture content of raw material | ≤8% |
| Overall size (L*W*H) | 3500*1960*3500mm |

Main Parts of Mobile Pellet Production Line
Hammer Mill, FSCP450D, 15kw
Hammer mill
is designed to crush the raw materials since it should be less than 20mm diameter. After crushing, the material to make biomass pellet can be 3-5mm in diameter. The crushing blades of our
mobile pellet machine
are made from high-carbon alloy steel for durable use and high efficiency. Two safety locks are installed on both sides of the shell to guarantee safe operation.The feeding hopper applies a fence to prevent over-sized material feeding into the crushing chamber and at the same time prevent operators' hands from being hurt.
Material Mixing & Storage Bin, 0.75kw, 1m3
By using frequency converter, the feed-in capacity of our pellet mill machine can be also adjusted consistently and stably, which not only assures sufficient supply of raw materials, but also avoids surplus feedstock, so the mobile pellet machine can work under perfect condition.
Pellet Machine, ZLSP300B R-type, 22kw, or ZLSP400B R-type, 30kw
The R-type pellet machine is especially excellent in processing hardwood pellets. It main parts are made by high quality alloy steel and treated by hardening process. The wearing parts roller and die can be used for at least 800hours in production. The diameter of pellets can be chosen from 6-12mm in diameter. All of bearings use fully sealed structure to prevent dust. (Related post: Wood Pellet Machine for Sale >>)
Vibrating Sieve, SFZD300D, 0.37kw
Used to remove & collect the dust and powder or brocken pellets and at the same time cool the pellets to lower temperature. Usually these collected particles can betransported back to the storage bin for reproduction. (Related equipment: Wood Pellet Cooler >>)
Scraper conveyor, CSGB145D, 0.75kw
The length and height of this conveyor is adjustale to meet actual production requirement. It is also used to cool the pellets.
Mobile Pellet Mill for Sales
Buy High Quality Mobile Pellet Plant for Biomass Pellet Making: Hot Sale Mobile Pellet Plant Offered by Mobile Pellet Mill Manufacturer or Supplier, Guide on Process of Mobile Pellet Production and How to Start Biomass Pellet Manufacturing Business with Limited Cost in Tanzania, Egypt, Morocco, Ghana, South Korea, etc.
Why Choose GEMCO Mobile Pellet Plant?
The mobile pellet plant made by GEMCO is superior to those made by other manufacturers, since: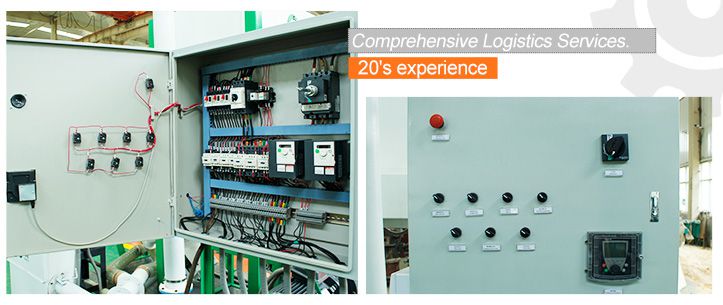 Electrical Parts of Mobile Pellet Production Plant
It has small size:
about 3.5*2*3.5m2. All its components are installed on one foundation frame base: hammer mill, cyclone separator, storage bin, screw conveyor,
ZLSP300B R-type pellet mill
, vibrating screen, scraper conveyor and electric cabinet. So it is also flexible to move.
It integrates crushing, pelletizing, cooling and conveying processes all in one, which greatly shortens production time, saves production and labor cost.
It applies all high quality materials: Schneider Electric electronic components, high steel alloy and heat processing.
Humanized design is adopted to protect operator safety. Dust proof technology is also applied to prevent dust during production.
Get In Touch
We receive enquiries in
English, Español (Spanish), Русский язык (Russian), Français (French) and العربية (Arabic)
. Our professional team will reply to you within one business day. Please feel FREE to contact us!