Flat Die Pellet Mill
As the consumption of pellets increased in the world, different manufacturers started producing pellet mills of different designs so that people could produce pellets of different designs for different purposes. Two common types of pellet mills are Flat Die Pellet Mill and Ring Die Pellet Machine. Their names suggest the difference in the designs of their dies. Both pellet mills work on different principles as well.


Pellet Production Machine
Flat Die Pellet Mill for Sales
Flat die pellet mill is mainly composed of press roller, flat die, feeder, gear bearings and power source. Roller and flat die are used for the pelletizing process. Flat Die Pellet Mill Machine can be of two types; one is the type in which roller rotates and the other one is the type in which die rotates. The selected raw material is poured from the above into the pelletizing chamber where it is compressed in between the roller and die. A knife cuts the pellets coming out of the holes of the flat die and compressed or dense pellets start coming out of the machine within a few seconds. They are collected in a large container and then stored for future use. (Related Post: Gemco Pellet Machine Price >>)
Flat Die Pellet Mill is a Popular Type of Pellet Mill for Sales on the Market:
► According to the power supply, there are 4 types of flat die pellet mills: electric pellet mill, diesel pellet mill, PTO pellet mill and gasoline pellet mill.
► Depending on the usage of pellets, flat die pellet mill can be divided into biomass pellet machine and animal feed pellet machine.

Flat Die Pellet Mill to Make Biomass Pellets
Biomass has been used for energy production for many years. Consumption of fuel has caused many environmental issues in the globe so now people are shifting towards the usage of environmentally friendly biofuels (biomass pellets). They are cheap, easily available, and eco-friendly sources of energy. Biomass pellets are formed of the animal and plant materials. In the biomass pellet production process you can convert waste into useful products that are used for heating purposes at domestic and industrial levels.
Biomass pellet mill can make pellets from biomass waste like wood, sawdust, peanut shells, bagasse, etc. to be used as fuel for heating, cooking, BBQ or animal bedding, cat litter, and so on. It is widely used in farms, wood pellet production line, furniture factories, homes, and many other places to save cost or start new business.


Buy Biomass Pellet Mill
If you are planning to produce biomass pellets, but have related knowledge on how to make high quality biomass pellets, whether your materials are suitable or not for biomass pellet production, or how to choose a suitable biomass pellet mill machine? You can just contact us, we have professional team in charge of the before-sales, in-sales and after-sales. We also provide raw material testing report if needed. Our equipment has been exported to many countries, and in some countries, there have our representative or agency. We always try to provide you the BEST pellet mill machine at factory price.


Factory Price Biomass Pellet Machine
Flat Die Pellet Mill to Make Animal Food Pellets
With increasing awareness of balanced nutrients for animals, more and more farmers tend to buy high quality animal feed pellets for their poultry, cattle/dairy, goat, fish, and more. Pelleted animal feed not only contain sufficient nutrients for the healthy growth of animals, but also is also great on storage, sanitation, transportation. Therefore, more and more farmers who raising chickens, cattle, goat, fish are trying to make their own animal feed pellets or buy high quality food pellets at relatively cheap price. (Related Post: Poultry Feed Manufacturing Plant Cost >>)
Flat die feed pellet machine is a very convenient small commercial feed pellet mill for farmers who cultivate cattle or livestock like rabbit, duck, pig, cow, chicken, sheep, and others. The feed pellets made by this feed pellet making machine are better than raw feed, since the pellets can better integrate all nurtritions together and prevent unbalanced animal nuitrition.

Animal Feed Pellet Making Machine for Sales
Flat Die Pellet Mill Machine Testing Video
Buy High Quality Flat Die Pellet Mill for Biomass Pellets or Animal Feed Pellets Making: HOT Sale flat die pellet mill offered by pellet production machine manufacturer or supplier, Guide on process of pellet production and How to start biomass pellet business or animal feed pellet making business with limited cost in Tanzania, Egypt, Morocco, Ghana,South Korea, etc.
Flat Die Pellet Mill Advantages
Flat die pellet mills have their own advantages that make them very useful for small pellet plant. Some of the worth mentioning advantages are given below.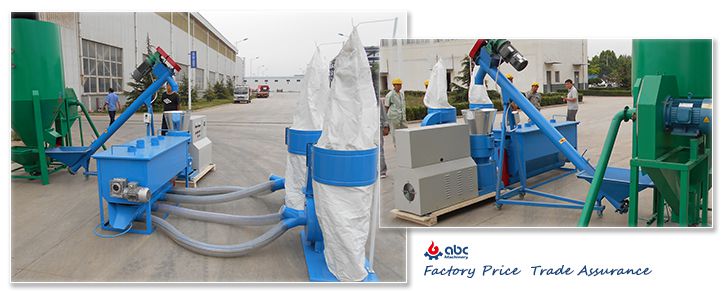 Small Pellet Mill Plant
Flat die pellet mills have a layout that is compacted and simple. It is smaller in size and also lighter in weight as compared to other types of pellet mills. Due to which their transportation to different places and placement in a compacted area both are comparatively easy for a small scale production business.
Due to the structure of the machine, rollers, and die, flat die pellet mills are easy to be washed, cleaned, and looked after as compared to the other types of pellet mills where you would have to put extra care and attention to clean the whole apparatus.
Pelletizing chamber can be easily observed which makes it more convenient for the workers to observe the whole process of pellet formation. If a flat die pellet mill is not producing pellets or is producing a very small amount of pellets even after adding enough amount of raw materials, then the workers can easily determine whatever the fault is in the machine. They don't have to open the whole mill to observe the process as it is visible even without it.
It is said that flat die pellet mills have a high level of tolerance as compared to round die pellet it. Their tough design and body structure make them able to produce pellets of different raw materials that have variable characteristics. Flat die pellet mills are robust and strong to tolerate different materials.
Its structure is very simple and you don't have to spend a lot of time to first understand it and then start operating it. You can easily maintain the performance of flat pellet mills by changing their rollers and dies whenever you think there is a need.
Advantages and disadvantages of wood pellet fuel3
Advantages
transportable to areas with high energy demand density because of its high energy density
ideal for closed renewable energy system
possibility to be an alternative for energy system from smaller to larger scale
Disadvantages
need storage capacity three times as large as oil's
Get In Touch
We receive enquiries in
English, Español (Spanish), Русский язык (Russian), Français (French) and العربية (Arabic)
. Our professional team will reply to you within one business day. Please feel FREE to contact us!