PTO Pellet Mill
GEMCO is the first pellet mill machine manufacturer to USES PTO power in China. PTO pellet mill can be directly connected to the tractor when it is inconvenient to use electricity outdoors. It is movable, easy to install and operate, which make it a good choice for outdoor biomass wood pellet processing. (Read more: Biomass Wood Pellet Machine >>)

Biomass Pellet Making By PTO Pellet Mill
PTO Pellet Mill for Sales
PTO pellet mill is also a popular type of mini pellet mill for farm use. PTO is the abbreviation of Power Taken Off, which means PTO pellet mahcine should be connected with a tractor and driven by the tractor. It is especially suitable for who has already got a tractor. The power you choose for the pellet mill PTO should be in accordance with your tractor. (Related Post: Farm Pellet Mill >>)
Raw Materials PTO Pellet Mill Can Process
Since the PTO pellet mill is specially designed for people who has a tractor, it is able to process various agro or crop wastes like wheat straw, cotton stalk, corn stover, rice husk, peanut shell, and also wood sawdust, grass, leaves, etc.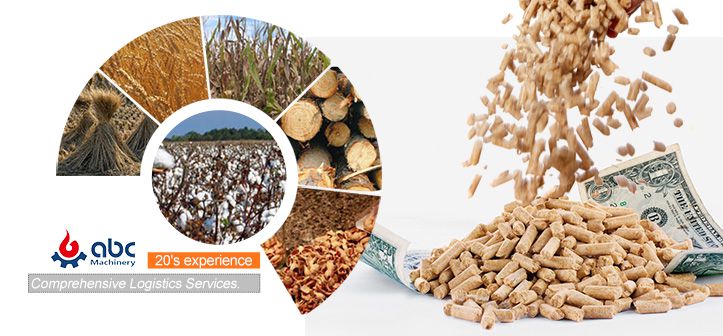 Raw Materials for PTO Pellet Machine
The pellets made by pellet mill machine driven by PTO can be used for fuel, animal bedding or even animal feed. Please contact us to get detail technical information to make biomass pellets or animal feee pellets with PTO pellet machine. (Read more: poultry feed manufacturing plant cost >>)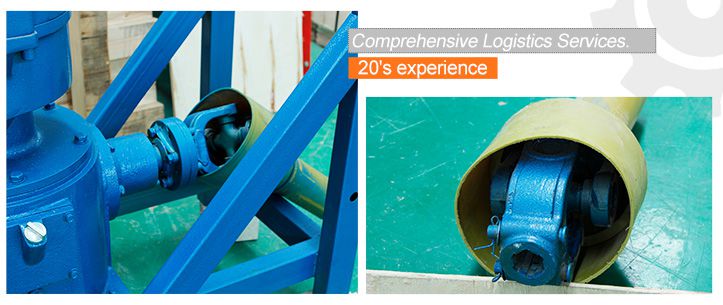 Factory Price PTO Pellet Making Machine
Technical Data of PTO Pellet Mill
Model
Power
Capacity
Weight (NW/GW)
Packing Size
ZLSP120P
≥8 HP
40-80 kg/h
80/100 kg
900*540*900mm
90-180 lbs/h
175/220 lbs
35*21*35inch
ZLSP150P
≥10 HP
50-100 kg/h
90/110 kg
900*540*1020mm
110-220lbs/h
200/245 lbs
35*21*40inch
ZLSP200P
≥15HP
80-120 kg/h
130/150 kg
1000*540*1020mm
180-265lbs/h
290/330 lbs
39*21*40inch
ZLSP230P
≥22HP
120-200kg/h
175/200 kg
1000*540*1020mm
245-440lbs/h
385/440 lbs
39*21*40inch
ZLSP260P
≥33HP
160-250kg/h
235/260 kg
1050*540*900mm
350-550lbs/h
518/580 lbs
41*21*35inch
ZLSP300P
≥41HP
250-400kg/h
305/330 kg
1100*540*1000mm
550-880lbs/h
680/730 lbs
43*21*39inch
Please Note: GEMCO Pellet Mill also provide other types that can be driven by electrical engine, diesel engine, and gasoline. If there are any needs for other types of wood pellet mill machine, please contact us directly to get the product catalogue and price list!
Mini PTO Wood Pellet Mill Working Video
Buy High Quality PTO Pellet Mill for Making Biomass Wood Pellets: HOT Sale PTO pellet mill offered by PTO pellet mill manufacturer or supplier, guide on process of biomass wood pellet production and how to start PTO pellet mill business with limited cost in Tanzania, Egypt, Morocco, Ghana, South Korea, etc.
Advantages of PTO Wood Pellet Mill Machine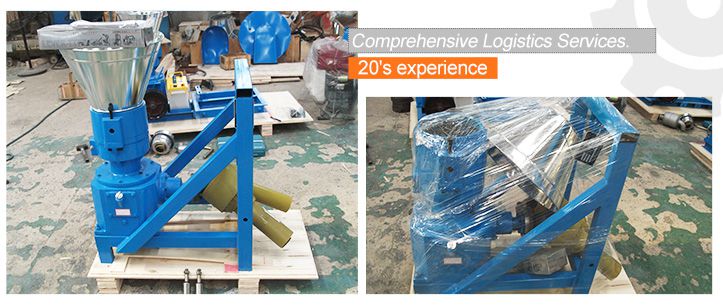 PTO Wood Pellet Mill for Sale
Efficient and Energy-saving: Reasonable and scientific design allows stable and uniform pelletizing process
High Quality Pellets: The pellets produced by PTO wood pellet mill has smooth surface, uniform posture and high hardness
Easy to Use: Powered by mobile tractor, so pelletizing can be achieved anytime anywhere
Long-term Service Life: The machine is made from high quality alloy steel to ensure wear-resistant and durable performance
Flexible Pelletizing: Provided with various aperture die to meet different pellet making needs
Requirements for Biomass Pelletizing
Biomass pellet belongs to the biomass energy. Although many investors are interested in pellet production, most of them have no clear ideas the requirements of biomass pelletizing and also don't know how to gain the profits by investing the biomass pellet plant.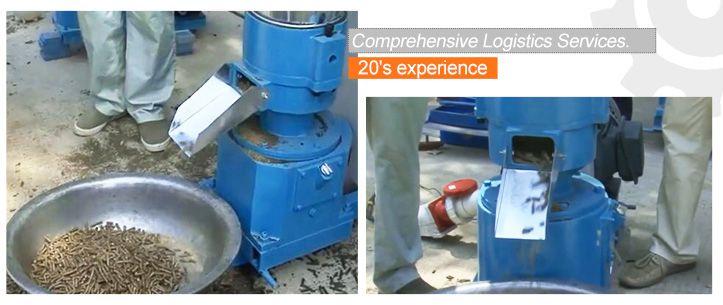 Biomass Pelletizing
There are three general requirements for pelletizing: raw material, pellet size the humidity. As long as the three requirements can be met during the pelleting process, a good pellet fuel can be produced.
Raw Materials Requirement
Raw materials for biomass pellets manufacturing generally are agricultural and forestry waste, such as straw, cotton stalk, sawdust, branches, straw, fruit shell, waste wood, etc. When starting the pelletizing business or setting up a biomass pellet plant, it is recommended to check which raw materials are available and can be timely supply. Once the wood pellet production line is running normally, shortage of the raw materials is likely to cause shutdown and bring huge loss.
The size of pellets affects the biomass pellet production process. The pellet size requires the raw material to be crushed into a size of about 5MM to 10MM by a crushing machine, which can only be used if it meets the standard.
The requirement for pelletizing also requires humidity, 8% to 12%, which can be done using a dryer, only when the standard humidity is met, when making granular fuel.
Get In Touch
We receive enquiries in
English, Español (Spanish), Русский язык (Russian), Français (French) and العربية (Arabic)
. Our professional team will reply to you within one business day. Please feel FREE to contact us!