ZLSP420 Pellet Mill
Due to the shrinking of oil resources and the increasingly serious problems of global warming, the development and utilization of renewable and clean energy has become the consensus of all countries in the world to alleviate the energy crisis and climate change. Biomass pellet fuel is a renewable clean energy, in the last decade under the attention of the international community and governments around the world biomass pellet fuel industry has developed rapidly.

\
Prosperous Biomass Pellet Industry
In the context, the demand of biomass fuel machinery is increasing. Wood pellet mill is a biomass pellet machine that is used to process various wood materials into pellets by compression.
Top Pick GEMCO Wood Pellet Mill - ZLSP420
ZLSP-420 wood pellet mill machine has been recognized as the most cost effective biomass pellet machine among GEMCO pellet mill. It's designed with flat die and has been equipped with overload protection device, which allows easy and safety operation. (Read more: Flat Die Pellet Mill >>)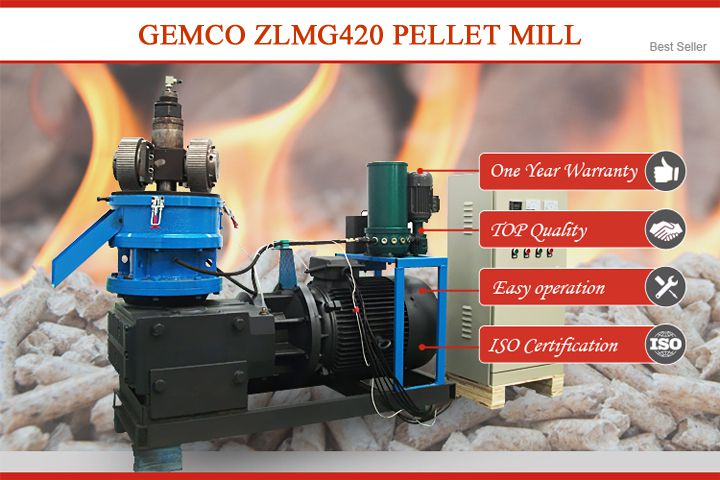 ZLSP 420 Wood Pellet Mill Machine
GEMCO ZLSP420 pellet mill is suitable to process various biomass raw materials into high density wood pellet fuels like wood chips, sawdust, straw, rice husk, barks, cotton stalks, etc.. (You may also like: Straw Pellet Machine Price >>)


Raw Materials for Gemco Pellet Mill
ZLSP420 Pellet Mill Types and Structure
In order to adapt to diferent operating environments, GEMCO ZLSP420 pellet mill also provides three kinds of power supply, motor drive, diesel engine drive, PTO drive. The detailed technical parameters of every ZLSP 420 model is as below. If you are interested in it, please contact us to get the latest promotion price!


Factory Price Wood Pellet Mill
| Type | Power | Pellet Specification | Capacity | Weight | Dimensions |
| --- | --- | --- | --- | --- | --- |
| ZLSP 420B | 37kw | 6, 8, 10 mm | 400-600 kg/h | 1100 kg | 1630*620*1400 mm |
| ZLSP 420A | 46kw (62hp) | 6, 8, 10 mm | 400-600 kg/h | 1200 kg | 2590*660*1400 mm |
| ZLSP 420P | 37-48 kw | 6, 8, 10 mm | 400-600 kg/h | 700 kg | 1500*850*1400 mm |
Warranty Policy: We hereby guarantee that each product is qualified, the expiration date is 12 months since leaving GEMCO factory. During that period, we can change the defective product for free.

Motor-driven Pellet Mill - ZLSP 420B
ZLSP420B is an electric pellet mill that is composed of motor, reducer, drive part, molding part, self-lubrication and electronic control, etc.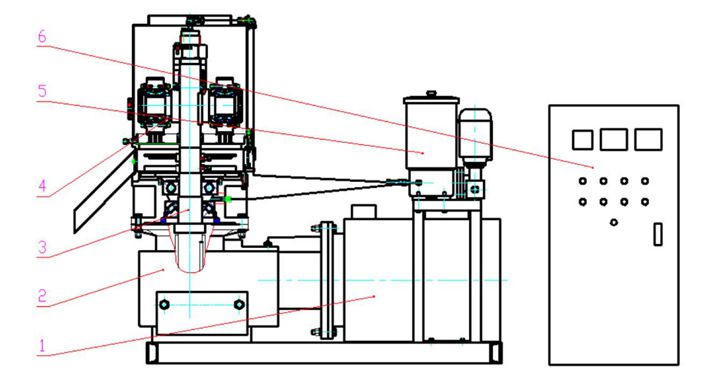 ZLSP420B Motor-driven Wood Pellet Making Machine
1. Motor 2. Reducer 3. Drive part 4. Molding part 5. Self-lubrication 6. Electronic part
Diesel-driven Wood Pellet Mill - ZLSP 420A
ZLSP420A is a
diesel pellet mill
that is composed of diesel engine, reducer, drive part, molding part and self-lubrication, etc.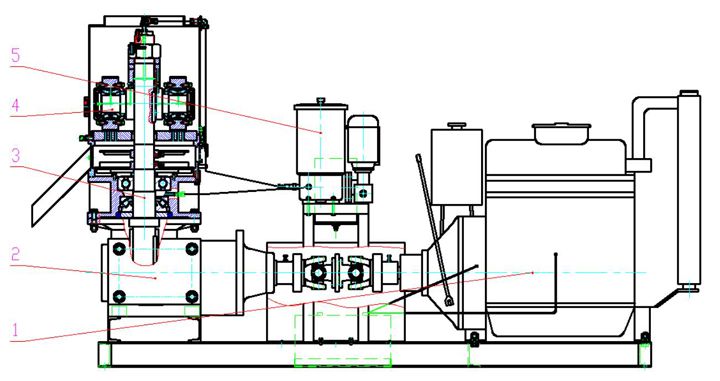 ZLSP420A Diesel-driven Biomass Pellet Mill
1. Diesel engine 2. Reducer 3. Drive part 4. Molding part 5. Self-lubrication
PTO Pellet Machine - ZLSP 420P
ZLSP420P is a PTO pellet mill that is composed of PTO, reducer, drive part, molding part and self-lubrication.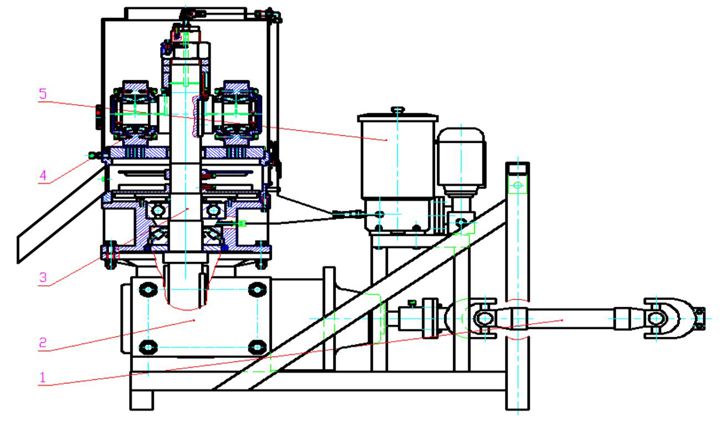 ZLSP420P PTO Biomass Pellet Machine
1. PTO 2. Reducer 3. Drive part 4. Molding part 5. Self-lubrication
Working Principle of ZLSP420 Pellet Mill
The pulverizing biomass raw materials will be squeezed out from the die hole under the function of ZLSP420 pellet mill die and roller. The cutter will cut them into pellets with a certain length. The pellet length can be guaranteed by adjusting the top and lower position of the cutter. The pellets will be sent out by the material rejection tray from the outlet port. (Read more: Biomass Pellet Production Line >>)


GEMCO Wood Pellet Mill at Factory Price
Feature of GMC-ZLSP420 Pellet Mill
The whole machine will be delivered out. You can install it directly.
ZLSP420B pellet mill is equipped with electric control cabinet. Connect the wire according to the installation drawing in order to make the motor rotating direction right.
The device is equipped with self-lubrication device, ensure long-term normal operation of equipment.
The pellet mil disc can be used on both sides. If the die is worn seriously, You can dismount it and use the other side of the die.
ZLSP 420B Biomass Wood Pellet Mill Pelletizing Video
GEMCO ZLMC 420B Pellet Mill Makes Sawdust Wood Pellets: HOT Sale pellet mill machine offered by biomass pellet machine manufactuer or supplier, Guide on process of biomass pelletizing and How to start biomass pellet making business with limited cost in Tanzania, Egypt, Morocco, Ghana,South Korea, etc.
Application of GEMCO Pelletizing Mill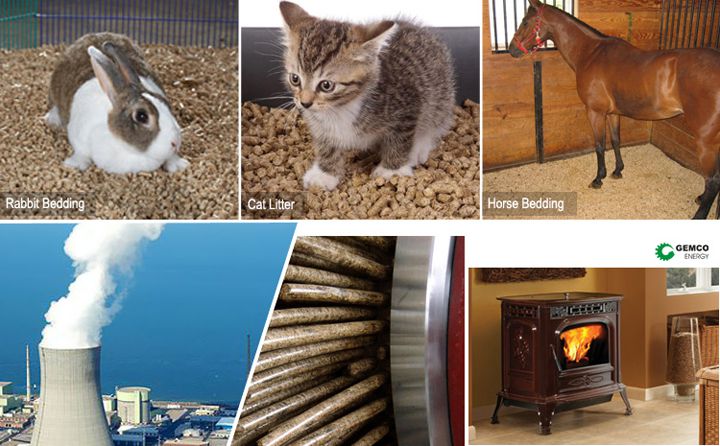 Biomass Pellet Prospects
Wood pellets making by pelletizing mill can gain heat energy by burning. The fuel pellets are widely used in life heating, power generation, stove, etc. Wood pellets are the alternative fuel of the non-renewable energy source like coal, fossil oil, natural gas, etc, which can not only save energy but also reduce the carbon elimination. Wood pellet is a kind of high-efficiency, clean renewable energy source.
Get In Touch
We receive enquiries in
English, Español (Spanish), Русский язык (Russian), Français (French) and العربية (Arabic)
. Our professional team will reply to you within one business day. Please feel FREE to contact us!