1~2TPH Poultry Feed Pellet Plant Setup in Uganda
Modern birds grow healthy when they are given food that is rich in carbohydrates, proteins, and important vitamins. Poultry feed pellets are gaining popularity in the poultry industry as they nourish the birds to grow healthy, larger, and faster. These pellets are inexpensive and easy to feed which saves time and money for the poultry farmers.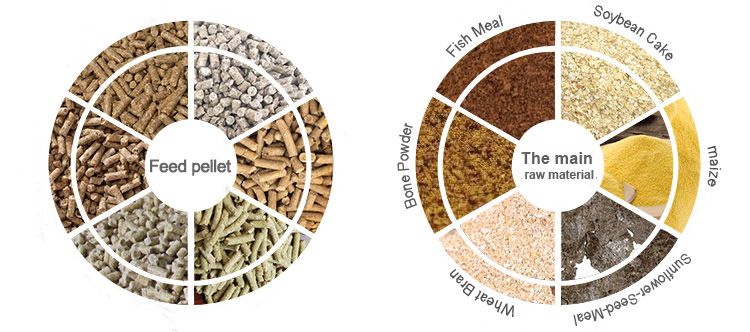 Poultry Chicken Feed Pellets
Poultry feed pellets are manufactured through animal feed machinery that put pressure on the crushed raw material and convert it into pellets of variable sizes. Like other countries, demand for processed food that is rich in protein (like chicken meat, eggs, etc.) is increasing in Uganda. Due to which the poultry industry is growing there every year. This means more is the demand for meat the more will be the demand for poultry feed pellets. Therefore, more and more peopel in poultry industry tend to set up poultry feed production line to expand profits.
1~2 Tons/Hr Poultry Feed Pellet Plant Setup in Uganda [Project Report]

Poultry Feed Pellet Plant in Uganda
Country: Uganda
Capacity: 1~2 Tons per Hour
Animal: Chicks and Adult Chickens
Raw Materials: Maize/Corn, Soybean, Sunflower Oil Cake, Soybean Oil Cake, Fish Meal (Premix Materials), etc.
Final Products: 3mm Feed Pellets and 4.5mm Feed Pellets
Poultry Feed Pellets Production Process: Preparation of Raw Materials, Crushing, Mixing, Conditioning, Pelletizing, Cooling, Screening and Packaging
Main Poultry Feed Pellets Production Equipment: Cleaning Machine, Crushing Machine, Mixer, Conditioner, Ring Die Feed Pellet Mill, Cooler, Packaging Machine, Conveyor, etc.

Chicken Feed Processing Machine Onsite Installation and Commissioning
This 1~2 tons/hr poultry feed pellet plant was purchased by a customers in Uganda who are raising chickens in large scale. In order to improve the quality of chicken feeds and lower the cost of chicken farming, he chose to set up his own chicken feed production line to improve his chicken farming business overall. He finally chose us as his poultry feed manufacturing equipment supplier due to our comprehensive services and reliable equipment. In addition, we can help to reduce poultry feed manufacturing plant cost. See the onsite installation and commissioning of chicken feed pellet processing machines by GEMCO.

We can provide turnkey project for poultry feed production and other animal feed processing machine. In addition, the small capacity poultry feed manufacturing unit we provided is also popular among chicken farmers or small poultry feed pellet mill plant. If you are interested in feed pellet making for poultry, livestock or fish, we are your Right choice, please contact us to get price list and machine parameters!
1~2 Tons/Hr Poultry Feed Pellet Plant Project in Uganda
1~2TPH Poultry Feed Pellet Plant Built In Uganda – Buy High Quality Feed Pellet Mill For Poultry Feed Making: HOT sale poultry feed pellet plant offer by animal feed production line manufacturer or supplier, guide on process of poultry feed pellet production and how to start poultry feed manufacturing business with limited cost in Uganda, Tanzania, Egypt, Morocco, Ghana, South Korea, etc.
Starting Poultry Feed Pellet Manufacturing Business in Uganda
Market Demand for Poultry Feed Pellet Manufacturing in Uganda
The poultry business is growing at a rate of more than 20% per annum in African countries, including Uganda. People are shifting more from rural to urban areas and there is more demand for processed food there. More investors are investing in the poultry feed production business as they know it will grow even more in the future.
The most basic and important need of any poultry is its feed. So, in order to meet the growing demand for the poultry feed, poultry feed pellets are gaining popularity among the farmers. More people are investing in the animal feed mill factory to help the market meet its needs. In Uganda, these pellets are not only supplied in the local market but sellers are also exporting them to the neighboring countries. (Read more: Poultry Feed Machine Price in Nigeria >>)


Starting Poultry Feed Manufacturing Business in Uganda
Coping with Feed Costs in Uganda

| Ingredent | Amount per 1,000 kg of feed (kg) |
| --- | --- |
| Palm kernel meal | 380 |
| Soya meal | 160 |
| Rice bran | 100 |
| Maize | 100 |
| Cassava | 160 |
| Limestone | 20 |
| Broiler premix | 2.5 |
| Lysine | 2 |
| Methionine | 1 |
| Salt | 3 |
Prospect of Poultry Feed Pellet Manufacturing Business in Uganda
With an increase in the population of Uganda, more people will demand white meat and eggs in the future. So there will be more poultries soon which means more will be the demand for poultry feed pellets. Starting a poultry feed pellet manufacturing business in Uganda is a great investment one must make to earn good revenue.
It does not need much investment as the small scale feed mill equipment required to make pellets are neither expensive nor rare in the country. Raw materials such as wheat bran, rice, maize, etc. that are needed to make poultry feed pellets are also easily available in Uganda at a cheaper price. This makes starting poultry feed making business even more worth investing in Uganda. With a proper marketing and business plan, any potential investor can earn through this growing market easily.
Get In Touch
We receive enquiries in
English, Español (Spanish), Русский язык (Russian), Français (French) and العربية (Arabic)
. Our professional team will reply to you within one business day. Please feel FREE to contact us!