Buy Small Cattle Feed Machine for Nutritional Cattle Fodder
Cattle Feed Pellet VS Traditional Feed
Usually, farmer feeds the cattle with the feed mixed with crop straws, grass powder, beans, vegetables etc. As time passes, this kind of feed caused many problems, like poor digestion caused by grasses stacking in the stomach of cattle, some cattle becoming picky, not so rich the nutrition, cattle growing slowly etc. Later, with the development of cattle feed pellet, more and more farmers choose the
cattle feed pellet replacing the traditional feeding method
.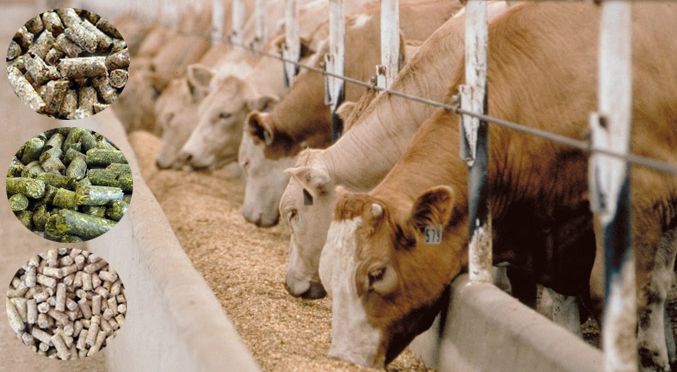 Cattle feed pellet is made from various of raw material including grasses, beans, vegetables, dried beet pulp, oil cake and additives like vitamins, mineral substance and other necessary micro-ingredients etc, thus it is one compound feed which solves the problems of cattle being picky and poor digestion.
The cattle feed pellet can be formulated based on the type of cattle, including cow, bulls, buffalo and heifers. Moreover, the cattle feed pellet has high density, covering less space, is easy to store and transport, meeting the nutrition requirements of cattle, helping the cattle gain more weight fast and the cow produce more milk.
How to set up a small feed pellet plant?
Small Cattle Feed Machine Machinery Details
Small cattle feed machine is specially designed and manufactured for making cattle feed pellet
.
Its whole structure is mainly composed of feeding system, power transmission system, pelleting system and electric controlling system.
Every component is made from international high quality material, prolonging the machinery service time.
Due to the working principle difference,
small cattle feed machine is divided into two types, namely are D-type and R-type feed machine
, with the former adopting die rotation while the latter adopting roller rotation. It can produce feed pellet 60-1100 kg per hour, suitable for cattle farm, cow farm, individual feed factory and small scale feed factory etc.
This newly designed small cattle feed machine can produce nutritional cattle feed pellets by various raw materials, including straw, alfalfa, soybean, wheat straw, pasture, corn, cabbage, cassava, rice, rice husk, oil cake etc. without any other glued matters added into, but you can add the vitamins agents if it is needed.
About the machine structure, we have replaced the traditional structure with the new and more reasonable structure, we equip the reinforcing rib to strengthen the machine body, thus to solve the problem of shell breaking and shell deformation.
Our this small cattle feed maker has been equipped with various types of dies, thus can produce the feed pellets with different diameters ranging from 4mm to 12 mm, the equipped different dies have different compression ratio, which has been obtained through amount of experiments, and is very suitable for pressing cattle feed pellets.
For the transmission, this small cattle feed machine is equipped with gear transmission, which is more efficient than the belt transmission and worm gear transmission, meanwhile avoiding the phenomenon of belt slipping during the transmission and the problem of belt short life.
How to Make Quality Feed with Cattle Feed Machine?
Making quality feed for your cattle needs not only our quality small cattle machine, but also needs to pay carful attention to the preparation work.
Before your start to make cattle feed pellet, you should know the growth stage of your cattle, and make sure the nutrition that the cattle needs. Different types of cattle have different nutrition requirements, even the same kind of cattle, they are different in their different growing stages. The small cattle feed pellet strictly requires the moisture content should be in the range of 12% to 15% and the size can not larger than the diameter of the die hole. Thus, you should do the preparation work well, and you also need to mix the kinds of raw materials together ready to pelleting section.
When you make feed pellet, you need to control the material feeding speed well, and operate the small cattle feed machine strictly according to the operation instruction. The fresh finished pellets have a high temperature which need to be cooled, you had better place them in a cool place or use the cooling machine to cool them, thus can pack the cattle feed pellets into bags.
If you have interest in our small cattle feed machine, please contact us for more information, we will offer you the best service.
Get In Touch
We receive enquiries in
English, Español (Spanish), Русский язык (Russian), Français (French) and العربية (Arabic)
. Our professional team will reply to you within one business day. Please feel FREE to contact us!