Newly Designed Mini Feed Plant for Animal
Why Choose Feed Pellet for Animal?
Animal feed pellet
is a kind of compound feed and mainly made from various of raw materials like cereals, seed from oleaginous crop, legumes, nutritional agents like vitamins, minerals etc and other needed essential micro-integrates by feed pellet press. They are formulated according to the type of animals, different animal need different nutrition, thus the feed formulas are not the same, such as,
poultry like chickens, ducks, geese etc, livestock like cattle, sheep, horse, rabbit etc; aquatic animals like fish, pet animals like cat, dog etc
. Feed pellet can meet their requirements due to its production processing in the
mini feed plant
.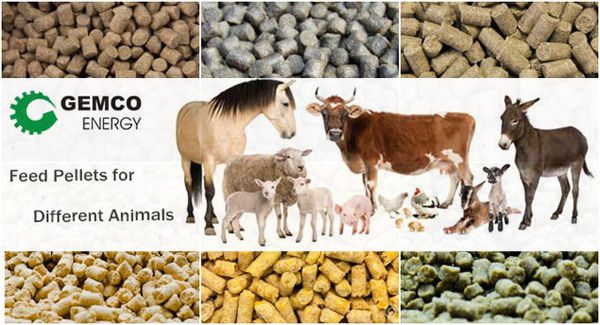 Besides the advantage mentioned above, there are more other advantages.
Easy to transport and store, saving cost of land space.
Avoid the grading of feed ingredient, reducing the environmental pollution.
Reduce the picky eating of animal.
Easy to absorbed and digested by animals.
Make Feed Pellet by Mini Feed Plant
Overview
The equipment for making feed pellets is called
mini feed plant
, which is newly
designed and manufactured for small scale feed pellet production at home, on farm or in small feed pellet production factory.
it consists of grinding machine, mixing machine, silo, conveyor, pellet mill, cooling machine etc. in which
flat die feed pellet mill
, as the key equipment, can be equipped with one of two types of pellet mill, including D-type and R-type, according to your actual situation. The production capacity of mini feed making plant mostly depends on the pellet mill, with one single pellet machine equipped, mini feed plant can produce feed pellets 50kg to 400kg per hour, and you can equipped two and more pellet mills for larger production.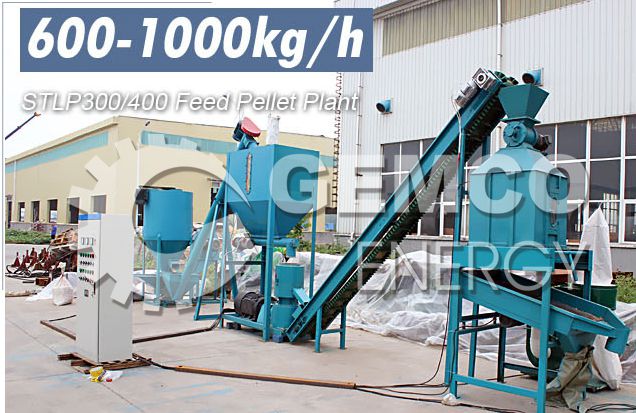 Production processing
When you decide to make feed pellet for your pellets, at first you need to make sure what nutrition your animals need to prepare the raw materials for making feed pellets. For example, the cattle needs high protein, vitamins and mineral substance, thus the raw materials should be rich in protein, vitamins and mineral substance, or you can add with vitamins agents.
We can customize mini feed plant based on your raw material and your requirements.
Pellet mill requires the raw materials should be in small size, and the moisture content should be in 14%-18%. The crushing machine and drying machine can help to change the initial shape and adjust the moisture content to the proper degree. If your raw material is powder, the crushing machine is not necessary to equip. After the large pressure on the raw material during the pelleting processing, the raw material is form into pellet, due to the high temperature in the pelleting room, the finished fresh feed pellet is in high temperature thus need to be cooled. The cooling machine can decease the pellet temperature at a short time. And then you can store the feed pellets into bags or box for feeding your animal.
Advantages of Mini Feed Plant
Mini feed pellet plant is deigned and manufactured with small size and compact-structured equipments, covers a small area, saving the land cost.
The configured equipment with simple structure and small size, is easy to install, operate, maintain and remove.
Mini feed plant can produce feed pellet for variety of animals, such as, cattle, sheep, chicken, pig, rabbit, dog, cat, duck, geese etc, even the fish and shrimp, thus is widely used at home, on farm, small feed production workshop.
Wide range of raw materials can be made into feed pellet, like soybean, corn, rice, rice husk, grasses, potato, wheat, rice bran, carrot etc.
Mini feed plant, newly designed and manufactured with the international advanced manufacturing technology, can produce feed pellet in different diameter of 4mm to 8mm with changing the die which is with proper compression ratio only.
If you have interest in making feed for your animals by yourself, please contact us to know more about our newly designed mini feed plant.
Get In Touch
We receive enquiries in
English, Español (Spanish), Русский язык (Russian), Français (French) and العربية (Arabic)
. Our professional team will reply to you within one business day. Please feel FREE to contact us!