2~3TPH Commercial Animal Feed Processing Plant Setup in Tanzania
Project: Commercial Feed Production Project in Tanzania
Capacity: 2~3 Tons per Hour
Raw Materials: Maize, Soya, Bran, Oil Cake, Dry Fish etc.
Target Animals: Chickens, Pigs and Cattle
Final Products: Mash Poultry Feed, Poultry Feed Pellets, Crumble Chicken Feed, Mash Cattle and Pig Feed, etc.
Main Chicken Feed Processing Machines: Crusher, Mixer, Feed Pellet Machine, Cooler, Crumble Machine, Vibration Screen and Automatic Packing Machine, etc.
Similar Project: 2 tons/hr Poultry Feed Pellet Plant Setup in Uganda
Poultry Chicken Feed Processing Machines Onsite Installation in Tanzania
This commercial feed pellet production line was order by one of our customers in Tanzania. He purchased complete set of poultry feed mill to produce high quality mash feed, pellet feed and crumble feed for sales since there are great demand for high quality feed for chickens, dairy, cattle, pig, etc. (Related post: Mini Chicken Feed Plant Exported to Tanzania >>)


Animal Chicken Pig Feed Pellet Making Business
This poultry feed pellet making process is customized based on customers' request, including crushing, mixing, pelletizing, cooling, crumbling, and packaging. Below is the onsite installation of all these feed pellet machinery. In addition, we provided customized factory design plan and operation training services to help our client reduce investment cost, speed up installation and maintain stable animal feed production! (Read more: Tips on Buying Cattle Feed Pellet Mill >>)

If you are interested in knowing poultry feed manufacturing plant cost, just get in touch with our engineers or sales!
Commercial Poultry Feed Manufacturing Machine Pelletizing Process
2~3TPH Commercial Pig Cattle Chicken Feed Processing Plant Setup In Tanzania – Buy High Quality Animal Feed Processing Machine For Pellet Feed and Mash Pellet: HOT sale chicken feed processing machines provided animal feed pellet mill manufacturer or supplier, guide on process of chicken feed pellet production and how to start chicken feed pellet making business with limited cost in Tanzania, Egypt, Morocco, Ghana, South Korea, etc. Please send us massage to get detailed project cost!
Livestock Species
Percentage of households
Number of livestock per household
Urban
Rural
Urban
Rural
Chickens
41.3
76.7
6.3
5.5
Pigs
41.0
76.2
2.3
2.7
Cattle
6.9
29.0
4.0
3.7
Guides on Starting Chicken Feed Pellet Production Business in Tanzania
Investing in poultry feed production business can bring lots of revenue to any investor. So, if you are interested in starting a chicken feed pellet production business in Tanzania, here are the simple guidelines that you must follow. (Read more: Poultry Feed Machine Price in Nigeria >>)
Feed Pellet Mill Plant Factory Land
Lands in Tanzania are inexpensive, especially, those that are in rural areas. So, purchase land to build your own animal feed machine factory. If not a land, then either rent or buy a building where you can start this business.
Select Reliable Feed Pellet Mill Manufacturer
Look for reliable and trustworthy manufacturers of chicken feed processing machines. Don't confine yourself in Tanzania Market, there are many premium feed pellet mill suppliers around the world. Purchase all essential equipment that are at affordable price and with high quality from reliable supplier. (Latest news: Poultry Feed Plant for Sale >>)


Chicken Feed Processing Machine Manufacturer
Hire Workers and Prepare Marketing Strategies
Hire efficient workers who are aware of pellet making business. Set your pellet making plant. Then purchase raw material from the market. Make sure the land you buy for this business is near the raw material supplier. Use this material to make chicken pellets. Store them in bags that have your company's logo designed on them. Sell them in the market of Tanzania and grow your business more.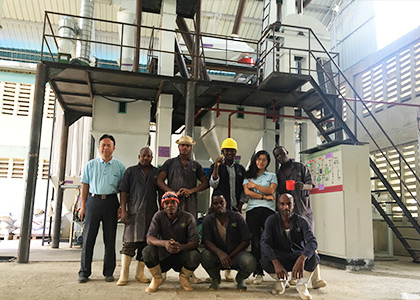 If you are also interested in building your own small poultry feed production line, we also have many small feed mill plant projects for your reference. Wecome to contact us to get more technical information!
Get In Touch
We receive enquiries in
English, Español (Spanish), Русский язык (Russian), Français (French) and العربية (Arabic)
. Our professional team will reply to you within one business day. Please feel FREE to contact us!