Poultry Feed Pellet Making Machine


Make Your Own Poultry Feed Pellets
Did you know you can actually easily produce animal feed pellets yourself? With your own Poultry Feed Pellet Making Machine, you can easily turn any feed raw material into pellets, which not only helps to improve the poultry farming efficiency, but also greatly reduces the cost of poultry farming. Therefore, more and more farmers prefer to make their own feed pellets to meet the needs for their animal farms. In addition, many also see it a great opportunity to start their own business by setting up poultry feed mill to make poultry feed for sales. (Read more: Poultry Feed Manufacturing Plant Cost >>)
Poultry Feed Pellet Making Machine


Poultry Feed Pellet Making Machine
The feed pellet making machine is a simple animal feed pellet mill that will take the grain or meal from the hopper and compress it into pellets. This very simple poultry feed processing results in fragrant feed pellets your poultry will find delicious and appetizing. Many farmers prefer to have their own pellet making machine due to the ease of making their own pellets and the numerous advantages over merely feed raw grain to the chickens, geese, duck, pigeons, etc. In addition, it can be used to make feed for rabbits, birds, and even larger livestock such as sheep, pigs, cattle and horses. (Related post: How to Choose Cattle Feed Pellet Mill? >>)

Raw Materials to Make Feed Pellet for Poultry: Corn, Soybean Meal, Straw, Rice Husk, Grass, etc
Small Feed Pellet Mill Machine
| Type | Power | Output | G.W. | Package Size |
| --- | --- | --- | --- | --- |
| ZLSP 120B | Three phase 3 kw | 60-100 kg/h | 77 kg | 800*320*740 mm |
| ZLSP 150B | Three phase 4 kw | 90-120 kg/h | 100 kg | 800*350*740 mm |
| ZLSP 200B | Three phase 7.5 kw | 200-300 kg/h | 204 kg | 1050*480*990 mm |
| ZLSP 230B | Three phase 11 kw | 300-400 kg/h | 218 kg | 1180*520*1020 mm |
| ZLSP 260B | Three phase 15 kw | 400-600 kg/h | 300 kg | 1240*540*1070 mm |
| ZLSP 300B | Three phase 22 kw | 600-800 kg/h | 437 kg | 1300*560*1220 mm |
| ZLSP 400B | Three phase 22 kw | 800-1100 kg/h | 740 kg | 1600*640*1300 mm |
If you are make your own poultry feed pellet, above listed animal feed pellet machine can be your BEST choice. In order to meet more customer's needs, we also supply the same capacity poultry feed pellet making machine with diesel, gasoline and PTO at wholesale price. If you are interested in it, please contact us directly to get the detailed technical parameters and price list!
How to Make Poultry Feed Pellet?
For small scale feed pellet production, the detailed feed pellet making process has crushing, mixing and pelletizing, which requires corresponding machines.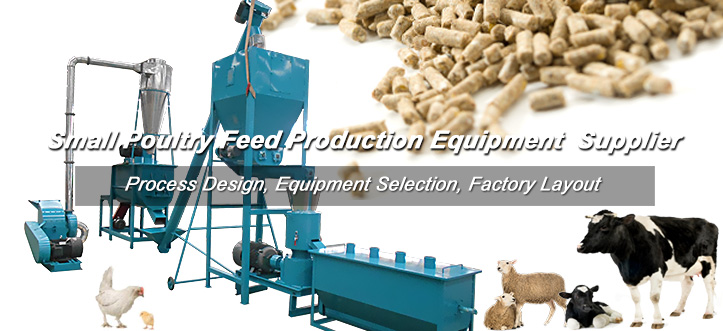 Small Poultry Feed Pellet Production Line
Crushing: this process is adopted to grind or mill the raw materials into smaller pieces as as to improve the the further feed pellet production process.
Mixing: this process aims to make all the raw materials and additives can be mixed evenly to ensure the balanced nutrients.
Pelletizing: this process is to produce feed pellets by the feed pellet mill machine.
If you are going to make poultry feed pellet for commercial purposes, setting up a feed pellet production line would be more feasible since it have the complete feed pellet production process. We have help our customers to establish many animal feed pellet mill plant projects in different production capacity around the world, like Uganda, . If you are interested, please contact us to get the detailed project report with the equipment cost!

Poultry Feed Pellet Economic Benefits

Poultry Feed Pellet Economic Benefits
Storage and Transportation
Ordinary granular feed has a tendency to get mildewed if stored too long, and must be carefully stored with closely controlled temperature, humidity and ventilation. In contrast, the feed pellets are hard and have a smooth surface, which makes it hard for bacteria to take root in them. Also since they are more densely packed, a large amount of food can be stored or transported in a smaller volume.
In the palletization process, the raw materials are subjected to high temperatures and pressures, which results in a rich cooked flavor the chickens find very appealing. Additionally, the chickens find the pellets easier to eat and therefore eat with greater enthusiasm and ease. Studies have shown chickens use 67% less energy consuming pellets over raw grains.
When mixing various forms of raw feed, the chickens are able to preferentially eat what they find tastes best, and/or the stronger birds will eat all the best parts while leaving the less preferable ingredient for weaker birds. Either of these cases results in a nutritionally imbalanced flock. In pelletized feed the various ingredients are solidly mixed together for uniform delivery. Additionally, the pelletization process destroys some toxins that would otherwise impair nutrition uptake and could cause poultry diarrhea. Also the most nutritious part of a grain is the aleurone layer, which is exposed and made readily digestible in pellet form. Chicken feed pellets are cured by the high temperature of the process to be non-toxic and sterile. The nutrient absorption rate from pellets is as high as 90%. Additionally 95% of the pellets will reliably be eaten, compared to grain in which a more significant amount is lost.
Pellets are significantly healthier for the gastrointestinal tract of poultry in a number of specific ways. Firstly, if birds are only fed ground feed their gizzard will atrophy. Pellets give them something to grind in their gizzard, which will lead to a well-developed gizzard. This is important because the gizzard is the first major barrier to pathogens entering the digestive tract. Pellet-fed birds end up with much larger amounts of accessible starch in the intestinal organ called the caeca, which in turn results in higher concentrations of volatile fatty acids, and a lower pH level. These factors both have an anti-bacterial effect suppressing pathogens. Additionally, pellets stimuli the absorptive "villi" in the small intestine, causing them to grow longer and thus be more effective.
Increasing Pellet Durability
Certain additives can be added to pellets to increase their durability. One common option is pulverized bentonites, which, being a form of clay has no nutritional value, but still in amounts totaling 2.5%, it appears it might improve chicken health. Hemicellulose, a wood byproduct, actually contains pentose sugars which are readily metabolized by chickens and may benefit them in amounts of 2.5% - 5% of the diet. Molasses is another good binding agent with accessible sugars.
In conclusion, pelleted feed is clearly the way to go for animal farming. It makes storing and delivering feed more logistically simple, is more appealing to the birds and poultry, and more nutritious and healthy in a number of ways. The poultry feed pellet making machine is readily affordable for any poultry farm. Feed pellet machines are a conveniently small size that they can be moved to wherever is most convenient for their use.
Small Poultry Feed Pellet making machine video
Get In Touch
We receive enquiries in
English, Español (Spanish), Русский язык (Russian), Français (French) and العربية (Arabic)
. Our professional team will reply to you within one business day. Please feel FREE to contact us!