Cost Management for Poultry Feed Mills: Boosting Efficiency and Profit


Making High Quality Poultry Feed for Chicken and Duck
Poultry Feed Mill is designed and manufactured to produce nutritional feed for poultry animals, such as, chicken, duck, pig, goose, pigeon, turkey etc.. Whichever kind of animal you make feed for, the production cost is the most important thing to consider, in which the poultry feed mill cost takes up a big part in complete feed mill plant and the poultry feed mill equipment quality decides the final feed quality.
Poultry Feed Mill Cost in Production Process
Many people think the cost of poultry feed mill equals to its price, thus always choosing the cheap one for reduce the cost when they are buying poultry feed milling machine. In fact, poultry feed manufacturing plant cost is affected by many factors, not only meaning the turnkey feed mill price. (Related Article: Chicken Feed Milling Machine >>)


Complete Feed Mill Plant
Complete feed mill plant includes a series process, including drying, mixing, pelletizing, cooling, sieving and packing. So the necessary equipment consists of hammer mill, dryer, feed pellet mill machine, feed pellet cooler, packing machine and other conveying equipment. So to keep the continuous production, cost of raw materials, labors, energy consumption etc. are necessary.

Factors of Affecting Poultry Feed Machine Price
Poultry feed mill price is ensured, but the poultry feed machine cost is not ensured, we can control it in a certain extent. The first thing is to know about the influence factors. Here we listed some the important factors that can influence the cost of poultry feed manufacturing cost, just take it as a reference. If you have any questions about it, send us massage any time, our professional service team will answer you quickly!
The first one is the feed machinery type. GEMCO supplies poultry feed processing machines with various types including different working principle, output capacity, driving power etc. which deciding different poultry feed mill plant cost. (Related post: Feed Pellet Mill Machine Price >>)
Feed production scale comes to the second element. Feed production scale can be divided into small, medium and large scale, which is depending on your requirement and the final product application. Usually large production scale needs complete poultry feed mill plant whose cost differ to the small and medium scale production.
Raw materials. Various raw materials can be used for making poultry feed pellets, like corn, wheat, grass, oil meals etc., collecting these raw materials cannot be a problem, while raw material preparation has very strict requirement: moisture content should kept in 12%-15% and size should be within 3mm. Unsuitable raw material requires more processing procedures, thus affecting the poultry feed mill cost. (Related article: Wheat Straw Pellets for Cattle Feed >>)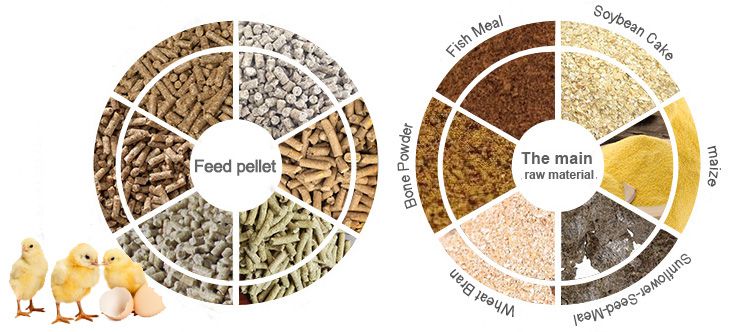 Raw Materials for Poultry Feed Milling Machine

Actual regional situation comes to the last but not the least one. Regional economic level affects the poultry feed mill greatly. For example, in developed countries, with high economic developing level, high degree of modernization, they always requires high level for automation to realize continuous production; while in developing countries or regions, they quires lower than that in developed countries, which affects the poultry feed manufacturing plant cost. (Related article: Feed Pellet Mill for Sale Australia >>)
Poultry feed machinery manufacturers or suppliers. There are many manufacturers and suppliers among the feed mill industry, they have different technology of manufacturing the machinery and building the feed production line, resulting different cost of poultry feed production.
Turnkey Feed Mill Plant Built for Poultry at Leastly Cost
Buy poultry feed mill from poultry feed mill manufacturer or supplier at factory price, get technical instruction of poultry feed production process and business plan to set up poultry feed milling machine project in Philippines, Uzbekistan, Lithuania, Nigeria, Tanzania, etc., at low cost.

Learn to Control Poultry Feed Mill Cost
In a word, finding a reliable manufacturer or supplier is the most effective method to control the poultry feed manufacturing plant cost well. Reliable and experienced company can help you customize the feed mill factory within your requirements and actual situation at limited cost, so as to control your cost of poultry feed mill well.


Poultry Feed Mill Machinery Manufacturer
GEMCO Energy is a professional poultry feed mill manufacturer and supplier, having been engaged in this industry for more than 20 years, possessing rich experience in customizing the feed production projects with limited cost. (Related article: GEMCO Pellet Mill Price >>)
Successful Poultry Feed Mill Projects Setup by GEMCO Energy
If you have another problems about how to setup your own poultry feed mill plant at low cost, please contact us, we will offer you the best service!
Get In Touch
We receive enquiries in
English, Español (Spanish), Русский язык (Russian), Français (French) and العربية (Arabic)
. Our professional team will reply to you within one business day. Please feel FREE to contact us!