How Much a Feed Pellet Mill Price Is?

Animal Feed Pellet Mill Price
We often received customer consultation: how much is a feed pellet mill? Or what is your feed pellet mill price? Or how much does a pellet mill cost?
How Much does A Pellet Mill Cost?
About this question, as a professional animal pellet machine manufacturer, GEMCO Energy has something to say for the general breeding users or friends who are interested in building feed pellet production line for business. The animal feed pellet mill price is decided by many elements including production capacity, raw materials for manufacturing the feed pellets, feed pellet machine types, driving powers and your local market condition, etc.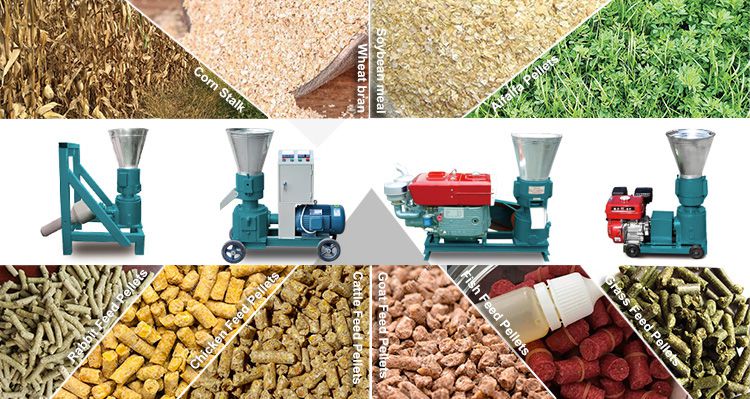 Small Feed Pellet Manufacturing Machine for Sale
So, making animal feed pellets, either for your own use or business purpose, you can't just think about the feed pellet mill price. When you are going to buy animal feed pellet processing equipment, what you can do is to find a reliable manufacturer or supplier and buy the cost-effective feed pelletizer. (Related post: Poultry Feed Manufacturing Plant Cost >>)

High Quality GEMCO Feed Pellet Mill on Sale
The important thing you should to do for choosing a good feed pellet machine is to find a reliable feed pellet machine brand. Shop around for GEMCO brand which belonging to ABC Machinery who processing our own manufacturing factory, mainly selling the animal feed machine with factory price. GEMCO provides different types of animal feed machinery to meet different animal feed manufacturing needs. If you are interested in one of them, just massage us to get the detailed technical information and price list!
Type
Production Capacity
Animals Suitable to Feed
Mini Scale Feed Pellet Machine
60~800 KG/H

Poultry: Chickens, Broilers, Geeses, Pigeons, etc;
Livestock: Pigs, Cattle, Cow, Sheep, Cow, Camel, etc.
Aquatic Animals: Fish, Shrimps, etc (Sinking Feed)

Small Scale Feed Pellet Plant
200~700 KG/H
Large Scale Feed Processing Mill Plant
1~15 T/H
Industrial Scale Feed Pellet Project
Over 10 T/H

GEMCO feed pellet machine has four kinds of driving powers, including electric engine, diesel pellet mill, gasoline engine and PTO (driven by tractor), thus different price of feed pellet mill meet different energy condition in different areas with different living levels.
Adopting the advanced manufacturing techniques, GEMCO feed making machine is designed to raise animals breeder and animal farms, suitable for processing aquatic feed pellets for pig, cattle, sheep, chickens, rabbits, fish, and geese livestock. Pellet machine type B series adopt with the shaft and motor connection and have strong anti-overload ability. (Read more: cattle feeding machine)
GEMCO manufactures multiple scales of animal feed making machinery. For the single feed pellet mills, it has small feed pellet machine price; for the commercial or investing purpose, it has the price of complete animal feed pellet mill machine.
Highlights Of GEMCO Animal Pellet Machine Prices
The animal feed feed mills provided by GEMCO are CE certificated and sold well all over the world. It is favored by the majority of users. GEMCO feed pellet mill is all sale from direct manufacturers, no middle price difference, and make farming users really enjoy the favorable of the manufacturers. If you are interested in buying high quality feed pellet mill machinery at factory price, GEMCO is your BEST choice!
How much a feed pellet mill price is? factory price feed pellet mill for making animal feed: buy feed pellet mill from feed pellet equipment manufacturer or supplier at factory price, get technical instruction of animal feed production process and business plan to set up feed pellet machine project in Philippines, Uzbekistan, Lithuania, Nigeria, Tanzania, etc., at low cost.
Get In Touch
We receive enquiries in
English, Español (Spanish), Русский язык (Russian), Français (French) and العربية (Arabic)
. Our professional team will reply to you within one business day. Please feel FREE to contact us!