Poultry Feed Pellet Plant Make Chicken Feed Pellets Shipping to Australian Client
On 19th June 2018, poultry feed pellet plant with capacity of 2t/h purchased by Australian client, has been manufactured successfully, waiting for shipping. This poultry feed pellet plant is mainly used for making chicken feed, later for producing cattle and sheep feed. This plant is equipped with crushing, mixing, pelletizing, cooling. It adopts 2 pieces of 400B D-type flat die feed pellets machine connected together. The client manages a farm by himself, and produces the feed pellets for feeding the poultry and livestock, thus the packing machine is nor equipped.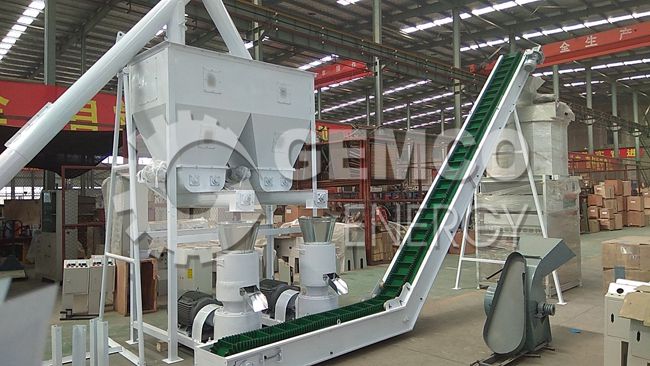 Poultry Feed Pellet Plant Shipping to Australia for Making Chicken Feed Pellets
GEMCO Machinery has mature processing technology in poultry feed processing, and has successfully customized high-quality, low-cost, low-energy-consuming feed pellet processing equipment for customers in more than 30 countries and regions, helping customers to find greater economic benefit. Welcome to leave a message or come to the factory to test the machine!

Choose the High-quality Chicken Feed Pellet Machine
Nowadays, more and more people pay attention to the safety of meat food. In order to eat safe meat, these small farms and individual farmers basically use feed pellet machines to produce pellet feed for livestock.
An investor who has used a feed pellet machine said that he has been raising cattle and sheep for several years. Generally speaking, it is fairly smooth, but prices continue to rise and full-price feed prices fluctuate.How to reduce the cost of feed and satisfy the nutrition of livestock has become a big problem. Later, he learned that he can make domestic animal feed by himself with a feed pellet machine, so he bought a high-quality feed pellet machine produced by GEMCO machinery for DIY feed at home.This feed pellet making machine can not only be used as feed for cattle and sheep, but also feed for pigs, rabbits, geese, fish, and chickens, which can realize multiple uses in one machine.
The Advantages of Poultry Feed Pellet Machine by GEMCO Machinery
GEMCO can customize poultry feed pellet plants with different technological processes on the basis of the requirement of different clients. For the areas with relatively low automaticity and manual cost where it requires low output capacity, one chicken feed pellets machine can produce feed pellets well. On the contrary, the full-automatic poultry feed pelleting plant can be equipped as well.
Adopting two-grade transmission with belt and worm gear, flat die chicken feed pellets machine rotates with low noise and high stability. Feeding of material depends on the weight of raw material, avoiding the blocking in the processing. The main shaft rotates in 60rpm, while the roller rotates in 2.5 m/s, efficiently removing the air of the materials, and increasing the density of product. Additionally, flat die chicken feed pellets machine is equipped with dies with different die hole diameters ranging in 3-12mm and different compression ratios, thus is able to meet different requirements for feed pellet size and length of different people, to obtain best technological and economical effectiveness.

Features of Poultry Feed Pellet Plant
The small feed pellet machine is mainly used to crush the crops and then press and process them into feed pellets to satisfy the user's feeding of poultry. Poultry feed pellet machine is a new type of feed processing technology. In the past, the feed was generally processed into powder and then mixed into the feed for feeding, which had defects such as inconvenient feeding, poor palatability and low utilization rate. With the advent and popularization of new small-scale feed pellet machinery, it is now possible to conveniently process powder feed into pellet feed. This kind of small pellet feed processing machinery can use lighting electricity as power. The powder feed is gelatinized at high temperature and discharged from the die hole under the pressure of the pressure roller to make pellets.The pellet size can be easily adjusted, and its structure is simple, suitable for use by rural farmers and small professional feed factories.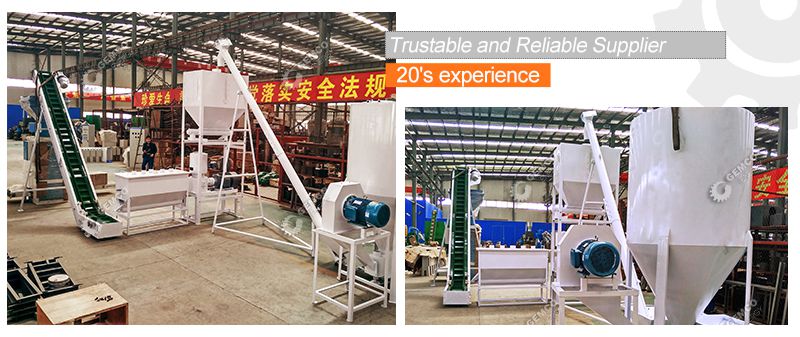 Small Poultry Feed Pellet Mill Plant
This
small poultry feed pellet plant
is designed specially for the clients who is the beginner of feed pellet industry or who have low requirement for self-use feed production capacity. It has it own superiorities:
The flat die feed pellet plant can make many raw materials into feed pellet, such as, grass, soybean, potato, rice bran, corn, cereal etc. By mixing the several raw materials, the nutritional in-homogeneity of poultry can be solved well.
Due to the high temperature during pelletizing processing, the finished poultry feed pellets with high degree of inner curing, are easy to absorb and digest for animals. Also, the common bacteria and microorganism in raw material can be killed through the high heat to keep the chicken and other livestock's health.
The livestock feed pelleting plant, equipped with small and simple structured machines, is easy to install, operate and maintain.
This poultry feed pellet plant can not only make feed pellets for chicken, but also make feed for other livestock like cattle, sheep, pig etc by changing the pelleting die.
The finished feed pellets with uniform size and length, compact structure, are easy to store in bags or boxes.
Small-scale poultry feed pellet production line is widely used in small and medium-scale feed pellet production plants. If you plan to build a small factory on the farm to produce your poultry feed pellets or start a small feed pellet manufacturing business, this small factory should be your best choice! (Related Post:Becoming Rich With Chicken Feed Making Machine>>)
Get In Touch
We receive enquiries in
English, Español (Spanish), Русский язык (Russian), Français (French) and العربية (Arabic)
. Our professional team will reply to you within one business day. Please feel FREE to contact us!