How to Buy a Cost-effective Pelletizer Machine Online?
As an emerging thing, biomass pellets are increasingly used in industrial combustion, home heating, cat litter, horse bed and so on. It is usually made in a pelletizer machine where small parts or powdered materials are combined and compressed and then given a shape. Some entrepreneurs are getting in the business of small pellet mill & using small pelletizing machines for their start-ups. (Read more: Biomass Pellet Machine >>)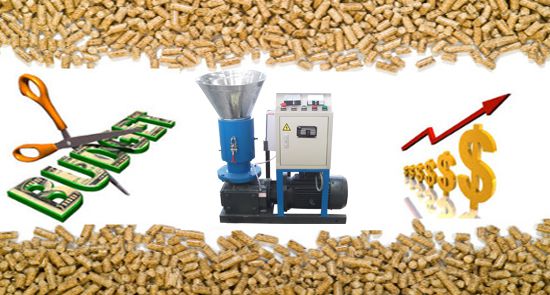 Buy Pelletizer Machines to Start Biomass Fuel Business
Small Pelletizer Machine for Sales
ZLSP series flat die pellet mill, offered by GEMCO, is the best-selling small pelletizer machine since it has been successfully developed after introducing advanced technology of manufacturing biomass pellets and through continuous improvement and innovation, which can meet the needs of international biomass energy regeneration through compression and compact forming. It has many outstanding features, including:


Small Pelletizer Machine
The roller of this biomass pellet making machine is round. There will be no dislocation friction between the wheel and the die, which reduces the resistance and the loss of kinetic energy, and extends the service life of the die, which is a major difference from other pellet mill machines.
Its mould clearance varies with size and size, which make it suitable for different materials and can ensure the effect of biomass pellet pressing.
The roller body of this pelletizer machine has large groove width and is pressure-bearing and wearproof. The pressing wheel component of all the pellet mill machine is the central part of the whole equipment. And our small wood pelletizer machine has the advantages of adjustable press wheel makes it uncomparable to other similar equipment.
Its roller is designed with pressing area to improve the efficiency of pelletizing and smooth performance.
The pelletizing room is provided with an observation door for easy maintenance and repair.
Small Pelletizer Machine Technical Data
| Model | Output (Sawdust) | Power | Dimension | Weight |
| --- | --- | --- | --- | --- |
| ZLSP 150B | 50-100 kg/h | 5.5 kw | 800*450*700 mm | 95/110 kg |
| ZLSP 200B | 80-120 kg/h | 7.5 kw | 1050*480*930 mm | 200/230 kg |
| ZLSP 230B | 120-200 kg/h | 11 kw | 1180*540*1000 mm | 290/320 kg |
| ZLSP 260B | 160-250 kg/h | 15 kw | 1240*540*950 mm | 320/360 kg |
| ZLSP 300B | 250-400 kg/h | 22 kw | 1300*560*1100 mm | 410/450 kg |

How to Make Biomass Pellets by Small Pelletizer Machine?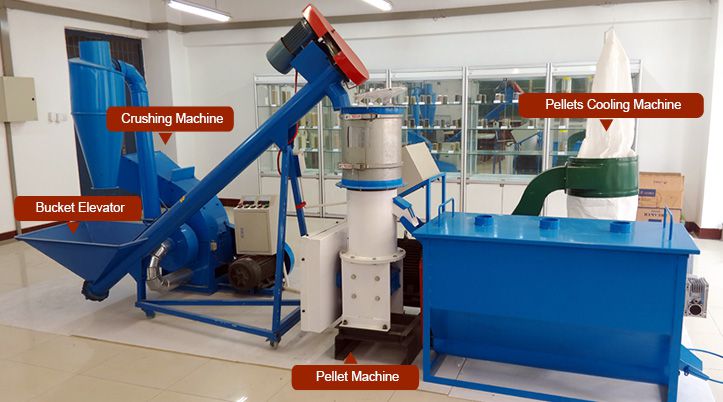 Small Pelletizing Line
After the raw material is processed, the biomass material is fed into the feeding room of the flat mould machine, and all the materials fall on the flat mold. The main shaft drives the roller to rotate, roller continuous roll material layer, the material into the extrusion die hole, material forming, the type of experience in the mold hole, after a certain period of time to be out of state of cylindrical cutter rotation, the material cutting, forming particles by throwing tray will send pellets. (Related Post: GEMCO Pellet Machine Price >>)
Small Pelletizer Machine Pelletizing Process
How to Buy a Cost-effective Pelletizer Machine Online?: HOT Sale pelletizer machine offered by pelletizing machine manufacturer or supplier, Guide on process of biomass pellet production and How to start biomass fuel business with limited cost in Tanzania, Egypt, Morocco, Ghana,South Korea, etc.

How to Buy a Cost-effective Pelletizer Machine Online?
One of biggest use of biomass pellets is as an alternative to traditional fuel. The pellet production provides cheaper fuel, and creates chances for new jobs, also reduces the pressure on the environment by emitting lower carbon. So, if you have decided to become a biomass pellet plant entrepreneur, at first you need to buy a pelletizer machine. Compare with the regular machinery market, now the best option for you is to buy it online. So, how can you choose a suitable pelletizer machine? And, how do you know which pelletizer machine manufacturers is really reliable?
外国客户参观吉姆克工厂颗粒机的拼图 pelletizer-machine-manufacturers
When buying a small pelletizer machine from the international market online, you must consider the following four points:
Quality - For any machinery, quality comes first. So you better choose a manufacturer who is CE certified.
Cost - It is better not to choose the cheapest one to save the budget. It is better suggested to choose a pelletizer machine considering its size, pellet application, power option, and most importantly its serving life.
Operation and Utilization - If the machine is too complicate to operate you will need to spend extra to train your workers to use it.
After Sale Service - For any kind of machinery, spare parts are like the lifelines. Without available spare parts, your total investment can be wasted just in case the machine breaks down.
Tips on Pellet Mill Machine Buying - Only Right, Not Expensive
When you search online for small pelletizer machines, you will find Americans manufacturers, European manufacturers, and the inevitable Chinese Manufacturers. So normally there are two options available here. Buy a complete product from China or buy an assembled product or US rebranded product which are actually made in China.
Mostly American manufacturers make a huge mark-up to local buyers just for branding the machine with "Made in the USA". Which is not necessarily true. Except for a few well known old manufacturers, most manufacturers import the complete machine or the machine parts from China. They will charge you big amount in the name of quality. If you can afford to pay a large amount, you should buy from the old companies like CPM or Andritz. Otherwise, choose a good Chinese manufacturer and import from China at a comparatively affordable price.
Get In Touch
We receive enquiries in
English, Español (Spanish), Русский язык (Russian), Français (French) and العربية (Arabic)
. Our professional team will reply to you within one business day. Please feel FREE to contact us!