How to Make Rice Husk Briquettes?


How to Make Rice Husk Briquettes
Rice husk is the protective coat around rice seeds. It is a waste material that is obtained in tons during the rice harvesting season. The most abundant components present in rice husk are cellulose, lignin, and silica. Due to the high percentage of lignin (natural binding material) and low water content, rice husk is a valuable raw material to make biomass briquettes for household or industrial uses. (Read more: How to Make Briquettes from Wood Shavings?)
| Content | Moisture | Crude Fiber | Lignin | Crude Protein | Ash | Other |
| --- | --- | --- | --- | --- | --- | --- |
| Rice Husk | 7.5%~15% | 35.5%~bai45% | 21%~26% | 2.5%~3.0% | 13%~22% | 17~23% |
How to Make Briquettes from Rice Husk?
What Equipment Needs for Rce Husk Briquetting Process?
Is it Available for Those Who have Less Investment Capitals to Start Rice Husk Briquetting Business?

How to Make Rice Husk Briquettes?
Rice husk briquetting is a procedure in which rice husk is thoroughly processed and converted into dense briquettes. The following are the main steps involved in rice husk briquettes making process, which is suitable for commercial scale biomass briquetting plant.


Rice Husk Briquetting Process
Adjust Moisture Content - Mechanical Drying or Natural Drying
The moisture content in the rice husk is up to 15%. However, it is suggested that the raw material should have 8% to 10% moisture in it. A dryer is used to reduce the moisture content. To reduce the cost of rice husk briquetting, it can also be placed under the sunlight to decrease moisture content through evaporation. Reducing the moisture is essential to make sure that the briquettes produced are dense and solid.
Ric Husk Briquetting Process
Since rice husk is small in size, so there no needs for crushing. After drying, it can be directly fed into rice husk briquette machine, where force is applied to it with the help of rollers. Due to excessive pressure, friction is produced, which results in an increase in temperature. Together, this increased temperature and force change the raw material into briquettes of a specific shape and size.
Rice Husk Cooling and Packing
The friction produced during the briquette making process raises the temperature of the briquettes. Use cool air (cooler) to reduce the temperature before packing them in bags. Spreading the briquettes in an open area can also help in decreasing temperature. Weigh briquettes and pack them in bags to sell them in the market or store for sales or for your own use.

For rice husk briquettes, it can also be made into charcoal briquettes for more wide application. If you are interested, click here to see more about How are Charcoal Briquettes Made?

How Do I Make Rice Husk Briquettes?
How to make briquettes from rice husk? factory price rice husk briquette making machine for sales: buy efficient rice husk briquette machine from biomass briquette equipment manufacturer or supplier at factory price, get FREE technical instruction of rice husk briquetting process and business plan to set up commerical rice husk briquetting project in The Czech Republic, Guatemala, South Korea, Japan, Thailand, Indonesia, etc., at low cost.
HOT Sale Rice Husk Briquette Making Machine at Factory Price
Rice husk briquettes pressing should rely on several professional machines, among which rice husk briquette making machine is the core equipment since it can convert waste rice husk into useful briquettes in different shapes and sizes. For industrial or commercial rice husk briquettes manufacturing, screw briquette machine can greatly improve the efficiency and lower maintenance cost.
For detailed price, just send us massage directly, we are always for your needs!

Advantages of Buying Efficient Rice Husk Briquette Maker
There are numerous benefits of using a rice husk briquetting machine. Some of the worth-mentioning benefits are stated below.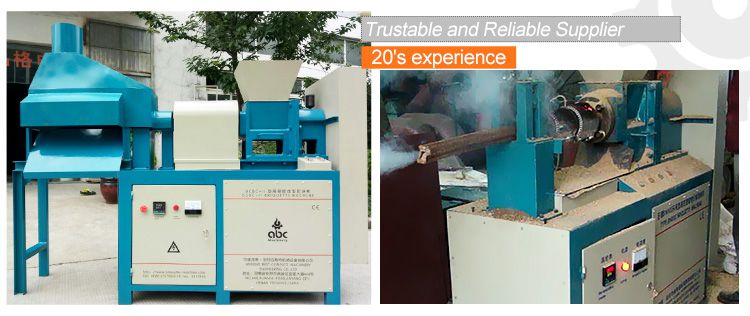 Commercial Rice Husk Briquette Machine Manufacturer
It helps recycle a waste product (rice husk) and convert it into valuable briquettes that can be used for multiple purposes such as heating boilers, cooking, making bricks, generating electricity, etc.
Rice husk briquette machine can process different raw materials such as sawdust, groundnut shells, bagasse, coconut shell, coffee husk, cotton stalk, wheat bran, grass, bushes, and dried leaves, etc. Thus, you can manufacture a variety of briquettes through a single machine. (Read more: Coconut Shell Charcoal Briquette Machine >>)
It can generate briquettes of different sizes and shapes (square, cylindrical, hexagonal, etc.) based on your needs and requirements.
The briquettes made through this machine have a high density (up to 1.3g/cm³) and a high burning value than the burning value of direct raw material.
Get In Touch
We receive enquiries in
English, Español (Spanish), Русский язык (Russian), Français (French) and العربية (Arabic)
. Our professional team will reply to you within one business day. Please feel FREE to contact us!