Rice Husk Briquette Machine for Biomass Briquetting Business
Rice husk contains cellulose, lignin and silicon dioxide. The most significant feature of rice husk is that it has high ash content (7%-9%) and high silica content (about 20%), so it has good tenacity, porosity, low density (112-144kg/m3), and rough texture. The combustibles in rice husk is as high as 70%, and its heat value is 12560-15070kJ/kg, which is half that of coal. So rice husk is recognized as a kind of cheap fuel source. Besides, rice husk has great renewable ability which is superior to nonrenewable coal, petroleum or natural gas. If made into rice hush biomass briquettes or pellets by briquetting machine, they will have high density and easy to transport, at the same time combustion rate will be greatly increased. So it is economical to make rice husk briquettes and pellets. (Related Post: Small Rice Husk Pellet Machine for Sale >>)


Rice Husk Briquettes
GEMCO Machinery's rice husk briquette making machine adopts an automatic thermostat, which has stable working performance at the set temperature, and has the advantages of reasonable structure, simple operation and maintenance, etc. The solid briquettes material produced by this machine is easy to ignite after carbonization, has a high calorific value (more than 20% higher than ordinary wood), has less pollutants, has a large specific gravity, and is convenient for storage and transportation. It can make full use of crop residues and turn into waste. For treasure. If you are interested in starting a rice husk briquette business, please click the button below to contact us, we will provide you with a rice husk briquette making machine with ex-factory price.

BEST Selling Rice Husk Briquette Making Machine - Mechanical Stamping Type
The new type Rice Husk Briquette Machine provided by GEMCO is a type of mechanical stamping biomass briquette machine that can efficiently compress rice husk into solid briquettes. In addition, it is also able to process other biomass materials into briquettes, like sunflower shell, groundnut shell, cotton straw, coconut shell, sawdust, wood chips, sugarcane bagasse, etc. (Read more: Starting a Charcoal Briquette Business >>)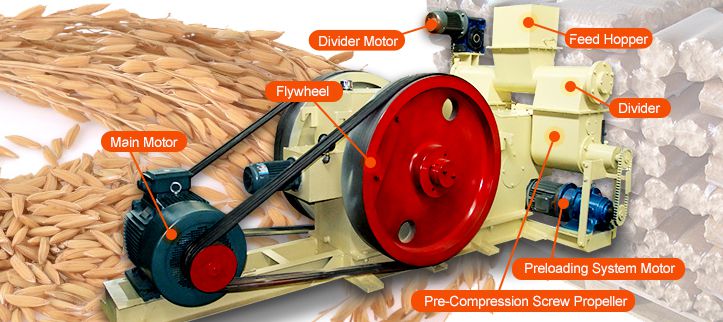 Rice Husk Briquette Making Machine
Our mechanical stamping rice husk briquette making machine has the features of excellent performance, stable productivity and easy operation. And it can make biomass briquettes and biomass pellets.
Rice Husk Briquette Machine Wide Application
Rice husk briquetting machine can make rice husk into briquettes that can be used as boiler fuel, power plant fuel, stove fuel, or to make activated carbon. The rice husk briquette machine is suitable to use in the fields, which is very convenient for farmers to make briquettes after rice gathering. And many rice mill plants often purchase our rice briquette making machine to turn the waste rice husk into briquettes to create commercial profits.
GEMCO RICE HUSK BRIQUETTING MACHINE
Main Components
Main Engine, Feeder, Electric control cabinet
Specifications
Diameter 8mm-22mm pellets
Diameter 30-70mm briquettes
Capacity
0.8-1.2 t/h
Density
1000-1300kg/m3
Main engine power
45KW
Weight
7000kg
Dimensions
Main engine 3.4mX2mX1.8m
Electric control cabinet 1.2mX0.6mX1.2m
Operator
Two
Area
About 80 square meters
Outstanding Features of Rice Husk Briquette Making Machine

Start the Rice Husk Briquettes Production Business with Low Cost
Through the previous introduction, everyone is no stranger to rice husk stick making machines. As a kind of biomass energy machinery, there are still many applications in production activities. What are the outstanding features of the rice husk rod making machine? GEMCO machinery will be briefly introduced below for everyone!
The rice husk briquette making machine produced by GEMCO Machinery has the characteristics of reasonable design, reliable manufacturing quality, simple structure, convenient operation, small size, small area, labor-saving and power-saving.
The designed fully automatic control electric heating device can randomly adjust the dry humidity of the material to ensure the stability of the discharge molding and improve the work efficiency.
The main parts of the rice husk briquette machine are made of wear-resistant materials through special treatment, so it can be continuously pressed for production and is very durable.
It is suitable for compression molding of various biomass raw materials, with low energy consumption and high production efficiency.

Rice Husk Briquetting Technological Process
Convey the rice husk to the screw feeder, and the screw feeder push the mixed rice husk into the rice husk briquette machine. The mixed rice husk will be extruded through the mold, and rice husk briquettes are formed. With different molds can make different size briquettes (8-70mm in diameter).
After briquetting, the rice husk briquettes need to be cooled and packed (moisture content should be less than 14%).
Compare to other biomass materials, the rice husk briquette production process is relatively simple and easy sine rice husk is in small size and doesn't require crushing or pulverizing process. If the moisture in the rice husk is high, it should be controlled to about 15%~25%.
Setting up a biomass briquetteing plant to process rice husk would be relatively easy and requires less cost since the auxiliary equipment is screw feeder, cooling machine and packaging machine. If you are interested in building your own rice husk briquettes production factory, just feel free to contact us to get the project report and project cost!

Working Video of Rice Husk Briquettes Production for Home Uses
New Type Rice Husk Briquette Machine for Sale – Buy High Quality Rice Husk Briquette Machine for Biomass Briquette and Pellets Making: HOT Sale rice husk briquette machine offered by briquette making machine manufacturer or supplier, guide on process rice husk briquettes production and how to start rice husk briquetting business with limited cost in Tanzania, Egypt, Morocco, Ghana, South Korea, etc.

Factory Price Biomass Briquette Machine for Briquette Making from Rice Husk
As one of the leading biomass briquetting machine manufacturers and suppliers in the world, GEMCO has years of experience in offering the most suitable briquette machines for customers. All our users have made great profit with our briquette machines. If you are interested in our rice husk briquette machine price, please contact us for more details!


Rice Husk Briquette Machine Shipment
Market Potential of Rice Husk Briquettes Production Business
Everyone has heard that the raw materials for making biomass briquettes are generally woody and peanut husks. In recent years, the development of rice husk briquettes has been getting better and better. Many people don't understand rice husk briquettes very well. In fact, the price of rice husk raw materials is low, so the price of rice husk briquettes is lower than that of wood pellets. which is very suitable for investors to start low-cost processing business. For this reason, GEMCO Machinery will briefly introduce the production potential of the rice husk briquette production business. (Related post : Rice Husk Briquette Equipment Cost>>)


various biomass raw materials processed by rice husk briquette machine
Rice is consumed as a staple food by more than half of the global population. China, India, Indonesia, Thailand, Bangladesh, Japan, Vietnam, and Myanmar are the top-most producers of this crop in the world. Rice husk, rice grain covering, is also produced in a large amount in these countries. Instead of wasting it, people are now producing the compressed briquettes as a renewable energy resource. Many developing and developed countries are using them at domestic as well as industrial level. And to setup machinery for making briquette from rice husk is often supported by the Government for energy saving and environment protection. (Latest Project: Biomass Briquetting & Pelletizing Plant Setup in Thailand >>)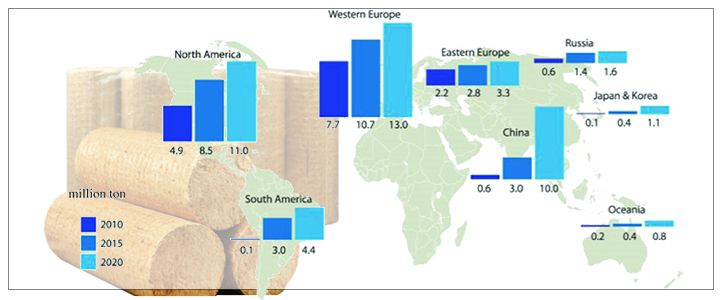 Briquette Machine Market Trend Chart
Starting a rice husk briquettes production business in countries like Indonesia, Thailand, Bangladesh, and China can be a great investment to make in this era. Its reason is people are looking for cheaper and eco-friendly heat energy sources. And rice husk briquettes are one of them. As rice husk briquettes have multiple benefits over traditional heating sources, their market is expanding more and more with time. People who are looking for alternatives to expensive energy sources so starting a briquettes production business with sustainable raw material shows promising prospects. Starting this business in other countries that are rich in rice can be a huge success there as well.
Get In Touch
We receive enquiries in
English, Español (Spanish), Русский язык (Russian), Français (French) and العربية (Arabic)
. Our professional team will reply to you within one business day. Please feel FREE to contact us!