Rice Husk Briquette Equipment Cost

Rice Husk Briquette Machine for Sale
Cost of Rice Husk Briquette Equipment
Rice husk briquette machine compresses rice husk and converts it into rice husk briquettes of a specific dimension and shape. The Mechanical Stamping Rice Husk Briquette Machine is a valuable machine that has numerous useful features. It can process a variety of raw materials such as sawdust, grass, branches, leaves, etc. It is used to make rice husk briquette logs of different dimensions such as 8mm, 18mm, 30mm, 50mm, and 70mm. (Read more: Rice Husk Pellet Making Machine Manufacturers >>)


Briquettes Made from Rice Husk
The rice husk briquette equipment we provided has a capacity ranging from 0.5 tons to 1.5 tons, which makes it not only suitable for household use, but also a great choice for industrial rice husk briquettes making for business. Choosing an effective and more useful rice husk briquette machine is essential for running a successful and profitable briquette-making business. (You may also like: How to Start a Charcoal Business?)


Rice Husk Briquette Making machine price

What is the Price of Rice Husk Briquettes Machine?
Generally, the price of a single set of rice husk briquettes making machine won't fluctuate much. It may cost $30,000 around. But, the exact cost should be based on the specific production output. However, the cost of setting up a rice husk briquette making plant may vary widely since there may needs some auxiliary equipment. For details about rice husk briquetting, please just send your questions to us directly, so our engineers or service team can offer you the BEST solutions!
Hot Sale Rice Husk Briquette Making Machine Production Process
How much cost to buy an efficient rice husk briquette equipment? Factory price rice husk briquetting machine for briquettes making: buy high quality rice husk briquette equipment from biomass briquette machinery manufacturer or supplier at factory price, get FREE technical instruction of rice husk briquettes making processes and business plan to set up industrial rice husk briquette manufacturing project in The Czech Republic, Guatemala, South Korea, Japan, Thailand, Indonesia, etc., at low cost.

Why should You Set up Rice Husk Briquetting Plant for Business?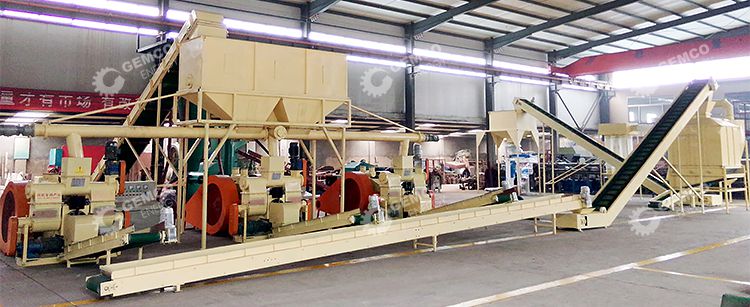 Rice Husk Briquetting Plant
The Raw Material is Easily Available
Rice is a staple food and one of the widely grown crops in the world. Every year, millions of tons of rice husk are obtained as a by-product, which means it is available abundantly in countries where this crop is grown. You can easily access rice husk from a supplier or farmers who grow it on their farms. (Latest Order: Biomass Briquetting & Pelletizing Plant Exported to Thailand >>)
Raw Material is Obtainable at Inexpensive Rates
All over the world, around 200 million tons of rice husk are cast-off as they are considered a waste material. However, only a few people know its value and use it to make briquettes. Because it is produced abundantly and is regarded as a waste material, you can buy it at a relatively cheaper rate. Thus, you will not have to spend most of your budget on buying expensive raw materials to start off your business. (Read more: Rice Husk Briquettes Production Process >>)


Rice Husk Briquetting Plant Setup Cost

Briquettes Consumption is Growing with Time
Rice husk briquettes are considered a renewable energy resource. They are not as expensive as other traditional energy resources as their raw material is easy to obtain at cheaper rates. They can be used to run boilers, cook meals, heat up ovens, make clay bricks, produce electricity, etc. Due to this reason, many farmers and industrialists are now getting more interested in using briquettes as a sustainable energy resource.
Rice Husk Briquettes are Eco-Friendly
What makes rice husk briquettes superior over traditional energy sources is they are environmentally friendly. When burnt, coal, gasoline, etc., produce toxic gases that do not only cause disease but also cause issues like global warming. But, no such gas is produced when rice husk briquettes are burnt.
People use woods to obtain heat, but more than normal wood consumption has become a leading cause of deforestation. Consumption of rice husk does not cause deforestation at all. People also prefer it, for it is eco-friendly. So, starting a rice husk briquetting plant is a great investment idea as this business is growing more with the passage of time. If you have an effective business plan and the required investment, then maybe this business is what you need to invest in!
Factory Price Biomass Briquettes Making Machine for Rice Huske
Model
GC-MBP-1000
Main parts
Briquetting machine
Conveyer
Control cabinet
Briquette Specification
Dia.:8mm, 70mm
Capacity
0.5-0.8 t/hr
Density
1000-1300kg/m3
Power of main engine
45KW
Weight
7000kg
Overall dimension
Host machine: 3.4mX2mX1.8m
Control cabinet: 1.2mX0.6mX1.2m.
Number of operator
2
Installation space
About 80㎡
Get In Touch
We receive enquiries in
English, Español (Spanish), Русский язык (Russian), Français (French) and العربية (Arabic)
. Our professional team will reply to you within one business day. Please feel FREE to contact us!