Biomass Briquette Plant Setup Cost & Required Machinery
Nowadays, biomass briquettes have been regarded as a great substitute to traditional coal. There are a great number of briquetting plant manufacturers or suppliers that happen to be involved in the manufacturing of briquetting equipment. In many countries, biomass briquettes are used as cooking fuels or to heat industrial boilers so as to produce electricity from steam due to its outstanding features: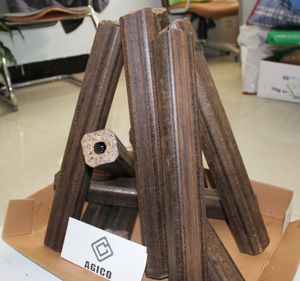 Biomass Briquettes Production Business
Slow Burning
The compression process that briquettes undergo during the production allows them to burn for a longer period of time as compared to other sources of energy like coal.
High Efficiency
Compared to other sources of energy, briquettes have a higher heating value thus producing relatively intense heat. They also have low ash content and a high thermal value. In fact, when compared to firewood, they are 40% more efficient and last longer.
Smokeless
This is one of the properties that make briquettes unique. Using them doesn't produce soot, smoke, or carbon deposits.The function of the briquetting plant is mainly to transform waste materials generated in various industries such as forestry, industry, and agriculture. All these waste materials are collected and sent to the briquetting plant to produce cylindrical briquettes, which are the final products obtained from the briquetting machine. So, what are the benefits of investing in a briquetting plant? What equipment is needed to build a complete biomass briquette fuel plant? The following GEMCO machinery will introduce you to the manufacturing equipment, production technology and processing materials required by the briquetting plant to help you better start the business plan of the briquetting plant at a low cost.

Equipment Required to Build A Biomass Briquetting Plant
How to make briquettes? What equipment is needed to process raw materials into briquettes? A biomass briquetting plant is a biofuel project that converts agro-forestry waste into briquette or bio-coal.
Setting up a complete biomass briquette plant has been a new hot investment project in many regions, especially in some developing countries, like Pakistan, Uganda, Ghana, Tanzania, Thailand, Philippines, Indonesia and more. The demand for high quality biomass briquettes keeps rising and buying briquette machinery for biofuel plants can be a quick and reliable way to enter into the biomass fuel industry. (Read more: Starting a Charcoal Briquette Business >>)


Small Briquettes Production Line at Low Setup Cost
Equipment Included in A Complete Biomass Briquette Plant: Crusher, Dryer, Briquette Machine and/or Carbonization Furnace.
Production Process of A Biomass Briquetting Plant: Crushing → Drying → Briquetting → Carbonization → Packaging.
Biomass Materials Biomass Briquetting Machinery Can Process
Various forestry waste or agriculture waste are great biomass materials that can be used for high quality briquettes to improve its commercial values. The typical materials our briquette making machine can process has wood chips, sawdust, cotton straw, bamboo dust, coffee husk, rice husk, sunflower shell, groundnut/peanut shell, tree branches, bagasse, coconut shell, etc. (Related post: wood briquettes making machine for sale)


Make Briquettes from Various Briquettes
If you are not sure whether your materials are suitable for briquetting or not, or want to know the briquetting effect of your raw materials, please contact us, a trial testing of briquetting is available at our factory!

Biomass Briquette Plant Built by GEMCO [Project Display]
GEMCO has built many turnkey projects of biomass briquetting factories around the world. Below shows some of our briquetting projects that were built at low cost for biofuel briquettes production business.
If you are interested in how to set up a complete briquette making plant for various biomass materials and desire to know the estimated cost of briquetting machinery, please tell us in detail, we will offer the customized solutions that covers factory design, equipment selection, shipping and project cost for your reference!

Mini/Small Wood Briquettes Production Line Commissioning Video
Low Cost to Setup Complete Briquette Plant for Various Materials – Buy High Quality Briquette Production Machines for Biofuel Briquettes Making: HOT sale biomass briquette plant offered by briquette making machine manufacturer or supplier, guide on process of biomass briquettes production and how to start biomass briquettes manufacturing business with limited cost in Tanzania, Egypt, Morocco, Ghana, South Korea, etc.
Significance & Benefits to Setup Biomass Briquetting Plants
Going green is one of the ways that we will be able to save our environment for future generations. The use of briquettes is one of the ways that we can help manage and conserve the environment. We should, therefore, embrace the continuous use of this source of energy to our advantage and set up our own biomass briquetting plant to make profit now!

Setup Biomass Briquetting Plant
► Reduction of Fossil Fuel Consumption
The increase in air pollution is a prevalent global challenge. One of the key reasons behind this sustained increase in air pollution is the burning of fossil fuels such as petroleum products and coal. In developing countries, the use of fossil fuels is common because of its wide availability. The use of briquettes as fuel alternatives can therefore substantially cut down the consumption of fossil fuels thereby improving the current environmental conditions.
► Reduction of Industrial Waste
The continuous rise in industrial waste is turning out to be a challenge in the global industrial belts. As developing countries are passing through this industrial age, industrialization is exerting extra pressure on the environment by releasing industrial waste in excess. This can result in adverse environmental damages like groundwater contamination and soil contamination. However, biomass briquetting plants can transform such wastes to recyclable briquettes.
► Generation of Electricity.
Taking a look at the developing countries, it is quite evident that the majority of rural areas are still deprived of electricity. The key reason behind this is either connectivity or affordability. Such are the cases where the generation of electricity from briquettes can come in handy.
► Clean Heating in Power Plants
The majority of the thermal power plants globally run on coal. Coal is typically used in these plants to heat up burners. The use of briquettes in power plants will not only reduce the operating costs but will also help in reducing the carbon footprint.
► Creation of Job Opportunities
It is evident that the scope of new employment opportunities in the green technology field is increasing. The global concern related to the sustainability issues is one of the catalysts of this rampant growth.
The Cost of Setting up a Biomass Briquetting Plant
The cost of biomass briquetting equipment is low, and other attractive features of the machine are usually low setup and handling costs, sturdy structure, and low maintenance costs. Moreover it only needs low power to run. The wide range of uses of fuel made by biomass briquetting machines include generating heat and electricity, and cooking fuel. Even the burning of loose biomass can generate enough heat to cook food. Therefore, it is not only profitable to build a biomass briquetting plant, but it can also convert waste into recyclable briquettes for heating and power generation. It is an investment business that is also valuable to the world's environment.
Performance Characteristics of Screw Briquetting Machine
| | Screw briquette machine |
| --- | --- |
| Optimum moisture content of raw material | 8-9% |
| Wear of contact parts | high in case of screw |
| Output from the machine | continuous |
| Power consumption | 60kWh/ton |
| Density of briquette | 1-1.4gm/cm³ |
| Maintenance | low |
| Combustion performance of briquettes | very good |
| Carbonization to charcoal | makes good charcoal |
| Suitability in gasifies | suitable |
| Homogeneity of briquettes | homogeneous |
If you are thinking of putting together or starting an own briquetting plant then you're intending to make your money really worth. Due to the environmentally friendly nature of the biomass briquetting equipment, the bright prospects of the industry can be clearly examined.You can buy factory price briquette machine from GEMCO Machinery manufacturer or supplier, get free guidance to set up briquetting plant projects for business in Thailand, United Kingdom,Chile, Russia, New Zealand, Canada etc., at low cost. You can send us your specific needs through the message form below, hoping that we can provide you with suitable biomass briquetting equipment, so that your briquetting project can proceed smoothly.
Get In Touch
We receive enquiries in
English, Español (Spanish), Русский язык (Russian), Français (French) and العربية (Arabic)
. Our professional team will reply to you within one business day. Please feel FREE to contact us!