Wood Brick Briquettes Machine for Sale
There are many kind of raw material can be used to make wood brick briquettes, everything related to wood, such as sawdust, wood chips, logs, branches, etc. Wood brick briquettes transform low density wood biomass material into high density briquettes in variable shapes. Wood brick briquette brings multiple benefits from being eco-friendly to more economical to use. They can be used in homes to run ovens, likewise, restaurants and bakeries can use them for a similar purpose.


Make Wood Brick Briquettes
The density of wood brick is higher than the normal firewood. Lignin in the wood could combine the wood matter together easily, so it can burn longer in the fire places and the stoves. The wood brick is the one of the best briquette products, it is the most suitable fuel for cooking the smoked food. There is no other additive added in the process of wood brick making, no toxic matter could be created.
Professional Wood Brick Briquette Machine for Sale
Punching briquetting press, new type of wood brick briquette machine, compresses crop straws and wood residues into biomass fuel. The wood brick briquette produced by punching briquette machine is lumpy, small in size and dense and free of additives. The wood brick briquettes is not only convenient for storage and transportation, but also can increase the burning value per unit area by more than 10 times. (Read more: Wood Pellet Making Machine >>)
Wood Brick Briquetting Machine adopts screw prepressing, piston stamping and two-stage compression. Its forced cooling of oil can ensure the equipment lubrication, which solves the shortage of common briquette making machine, such as high water content of raw materials and fast wear of forming mold. It has the feature of low power consumption, high production efficiency and long operation life and low maintenance rate.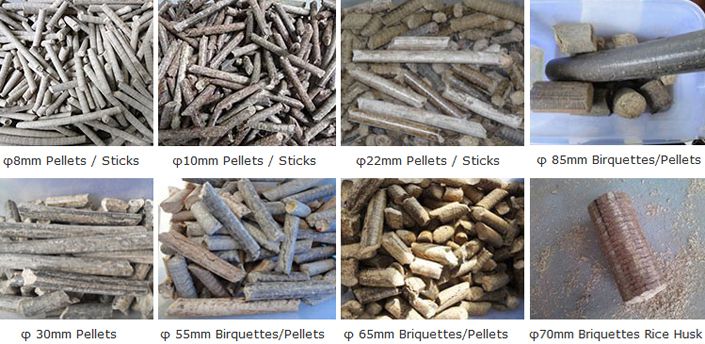 Biomass Briquettes and Pellets by Punching Briquetting Machine

Wood brick briquette machine can also be used to process various biomass materials. If you have questions about its briquetting performance, please contact us directly to get more video, material briquetting test or detailed machine price and technical parameters!
Features of Wood Briquette Making Machine

Wood Briquette Making Machine for Sale
Punching briquetting machine can produce both biomass pellets and briquettes, so it truly achieve one machine in dual use.
It features high yield, high density. The combustion time of briquettes it produced extend at least 10 times.
Patented mold ensure the increase of the adequacy of combustion.
The full application of frequency conversion technology makes the feeding speed adjust freely, greatly reduces the energy consumption and saves briquettes production cost.
The internal cooling design of linkage bar mechanism makes the linkage bar keep constant temperature when moving at high speed, which completely solves the phenomenon of sliding bar locking caused by friction overheating
Wood Brick Briquette Making Machine Operation Video
Choose wood brick briquette machine for business – buy high quality wood brick making machine to make high density briquettes and pellets: HOT sale wood brick briquette machine offered by biomass briquetting machine manufacturer or supplier, guide on process of wood brick briquette production and how to start wood brick briquette making business with limited cost in Tanzania, Egypt, Morocco, Ghana, South Korea, etc.
Wood Brick Briquette Machine

| TYPE | CAPACITY | POWER | WEIGHT |
| --- | --- | --- | --- |
| HDC-1000 | 1000kg | 45kw | 6000kg |
Build Wood Briquetting Plant Project at Low Cost
Making briquettes from wood residues or crop straw has been a trends in countries that are rich of biomass materials, but short of fuels. Setting up a complete briquette making plant would be definitely profitable and worth investing. If you want to know how much money is needed to set up a briquetting plant, we can offer the compact solutions that includes equiment selection, project installation cost and other technical information. Welcome to contact us!


Wood Brick Briquette Production Line
The basic equipment for wood brick briquette manufacturing has crushing machine, drying equipment, briquetting press, or cooling and packaging equiment.
Since different biomass materials may require different briquetting process. Here is the general process of making wood brick briquettes.
Crushing: Some raw materials are too large, which will cause poor briquette effect or damage wood brick briquettes machine. Crusher can make block materials into sawdust or bran shape.
Drying: Biomass briquetting has strict requirements on the moisture content of raw materials. After crushing, the saw dust will be sent to roller dryer. In the dryer machine, the sawdust can be dried to preset moisture content through hot air. Or increase the moisture content of the raw material if it's too dry.
Briquetting: Wood brick briquettes machine is the key equipment of the whole briquette making. We have many type of briquette machine for you to choose. The machine can process different briquettes ships by different models.
Cooling: When discharging briquettes from the wood brick briquettes machine, the temperature is too high. The structure of briquette is relatively loose and easy to be broken. Through cooling system, the briquettes will be cooled to room temperature and become tight and durable. Then, they can be packaged in bags.
Finally, you have got the final wood brick briquettes with high quality. It can be used directly or can be packaged for sale. If you want to know how to produce briquettes with your own raw materials, please contact us, we well make specific solutions depend on the conditions of your place and the property of your raw material!

Economic Benefits of Making Wood Brick Briquettes
A country that is rich in wood waste materials is the best place to start wood brick briquetting business. It has the potential to improve the country's economy in different ways. If a country buys expensive fuels like oil etc. from other countries to use them to produce electricity etc. and then it replaces these expensive energy sources with very cheaper biofuels (wood brick briquettes) then the country can save a lot of expenses and use it in other sectors to improve the economy. You can see more improvement in the economy if you make your own wood brick briquettes by purchasing suitable biomass briquette machine.
Similarly, if you produce an abundant amount of wood brick briquettes you can sell it in your own market to make it available for industries that consume expensive sources like oil etc. Soon, after learning the value of this biofuel chances are they will start consuming this eco-friendly fuel instead of the traditional fuel that produces toxic gases. You can also earn revenue by selling wood brick briquettes in the international markets. Many countries are now looking for fuel sources that do not produce harmful gases which means the demand for biofuel is increasing in the international market. So, establish your own business and sell the briquettes in the local as well as international market to improve your economy.
Get In Touch
We receive enquiries in
English, Español (Spanish), Русский язык (Russian), Français (French) and العربية (Arabic)
. Our professional team will reply to you within one business day. Please feel FREE to contact us!