What is the difference between biomass pellets & briquettes?
For people who want to start biomass fuel production business, they must want to learn about the field first. Some are clear about their demand as they need biomass briquettes or biomass pellets. But some others don't. They have no idea of the differences between biomass briquettes and pellets. Here we'd like to share our knowledge regarding this matter.
What is the Difference between Biomass Pellets & Biomass Briquettes?
Biomass pellets are cylinder sticks made from biomass. For making both pellet and briquette, biomass raw materials should be pulverized first. The high pressure of biomass pellet machine can press the powdery biomass tightly and make them not easy to break. Biomass pellets are usually utilized in home pellet stove, central heating boiler, industrial boiler, or in power plants to replace coal. They can also be used as horse bedding and cat litter. (Read more: GEMCO Pellet Mill for Sale >>)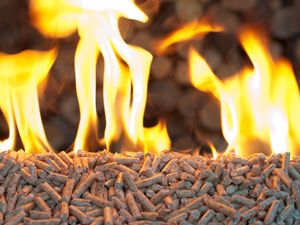 Biomass Pellets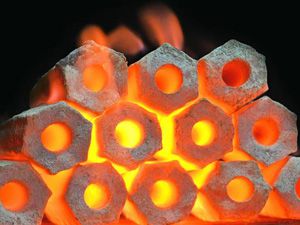 Biomass Briquettes
Biomass briquettes are sticks or blocks with large diameter and different shapes (hexagon, cylinder, cuboid, etc.) made by biomass briquette machine. They are primarily for industrial use for heating. The briquettes made by screw briquette press can also be made into charcoal briquettes for BBQ because of their light weight and regular shape. They are more durable to combust and easy to transport and store. (Read More: How to Make Wood Briquettes >>)
Raw Materials Suitable to Make Biomass Fuel
Biomass is one of the four famous energy sources (coal, gas, and oil) that's used throughout the world for having multiple benefits. This renewable energy source has many advantages over other sources as it is pollution-free, cheaper, and easy to use and produce. A variety of biomass materials are available which can be either wasted or used for the production of energy. The most common examples of biomass materials are


Raw Materials to Make Biomass Pellets Briquettes
Agricultural Wastes - corn husk, oat hulls, nutshells, and hulls, etc.
Animal Waste - litter, manure, pulp, and paper, etc.
Wood Wastes - sawdust, shavings, bark, construction materials, etc.
How to Make Biomass Pellets for Business Purpose?
Establishing a biomass pellet production business can be a huge success if you know how to run it. People may run large industries, some run small scale businesses and a few make biomass pellets only for their personal use at their homes. Making biomass pellets of the right size with the right ingredients is highly essential for achieving a high productivity level. Here is a thorough guide to making biomass pellets.

Biomass Pellet Making Machine

Buy Suitable Raw Materials
The choice of raw material depends on the purpose of the use of biomass pellets. If you are making pellets from wood you can either buy whole wood (that can be expensive) or buy sawdust and other similar waste materials from the market at a cheaper and reasonable price. The raw material that you buy must be inexpensive and easily accessible. (Related Post: Sawdust Pellet Machine for Sale >>)
Remove Excessive Water through Drying
Once the material is selected, dry it to remove the excess amount of water present in it (its water constituents must not be greater than 10%). If you skip this step, the end product will not be as dense as you wanted it to be. (Related Equipment: Rotary Drum Dryer >>)
Now mix all ingredients together in the mixer. Before creating pellets, thorough mixing of ingredients is very important for forming pellets that have the right amount of elements in it.
Add Mixture in the Pellet Making Machine
Collect mixture from the mixer and add it in the biomass pellet making machine. Before starting it make sure its die and rollers are working properly because if there is any problem with them your pellets will not be of the right size and density. After adding a mixture in the pellet making machine, pellets will be formed within a few seconds. Collect shiny and hard pellets. Sieve them to separate poorly formed pellets. (Related Equipment: Small Pellet Machine Price >>)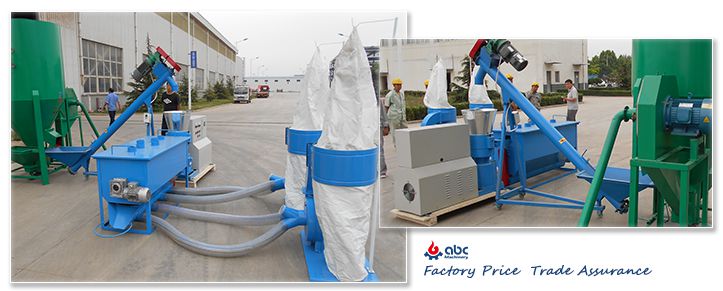 Small Biomass Pellet Production Line
When pellets are formed, dried, and separated, pack them in the appropriate container and store them for use in the future. You can also sell them in the market at a reasonable market price.
Small Biomass Pellet Production
Difference between Biomass Pellets and Briquettes - Buy High Quality Biomass Pellets and Briquettes Making Machine for Biomass Fuel Making: HOT Sale biomass pellet making machine and biomass briquettes making machine offered by biomass fuel machinery manufactuer or supplier, Guide on process of biomass fuel production plant and How to start biomass pelletizing and briquetting business with limited cost in Tanzania, Egypt, Morocco, Ghana,South Korea, etc.

How to Make Biomass Briquettes?
Many types of products are made out of biomass, biomass briquettes are one of them. For the briquette making process any of the above-mentioned materials can be used. The choice of the material depends on the purpose of the use of its end product. Use the following procedure for biomass briquettes making.


Biomass Briquette Making Machine
Select Suitable Raw Material. The selection of material depends on the purpose of usage of briquettes that you are making. The materials must have a low water content in them as a high level of water will produce poor quality briquettes.
Once the material is selected, crush it properly with the help of a crusher or grinder. Biomass should be ground into particles of small size to make sure briquettes formed after compression of the material have a high-quality.
Now if the biomass is too dry, spray water on it to bring the moisture level to normal. On the other hand, if the biomass is moist, let it dry first so that excess water evaporates and the normal quantity of water stays behind.
The material that has been processed completely is now passed through biomass briquettes making machine. The machine must be of good quality otherwise less dense briquettes that are not accurately compressed will be formed.


Small Biomass Briquette Making Plant for Sale

Different types of biomass briquette making machines are available in the market. All of them use the same technology called pressure agglomeration in which a high value of pressure is applied to the biomass that converts it into briquettes of different shapes and sizes. Die and rollers are used for pressing the raw material. The more pressure is applied the denser the briquettes formed are. (Related Post: 3 Types Of Biomass Briquette Machines For Sale >>)
Collect briquettes coming out of the biomass briquette making machine. Heat them at a normal temperature to remove water if it was left behind. Store briquettes in a dry and tightly packed container.
What is the Difference between Biomass and Fossil Fuels?
Fossil fuels have been utilized for thousands of years. They include coal, gas, and gasoline. With time passing by, the consumption of fossil fuels is increasing sharply, so their amount is decreasing fast. And the fossil fuels are formed over thousands or even longer years of time, which makes it non-renewable. As a result, fossil fuels become extremely precious. What's more, the burning of fossil fuels has caused severe pollution to the air, which ultimately harms human beings. Therefore, fossil fuels must be utilized in the most important and significant areas instead of being burned.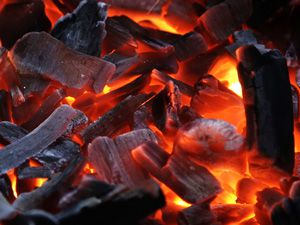 Fossil fuels
Biomass fuels
Different from fossil fuels, biomass fuels are renewable. It generally refers to the plants. Some biomasses like grass or crops are planted every year, others like tree can grow every tens of years, so we can say biomass fuels are renewable. Besides, biomass fuels do not release harmful gases like SO2. So many countries, especially EU nations have passed laws or regulations to support using biomass fuels.
Why Do We Make Biomass into Solid Fuels?
Previously people use raw biomass like wood chips for heating and burning. But other biomasses like sawdust, straw, stalk, rice husk, palm fiber, etc. are not suitable for direct use, and they often have large size that makes storage or transportation cost much higher. Besides, the direct use of wood chips sometimes cannot combust fully. In consequence, biomass pellet mill and biomass briquette machine are invented to make the biomass into regular shape solid fuels which are easy to use, convenient to transport and store, and have higher calorific value (heat value).
Advantages and disadvantages of wood pellet fuel2
Advantages
suitable for automatic combustion operation
made of regional renewable resources
energy density is higher than wood chips, suitable for transportation and storage
Disadvantages
credibility in fuel supply, transportation and combustion is inferior to gas, oil and electric power
Having learnt from the above, you may have a general understanding of biomass and fossil fuels, biomass pellets and briquettes. If you want to learn more about solid biomass fuel making, contact us at any time.
Get In Touch
We receive enquiries in
English, Español (Spanish), Русский язык (Russian), Français (French) and العربية (Arabic)
. Our professional team will reply to you within one business day. Please feel FREE to contact us!