Make Charcoal Briquettes with Charcoal Briquettes Machine
Charcoal briquettes, namely is a kind of charcoal fuel which is carbonized with briquette, and the briquette is made from various biomass raw materials by charcoal briquettes machine, such as, forestry residues, agro wastes, energy crops, virgin lumber and some industrial wastes etc. (Related article: How to Make Briquettes from Wood Shavings?)


Start Charcoal Briquette Making Business
The charcoal briquette is widely used in industrial and agricultural fields as well as people's daily life, which attracts many people who have large quantity of wood waste want to invest into starting a charcoal briquette business, but not all the people know about the bcharcoal manufacturing process. (Read more: Charcoal Briquette Machine Price >>)
How to Make Charcoal Briquettes?
The charcoal briquettes production process is not complex, mainly consisting of briquettes making process and briquettes carbonization process. (Related article: Biomass Briquette Machine for Sale >>)


Charcaol Briquettes Processing Machines
Briquettes Making Process - Biomass Briquettes
Raw Material Pretreatment
Making briquettes is the first step in the charcoal briquettes making process. In order to make qualified charcoal briquette, the raw material pretreatment is considered as the first important process, especially when you make charcoal briquettes for sale. The raw material treatment mainly includes drying (sawdust dryer) and crushing to keep the moisture around 10% and crush the size into around 3mm. (Related project: 500KG/Hr Biomass Briquetting Plant Setup in Russia >>)
The briquetting is realized by charcoal briquettes machine, our hot sale type is the GCBC-series screw briquette machine. The forming sleeve of charcoal briquetting machine has a heating ring outside which can heat the forming sleeve to about 350℃. The final produced briquette is in shape of Hexagonal bars with hollow center, which has a coking surface, can be directly to be processed into charcoal fuel.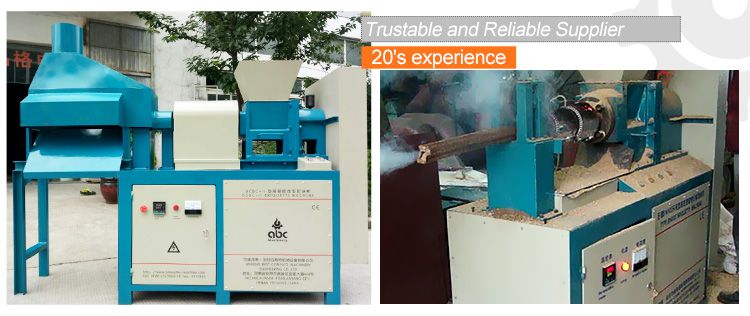 Screw Briquettes Machine for Charcoal Briquettes Making
Screw Type Briquetting Machine Technical Parameter
| Model | Output (kg/h) | Motor Power (kw) | Size of Briquettes (mm) | Size of Inside Hole (mm) | Weight (kg) | Overall Dimension (mm) |
| --- | --- | --- | --- | --- | --- | --- |
| GCBC-I | 180-210 | 15 | Dia. 50mm*L480mm | Dia. 16mm | 700 | 2700*600*1600 |
| GCBC-II | 300-350 | 18.5 | Dia. 60mm*L500mm | Dia. 16mm | 1000 | 2000*600*1700 |

Briquettes Carbonization Process (Charking) - Charcoal Briquettes
The sawdust briquettes are carbonized inside the furnace with little oxygen. Generally this process can be divided into 3 temperature periods:


Making Charcoal Briquettes for Business
From ignition to the furnace temperature reaches 160℃. In this period, the moisture inside the sawdust briquettes is mainly evaporated by heating and their own combustion. The chemical composition of briquettes is unchanged.
In this period, the furnace temperature increases to 160-200℃ by the heat generated in the combustion of briquettes. Some components like hemicellulase are decomposed into CO2, CO and others.
Comprehensive Combustion Period
​In this period the temperature reaches 300-650℃, and its components are thermally decomposed sharply while abundant of liquid like acetic acid, methyl alcohol and wood tar and gases like methane and ethylene are generated. These combustible gases burn inside the furnace and increase its temperature. The wood briquettes are destructively distillated into charcoal.

Building Your Charcoal Briquette Making Plant
To setup your biomass briquetting plant for charcoal briquette production, the most important thing is to find a reliable charcoal briquette equipment manufacturer or supplier and to choose a good charcoal briquettes machine. A reliable manufacturer must has rich experiences in manufacturing the charcoal briquette press and do well in building charcoal briquette production line. When you have problems or trouble during the briquette making process, they will give you the best solution!
The following is the charcoal briquettes making projects we built for our customers. If you have interest in starting charcoal briquette production as business, please contact us for free.


Setup Charcoal Briquetting Plant
How Charcoal Briquettes are Made?
How to make charcoal briquettes with charcoal briquettes machine?:buy charcoal briquettes machine from charcoal briquettes machines manufacturer or supplier at factory price, get free technical instruction of charcoal briquettes making process and business plan to set up charcoal briquettes machine project in the Czech Republic, Guatemala, South Korea, Japan, Thailand, Indonesia, etc., at low cost.
Get In Touch
We receive enquiries in
English, Español (Spanish), Русский язык (Russian), Français (French) and العربية (Arabic)
. Our professional team will reply to you within one business day. Please feel FREE to contact us!