How to Make Wood Briquettes from Wood Chips, Shavings & Sawdust?
The by-products from wood processing factories like wood chips, wood shavings or sawdust are very good sources for making fuel briquettes. Therefore, many furniture factories and woodworking factories buy biomass briquette machine to deal with these wood residues and at the same time make extra profits. But, in fact many people are not clear how to make wood briquettes from wood chippings, wood shavings and wood sawdusts.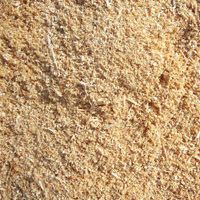 Wood Sawdust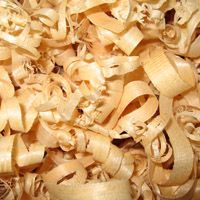 Wood Shavings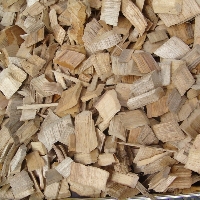 Wood Chips

With the mission of "advocating green energy and creating green life", GEMCO is committed to the development and research of biomass energy machinery. We strive to help human beings to produce environmentally friendly and renewable green energy for human beings and advocate people to take the road of green life by providing wood pellet manufacturing equipment, wood briquette machine, and other biomass machines. The following GEMCO machinery will elaborate on the production process from wood raw materials to wood briquettes, and analyze the benefits that investment in wood briquettes production can bring to you. If you have any questions in this process, please do not hesitate to contact us.(Latest Project: Biomass Briquetting & Pelletizing Plant in Thailand >>)

How to Make Wood Briquettes from Wood Raw Materials?
Wood briquette manufacturing process and briquette making machines are the two most important factors when making briquettes from wood chips, shavings and sawdust. In fact, the whole process can be divided into the following steps: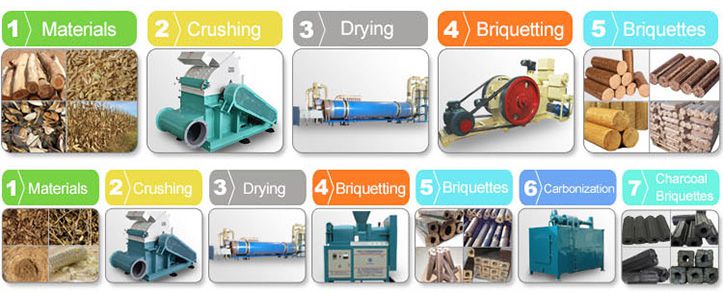 Wood Briquette Manufacturing Process
Step1: Get Ready Wood Raw Material - Crushing and Drying
This process is to crush the oversized wood chips and wood shavings into much smaller sawdust (The sawdust itself does not need crushing). Usually, the sawdust will contain much moisture, which is not suitable for briquetting directly. Under such circumstances, the sawdust needs to be dried by the dryer. The dryer can decrease its moisture to 8%-16%. Since the dryer is often used in large biomass briquetting plants, for small briquette production line, air drying is enough: just spread out the sawdust onto the clean and smooth ground.
Step2: Put Sawdust into Wood Briquette Machine for Briquetting
This step is often done by an elevator that can feed the sawdust into the hopper evenly. If you want to save money, feeding the sawdust by man is also OK, but the man must be cautious about the feeding speed in case no blockage is caused to the wood briquette machine, and the briquettes can get out uniformly and without break.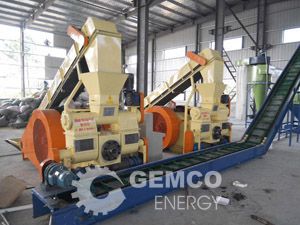 Mechanical Briquette Machine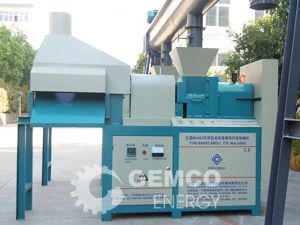 Screw Briquette Machine
There are 2 types of hot sale wood briquette machines: one is mechanical stamping briquette press that can make both thin pellets and thick briquettes (only the mould is different and changeable). The other is screw briquette machine which is often used to make high quality charcoal briquettes or BBQ briquettes from sawdust. (Read more: How to Make Charcoal Briquettes?)
Step3: Briquettes Cooling, Packaging and Storage
The briquettes from the briquette machine should be cooled, then it can be packaged for storage or sales.

Briquetting Machine Working Video of GEMCO Machinery
If you want to know more about the production and processing of biomass briquetting equipment, please feel free to contact us. GEMCO Machinery welcomes your consultation.
Makes Profits by Investing in Briquettes Productions from Wood Residues
Nowadays, there are plenty of wood residues produced every day in many places, so it is definitely profitable to make briquettes from wood chips, shavings, sawdust, etc due to the great market demands of wood briquettes around the world. According to users report, wood briquettes has many outstanding features over traditional fuelwood:
Good substitute for wood and don't need chopping
Clean and easy to ignite, has small flames and less smoke
Ideal for slow cooking
In many countries, wood briquettes has great demand in schools, feeding centres and prisons. So, setting up wood briquette production line would be a great business projects (Related Project: Biomass Briquetting Plant in Russia >>). In addition, a complete wood briquetting plant also brings huge social benefits:
It can create more jobs for local people
Provides additional income for furniture factories, coffee millers, and other institutions created agriculture residues
Helps fuelwood users to save fuel expenditure
If you are planning to start briquttes making business, choosing Reliable Briquette Machine Suppliers can help you yield twice the result with half the effort. GEMCO is an experts in wood briqutte making, we can provide you with high quality wood briquette maker, and complete services, including equipment installation and commissioning. If you are interested in, please contact us directly for equipment price and estimated project cost!
Hi, we need the wood briquetting machine from India. I am going to invest in a wood briquetting plant with my partner. I would like to know what conditions are needed to open a wood briquetting plant. Please provide us with details of the operation in India or other alternative methods.
Hello, dear sir. Before opening a wood briquetting plant, it is necessary to do a market survey to have a comprehensive and in-depth understanding of the biomass processing industry. Next, you need to find the working site of the briquetting machine, which depends on the output you need. If your output is relatively small, you can choose to rent a local store and open a small wood briquetting plant. If the output is relatively large, you can rent an existing plant or find suitable land to build a wood briquetting plant. When choosing briquetting equipment, GEMCO Machinery recommends choosing a production equipment manufacturer with production strength, and can customize the briquetting production equipment program according to your needs and equip it with corresponding production equipment.
Get In Touch
We receive enquiries in
English, Español (Spanish), Русский язык (Russian), Français (French) and العربية (Arabic)
. Our professional team will reply to you within one business day. Please feel FREE to contact us!