The Advantages of Investing the hydraulic wood briquette machine
Over time, the demand for briquetting machines has been seen to increase greatly. Therefore, a question arises: What is a briquetting machine actually? So, to clarify this issue, this is a machine with some kind of innovative manufacturing technology that converts waste into briquettes. Biomass briquettes are made from sawdust, wood chips, rice husk, groundnut shell, coffee grounds, straws, etc. by briquette machine through high temperature and high pressure compression. Indeed, it is hard to believe at first glance that a machine can process waste on a regular basis. But this is reality, because the briquetting machine has technology that converts waste into briquettes. Now briquette is a final product which comes out from equipment by importing all the wastage into it.


Biomass Briquettes
Setting up a sawdust briquetting plant project is a profitable business since it can be widely used in heating systems, household cooking, boilers, BBQ, biomass power plants, etc. Biomass briquettes and biomass pellets are now the most cost-effective renewable substitute for fossil fuels. Therefore, if you are thinking of putting together or starting your own wood briquette manufacturing plant then you're intending to make your money really worth it. The following GEMCO Machinery will show you the processing technology and advantages of the hydraulic wood briquetting machine. I hope that through the introduction and guidance of GEMCO, every customer can purchase a hydraulic wood briquetting machine suitable for him. You can also choose to contact us directly, GEMCO Machinery will provide ex-factory price wood biomass briquetting machine.(Read more: Biomass Pellet Machine for Sale >>)

Hydraulic Wood Briquette Machine Working Principle
Hydraulic biomass briquette machine, also known as wood briquette machine or biomass brick machine, is the newest briquette machine developed by GEMCO. It is mainly used to produce wood or sawdust briquettes. In addition, it can also process rice husk, straw, paperboard, sugarcane bagasse or other biomass raw material. Utilizing the inherent characteristics of wood raw materials, through screw extrusion, under high temperature and high pressure, the lignin in the wood raw materials is plasticized to combine the fine fibers to form a rod-shaped solid fuel. (Related Post: How to Make Wood Briquettes >>)

Raw Materials: wood, sawdust, straw, rice husk, paperboard, sugarcane bagasse, coffee ground, etc.
Briquette Shapes: rectangle, octagon, hexagon, round, etc.
Hydraulic briquette machine mainly consists of storage bin, hydraulic pressure stand, feeding cylinder with hydraulic pressure drive, compressing cylinder, clamping cylinder at the outlet and discharge tube.
How does the hydraulic wood briquette machine work?
After pulverized by hammer mill, the powder wood or sawdust with moisture content of 12% will be put into the material bin. Then they are conveyed to the briquetting cavity through a screw conveyor. After that, the materials are pressed by hydraulic pressure into briquettes and pushed out.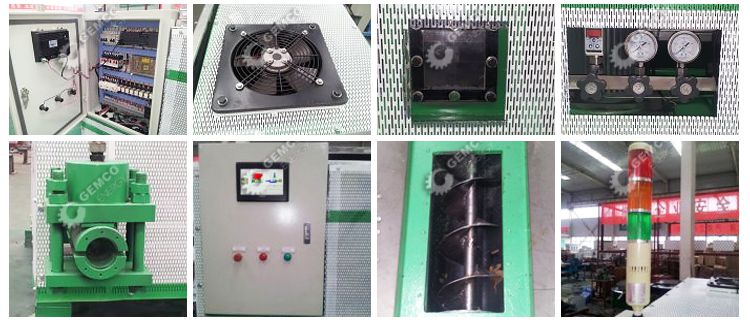 Working Details of Hydraulic Wood Briquetting Machine
Hot Sale Sawdust Briquette Machines of GEMCO
The screw briquette machine and punching briquette machine are also the most widely used briquette machine provided by GEMCO. Both are suitable to process a wide range of biomass raw materials. If you have any interests, please contact us to get the detailed parameters and price list!
Screw Sawdust Briquette Machine to Make High Quality Biomass Briquettes
Buy High Quality Sawdust Briquette Machine to Make Biomass Briquettes: HOT Sale Wood Briquette Machine Offered by Hydraulic Briquette Machine Manufacturer or Supplier, Guide on Process of Biomass Briquette Production and How to Start Biomass Briquetting Business with Limited Cost in Tanzania, Egypt, Morocco, Ghana,South Korea, etc.
Hydraulic Wood Briquette Machine Technical Specifications
| Model | Capacity (kg/hr) | Power (kw) | Weight (kg) | Dimension (mm) |
| --- | --- | --- | --- | --- |
| GMC-YKY006 | 60 | 5.5 | 650 | 1470*1480*600 |
| GMC-YKY012 | 120 | 7.5 | 1100 | 1470*1480*800 |
| GMC-YKY025 | 250 | 15 | 2800 | 1800*1600*800 |
| GMC-YKY035 | 350 | 22 | 3500 | 1800*1900*900 |
| GMC-YKY050 | 500 | 37 | 4200 | 2000*2000*1000 |
| GMC-YKY100 | 1000 | 55 | 6000 | 2700*2300*1200 |
So how do you choose a hydraulic wood briquetting machine? If you want to buy a good set of equipment that is convenient to use, you can choose GEMCO machinery. Since the establishment of the factory, it has been committed to sawdust briquette machines and biomass pellet machines. For the research and development, production and sales of environmentally friendly equipment, we will provide you with comprehensive and professional services from on-site testing, order selection, delivery and installation, and after-sales service. The company promises to sell every equipment High-quality products, you can rest assured to buy and use.

GEMCO Hydraulic Wood Briquette Machine Advantages
It has good forming rate, low power consumption, stable running, highly automatic operating system, complete alarm system and takes small space.
It adopts PLC system and visual touch screen control system, so that all processes can be seen on the screen. The PLC is SIMENS 224 Series; the contactor, motor protector and other components are Schneider brand; the touch screen uses domestic famous brand THINGET.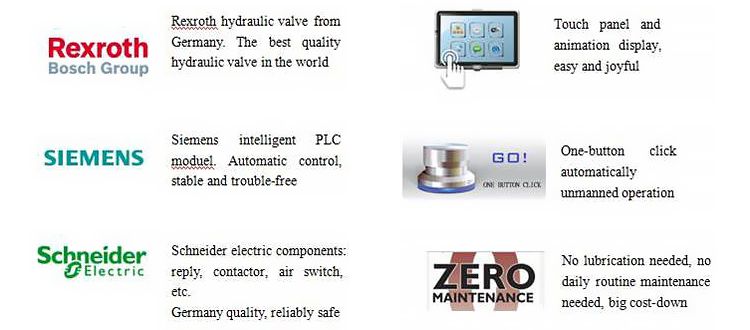 PLC Control of GEMCO Hydraulic Briquette Machine
Automatic alarm device is applied to the wood briquette machine to ensure production safety, which includes overpressure alarm, temperature alarm, blockage alarm, etc. Operator can see the alarm light and know where goes wrong quickly and solve the problem in time. (More details will be shown in our Instruction Manual.)
The automatic feeding system can ensure steady production and prevent material blockage.
The high-strength hydraulic pressing system can provide enough compression force to keep the safety and stability of briquetting process. The hydraulic valve is imported German Rexroth brand.
The shape of briquettes can be customized according to customer requirement.
The quality and performance of this hydraulic wood briquette machine can meet EU standards.
Complete intelligent liquid temperature control system. If the hydraulic oil temperature exceeds the top and bottom limitation of set temperature, the system will automatically start cooling fan or electric heating system to guarantee oil temperature.
And other attractive features of hydraulic wood briquetting machines are usually lower installation and handling costs, sturdy structure, and nominal chance of wear. It does not crave electricity because it needs lower electricity. Widespread use of this fuel includes generating heat and electricity, and cooking fuel. Even if the loose biomass is burned, it can generate and generate enough heat to cook food. Manufacturers of briquetting equipment are currently introducing the industrial revolution just by establishing this briquetting machine, which can turn valuable materials into rubbish.
With the development of society, hydraulic wood briquetting machines have attracted more and more attention as environmentally friendly equipment, and investors have reaped great benefits from them. The number of biomass sawdust fuel manufacturers has mushroomed rapidly. Some small or unprofessional manufacturers have also begun to produce or sell this equipment, hoping to profit from it. However, the equipment produced by some unprofessional manufacturers is not professional enough, and the later service and installation cannot keep up, which brings great troubles to the users. So we must carefully choose the supplier of hydraulic wood briquetting machine. GEMCO Machinery believes that product quality is the life of an enterprise, and after-sales service is to ensure the continuity of quality. The company has an experienced and skilled after-sales service team, covering all parts of the world, tracking services. If you don't know how to choose, please contact us!
Get In Touch
We receive enquiries in
English, Español (Spanish), Русский язык (Russian), Français (French) and العربية (Arabic)
. Our professional team will reply to you within one business day. Please feel FREE to contact us!