New Type Double Headed Punching Briquette Machine for Sale
Double Headed Punching Briquette Machine
is the new briquette machine researched and developed by our company. This molding machine uses the punching principle of the crank connecting link to work, and the pressure can be more than 300 tons. It can adapt to each kind of biomass material, and the processing effect is perfect. Each moving part of the double headed punching briquette machine is forced to be lubricated by the oil pump and cooled by the cooling water. That is to make sure the normal running of the equipment.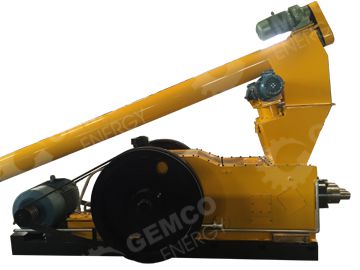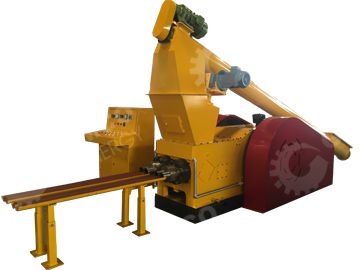 Model
GC-MBP-2000
Main parts
Punching Briquette Machine
Feed box
Lubrication pump
Control cabinet
Working Conditions
380V 50HZ (temperaturer: -15℃~40℃)
Raw Material Moisture Content
Less than 20%
Capacity
1.2~1.5Ton/Hour (different biomass materials have different output)
Density
0.8~1.2Ton/m3
Feeding speed control
Frequency conversion
Die service life
300-600T(different materials have different die service lives)
Briquettes Diameter
18mm, 30mm, 50mm, 70mm
Power of main engine
55KW
Weight
8000kg
Overall dimension
3300x1500x1460 mm
Finished Products

Video of punching briquette machine
φ70mm briquettes
φ30mm Briquettes
Building a Punching Briquette Line

This machine often works with grinding machine, drying machine, conveyor and other auxiliary machines as a whole briquette plant. The processing steps of the double headed punching briquette machine is like below: Biomass raw materials → grinding → drying(in the sun)→ briquetting → cooling → piling up(packing) → leaving factory.
Why choose Double Headed Punching Briquette Machine
Double headed punching briquette machine is mainly used to compress the pulverized
farm waste, barks, sawdust, twigs, wood, rice straw, rice husk, and furniture factory dust and other biomass raw materials
into briquettes under the situation of suitable pressure, temperature, granularity and moisture content to improve the combustible performance.
The biomass fuels produced by this double headed punching briquette machine is a new kind of reproducible and environment-friendly fuel, which has the advantages of cleanness, high calorific value and high combustible rate, etc. It can be used in furnace, boiler, electric stove and so on. Besides, in many areas, it can be a substitute goods of coal and natural gas. The formed biomass fuels can be also carbonized into charcoal to meet the requirement to high standard energy of people.
Get In Touch
We receive enquiries in
English, Español (Spanish), Русский язык (Russian), Français (French) and العربية (Arabic)
. Our professional team will reply to you within one business day. Please feel FREE to contact us!