Charcoal Briquette Making Machine for Briquettes Manufacturing Business
Traditional charcoal and mechanism charcoal are two common types of charcoal available in the market. Traditional charcoal is made from wood, trunk or branches by carbonizing process and usually produces more smoke when burning, so now fewer and fewer people are producing it. Mechanism charcoal is made from biomass wastes through professional charcoal briquette making process and is cheaper, and gains more popularity in today's market.


Make Charcoal Briquettes for Business
The charcoal briquette making process consists of several steps. For each step, there is special equipment. All these equipment together combine a charcoal briquette making plant. Based on the user's requirements and needs, the charcoal briquetting process and machinery may vary. However, certain steps like reducing moisture content, crushing the raw material, carbonization, etc. are usually common among all. (Read more: How to Make Briquettes?)
Machines to Start a Charcoal Briquette Making Plant
The charcoal briquettes production plant consists of several machine which play their specific role. Its most common components are:


Setup Charcoal Briquette Making Plant Project
Drying Machine to Control Moisture
Raw materials (biomass wastes) used to make charcoal briquettes have a different amount of moisture in them. Depending on which type of raw material you are using, you would need to dry it at different extents. Drying the raw material is highly essential as it guarantees hard and dense charcoal briquettes. So, a drying machine or dryer is used to evaporate extra water present in the raw material.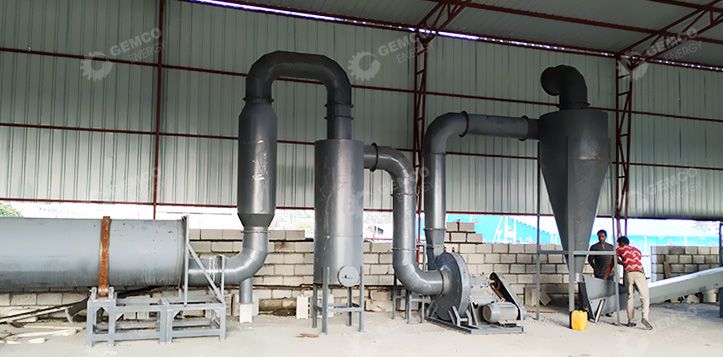 Briquetting Materials Drying Machine
Raw Material Crushing Machine
The crushing machine is used to crush the raw material and convert it into small sized particles. Crushing the raw material is important as large sized particles cannot make fine and solid briquettes. However, sometimes the raw material used is already in its powdered form and you do not need to crush it further. For instance, the rice husk briquette processing usually doesn't need crushing process.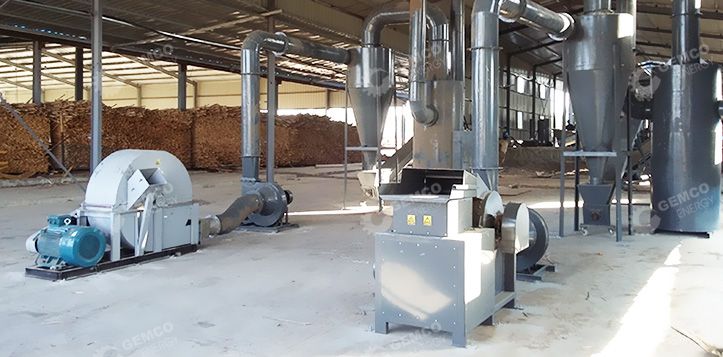 Crushing Machine Briquettes Production Plant
Biomass briquette press is used to convert processed raw material into the rod-shaped briquettes. As charcoal briquette making machine is the main part that produces the end product, buying an efficient briquette making machine is important to get a high yield. However, the product achieved at the end of this briquetting process is not the final product and is called semi-finished charcoal. These compressed charcoal briquettes need to be carbonized further to get the desired product.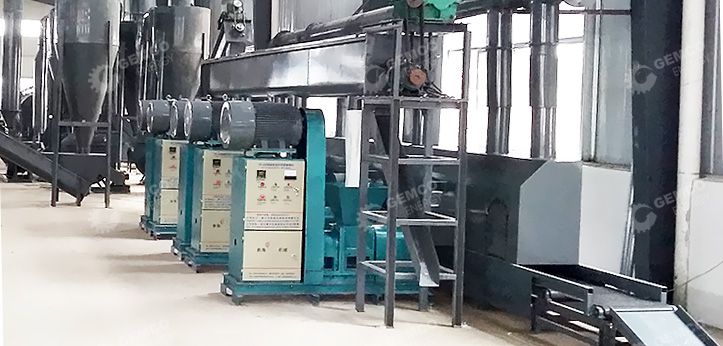 Charcoal Briquette Making Machine
Carbonization Furnace or Kiln
In the final step, a carbonization furnace or kiln is used to carbonize the compressed briquettes. Most of the users now prefer a carbonization furnace or kiln. It is because it causes less harm or pollution to the environment and gives the product in less time.

How Does a Small Charcoal Briquetting Plant Work?
Machines to set up small scale charcoal briquettes making plant – buy high quality charcoal briquette making machine for briquettes manufacturing business: hot sale charcoal briquette making machine offered by briquetting equipment manufacturer or supplier, guide on process of charcoal briquettes production and how to start charcoal briquette making business with limited cost in Tanzania, Egypt, morocco, Ghana, South Korea, etc.
Charcoal Briquettes and Biomass Pellets, Which one is More Profitable?
Charcoal briquettes and biomass pellets are all biomass fuels that is now very hot business project around the world. Many people who are interested in or want to invest in biomass industry are wondering which one can make much more money? Actually, the two biofuels have many commons as well as many differences.


Profitable Biomass Fuel Business
They are both made from sawdust wood residue and other agricultural and forestry waste, and they are both used as fuels for civil and industrial industry. However, if you are going to start charcoal briquette manufacturing business or biomass pellet production plant, you should clearly know that biomass pellets and charcoal briquettes are targeted at different customers.
Therefore, before starting it, it is very important to find the right customers for your charcoal briquetting factory or pelletizing plant. Because of different demands, the profitability of biomass pellet and charcoal briquettes could not be completely compared. However, as long as adopting scientific management and finding out the accurate customers, you will be successful and gain profits from your own biomass pellets or charcoal briquettes manufacturing business.
| Solid Fuel | Price per kg [€] | Energy Value [kWh/kg] | Price per kWh [ct] |
| --- | --- | --- | --- |
| hardwood briquettes | 0,35 | 5,3 | 0.06 |
| coniferous wood briquettes | 0,24 | 4,9 | 0,05 |
| bark briquettes | 0,51 | 4,5 | 0,11 |
| pellet | 0,33 | 4,9 | 0,07 |
Since establishment, GEMCO are trying to provide customers with high quality and factory equipment to make biomass pellets and briquettes. If you are interested in biomass fuel production business, we are your reliable supplier. We can offer customized plan that includes factory design, equipment selection, manufacturing and installation. Most importantly, we offer turnkey projects that cost low. Please contact us to get more detailed information!
Get In Touch
We receive enquiries in
English, Español (Spanish), Русский язык (Russian), Français (French) and العربية (Arabic)
. Our professional team will reply to you within one business day. Please feel FREE to contact us!