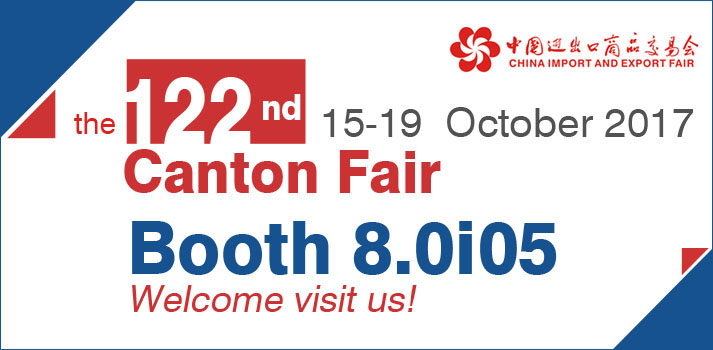 ZLSP200B R-type Electric Pellet Mill
MPL300 Biomass Mobile Pellet Plant
Large Ring Die Wood Pellet Mill
D-type ZLSP200B Small Pellet Mill
Screw Biomass Briquetting Machine
Hydraulic Wood Briquette Machine


How Much is One Ton of Sawdust Pellet in The Pelleting Market?

Customize Your Feed Mill Plant for Poultry

How to Choose Animal Feed Pellet Machine
Projects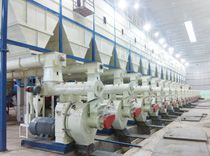 20TPH Wood Pellet Plant in Vietnam
TEL:
+86-372-5965148
FAX:
+86-372-5951936
E-MAIL:
info@gemco-energy.com
ADD:
19F, Suite B, Global Trade Mansion, Wenfeng Avenue, Anyang, Henan, P.R.C
hydraulic wood briquette machine
Hydraulic biomass briquette machine also named wood briquette machine or biomass brick machine is the newest model briquette machine made by GEMCO. It is mainly used to produce wood or sawdust briquettes, also can process rice husk, straw, paperboard, sugarcane bagasse or other biomass raw material.

Briquettes Shapes: rectangle, octagon, hexagon, round, etc.

Composition: mechanical system, hydraulic system and electrical system.
Specification of Hydraulic Wood Briquette Machine
| | |
| --- | --- |
| Production capacity (Max.) | 125 kg/h (Varied due to different materials) |
| Main power(kw) | 7.5+1.5 |
| Briquette diameter | 70 mm |
| Surge bin volume | 0.45 m3 |
| Machine weight | 1200 kg |
| Dimension | 3150*1270*1790mm |
Feature of Wood Briquette Machine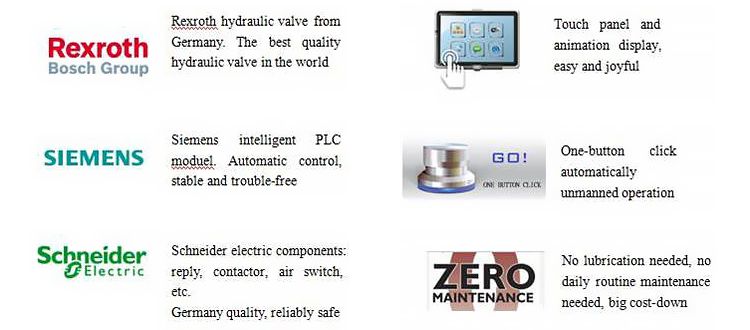 How does the hydraulic wood briquette machine work?
After pulverized by hammer mill, the powder wood or sawdust with moisture content of 12% will be put into the material bin. Then they are conveyed to the briquetting cavity through a screw conveyor. After that, the materials are pressed by hydraulic pressure into briquettes and pushed out.
Details: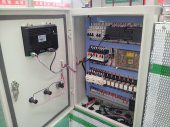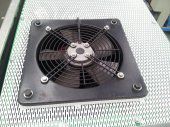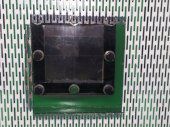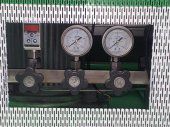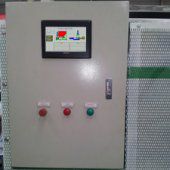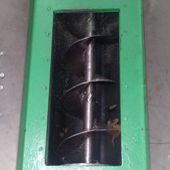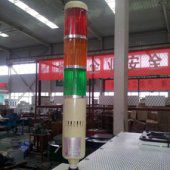 The advantages of hydraulic wood briquette machine
It has good forming rate, low power consumption, stable running, highly automatic operating system, complete alarm system and takes small space.
It adopts PLC system and visual touch screen control system, so that all processes can be seen on the screen. The PLC is SIMENS 224 Series; the contactor, motor protector and other components are Schneider brand; the touch screen uses domestic famous brand THINGET.
Automatic alarm device is applied to the wood briquette machine to ensure production safety, which includes overpressure alarm, temperature alarm, blockage alarm, etc. Operator can see the alarm light and know where goes wrong quickly and solve the problem in time. (More details will be shown in our Instruction Manual.)
The automatic feeding system can ensure steady production and prevent material blockage.
The high-strength hydraulic pressing system can provide enough compression force to keep the safety and stability of briquetting process. The hydraulic valve is imported German Rexroth brand.
The shape of briquettes can be customized according to customer requirement.
The quality and performance of this hydraulic wood briquette machine can meet EU standards.
Complete intelligent liquid temperature control system. If the hydraulic oil temperature exceeds the top and bottom limitation of set temperature, the system will automatically start cooling fan or electric heating system to guarantee oil temperature.
Other Products You May Need