Specially Designed Wood Pellet Mill Line for Japanese Clients
Customized Wood Pellet Mill Line
One complete
wood pellet mill line
makes wood pellets by adopting a series of equipments including
crushing, drying, pelleting, cooling and de-dusting, bagging
. Due to the different requirements of clients from different regions, the scale of wood pellet line are not the exactly same,
we always customize wood pellet production line for the clients
.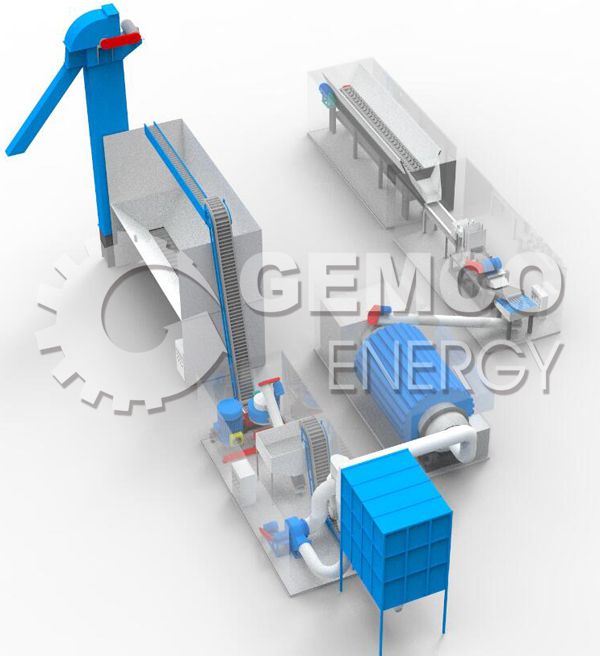 (
Wood Pellet Mill Line
Specially Designed for Japanese Clients)
This time, we customized a unique wood pellet mill line called container type for our Japanese client.
This wood pellet production line was designed and manufactured in a small size and compact structure, covers a very small area.
And
vertical ring die wood pellet mill
which is equipped with strong pressure, can easily press the materials with high hardness or which are not easy to bonded and shaped.
From the client, we know the conditions of traffic road in Japan, we designed and manufactured this whole wood pellet mill line placing into a 20GP container. The whole production line can be transported from the port to the established place through the road easily without worrying the road situation. Besides, this wood pellet production line has been installed completely before placing into the container due to its small size and compact structure. After arriving at the destination, having no need to build the workshop according to the scale of wood pelleting mill line specially, the client can directly proceed production when the debugging has been finished.
Energy Market in Japan
As an island country, Japan has been using solar energy to generate the electricity as the same with developed occident countries, and also develops nuclear electric power generation. However, with multiple earthquakes happened these years, the safety of developing nuclear power generation has been a big problem that can not be neglected, which affecting the life of local people badly. 50 nuclear power generation stations have been shout down, the demand for energy of people has been emergency. Biomass power generation becomes an easy and efficient way to relieve this emergent situation. Thus, Japan begin to put more focus on developing biomass power generation, the demand for wood pellets of energy market has been increased greatly.
Superiorities of Wood Pellet Mill Line
Wide raw materials. In wood pellet production line, variety of raw materials can be made into biomass wood pellet, such as, wood chips and shavings, sawdust, maize straws, rice husk, cotton stalk, wheat straw, barks, leaves, corn rob, bagasse, bamboo shavings, peanut shell, coconut shell, twigs, sorghum shell etc.
Wide applications. The finished wood pellets with high combustion, burning fully with low ash, can be widely used for home heating and cooking, enterprise and public institution heating, communal heating, heating for BBQ, industrial boiler, biomass power generation, household fireplace etc.
High quality. Equipped with professional related equipments, finished wood pellet with uniform shape and length, is easy to store, manage and transport.
Wood pellet mill line can be customized specially according to the requirement and actual condition of clients from different regions.
Wood Pellet Line Projects
Have interests in wood pellet mill line? Please don't hesitate to contact us, let us customize wood pellet production line for you.
Get In Touch
We receive enquiries in
English, Español (Spanish), Русский язык (Russian), Français (French) and العربية (Arabic)
. Our professional team will reply to you within one business day. Please feel FREE to contact us!