Mini Wood Pellet Plant – Movable & Portable & Efficient
A mini wood pellet line has all the essential pieces of pellet manufacturing machine that are needed to manufacture wood pellets. As it has smaller size as compared to the size of a large biomass pellet mill factory, it can be designed with wheels underneath to help the workers move it from one place to the other.
A number of raw materials can be processed in this machine to produce wood pellets, like sawdust, miscellaneous wood, waste wood, straw, peanut shell and other biomass raw materials. It is designed for small scale wood pellet production for farm use, home use and small scale wood pellet making business. (Read more: Sawdust Pellet Making Machine >>)


Mini Wood Pellet Making Business
Complete Mini Wood Pellet Line – GEMCO Patented Wood Pellet Making Machine
GEMCO patented mini wood pellet line is designed with complete wood pellet manufacturing process. It not only offers great convenience for users, but also saves spaces and investment cost. (Latest order: Mini Wood Pellet Mill Design >>)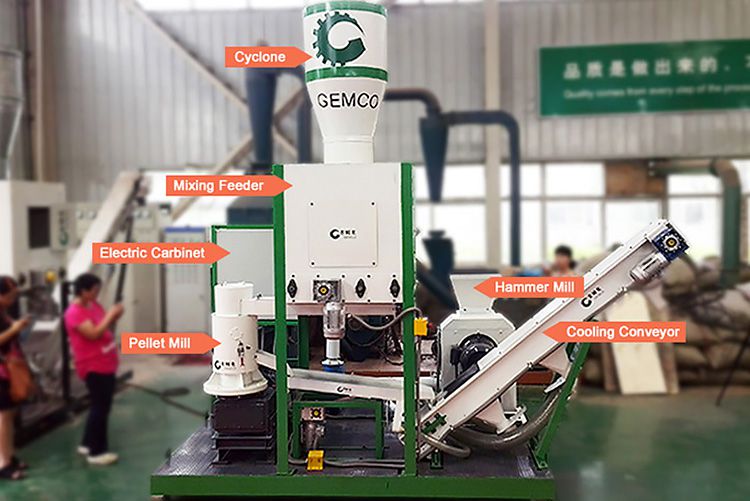 Mini Wood Pellet Plant for Sale
Buy Mini Wood Pellet Plant from GEMCO
Type
Power (Hp)
Output (kg/h)
Pellets
Weight (kg)
Package Size (mm)
MPL300R
41.44
250~350

Size: 2.5~10mm
Density: 1.0t/m3
2300
3500*1960*3500
MPL400R
49.44
350~450
2400
3500*1960*3500
MPL420R
56.81
400~600
2500
3500*1960*3500

Generally, a complete mini wood pellet line consists of the following parts.
Hammer Mill for Crushing Raw Material
Before converting the raw material into pellets it must be fully crushed. As raw materials come in different sizes, crushing it helps in the production of a homogeneous mixture. Hammer mills will crush the raw material into fine sized particles. Usually, it has around 15 blades that can cut the raw material from different directions. It can produce fine particles of up to 20 mm in size. (Read more: Wood Chipper Machinery >>)
Conveying Machine to Load Material from One Part to the Other
The conveying system of mini wood pellet lines consists of three conveying machines. These machines help in the safe loading of material from one part to the other.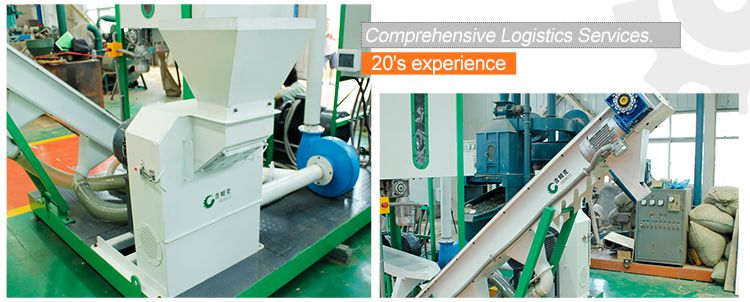 Setup Mini Wood Pellet Line
The wood pellet making machine in the mini pellet plant has rollers and die that put a lot of pressure on the raw material to convert it into wood pellets of the desired size. You can equip your mini wood pellet line with a small pellet making machine. This pellet line will also give you water adding option through which you can condition your material and improve its moisture content as per your needs. (Related post: GEMCO Wood Pellet Making Machine Price >>)
It has a vibrating sieve that helps in the separation of powder, dust, and similar particles from the pellets. As pellets get heat up when they come out of the machine, so this vibrating sieving will also help in reducing their temperature.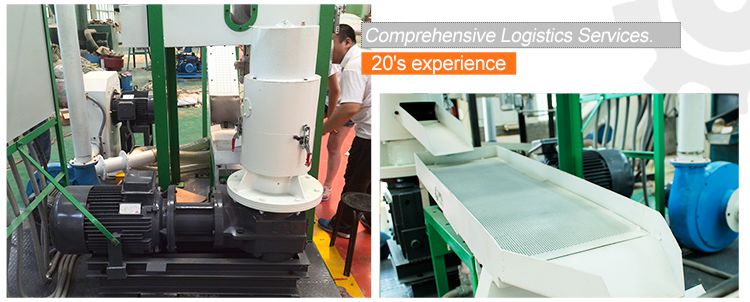 Complete Mini Wood Pellet Mill

Complete Mini Wood Pellet Line Pelletizing Process
移动小成套制粒的视频
Buy complete mini wood pellet production line – factory price mini pellet mill for wood pellet making: Buy mini wood pellet line from wood pellet mill plant manufacturer or supplier at factory price, get FREE technical instruction of wood pellet production process and business plan to set up complete mini wood pellet line project in The Czech Republic, Guatemala, South Korea, Japan, Thailand, Indonesia, etc. at low cost.
Why Should Buy Mini Wood Pellet Line?
A mini wood pellet line has multiple benefits. Some of its benefits are mentioned below.
A
mini wood pellet line
takes less space as compared to
large wood pellet production line
yet it produces a large number of pellets per hour. If it has wheels underneath you can easily get it moved from one place to another. It is wiser to setup a mini wood pellet plant near the place where you buy raw material. So, wherever you construct the pellet line, this equipment will not take much space which will leave more room for other equipment.
It consumes less energy comparatively. Usually, mini wood pellet lines work on electricity. If
wood pellet machine
consumes a lot of energy to operate then you may not get worth mentioning profit out of your biomass wood pellet making business. In order to earn more revenue, the machinery that you use must consume less energy so that you can save your budget and use it for something more profitable.
Another great benefit of using a complete mini wood pellet line is you can use a variety of raw materials in it. You can feed different raw materials such as sawdust, rice husk, barley straw, wheat straw, wood shavings, and chips. It will help you buy the product that is cheaper yet produce the same good quality pellets. You can make pellets from different raw materials that you can use for different purposes. (
Testing Case: Coffee Shell and Coffee Grounds Pelletizing Testing Report >>
)
Its construction material is sturdy, durable, and reliable. It will not need much maintenance and will have a longer lifespan as compared to the pellet lines that are made up of low quality material.
GEMCO is the first one entering into supplying biomass pellet machine in China and our biomass pellet manufacturing machine has been exported to many countries. This complete mini wood pellet plant has been tested by the market for at least 10 years and many customers have purchased it for their business. To get the latest promotion price, please contact us directly and tell us more about your raw materials, expected capacity, and other requirements. We will quickly offer the quotation soon!
Get In Touch
We receive enquiries in
English, Español (Spanish), Русский язык (Russian), Français (French) and العربية (Arabic)
. Our professional team will reply to you within one business day. Please feel FREE to contact us!