Boost Pig Feed Production Process with Efficient Feed Pellet Mill
Just like other animals, feeding pig the proper nutrients in proper quantities is crucial for maintaining their health and promoting optimal growth. Pigs are one of the most commonly raised livestock around the world, so there is a great demand for high quality and nutritious feed. (Read more: Cattle Feed Machine Price List >>)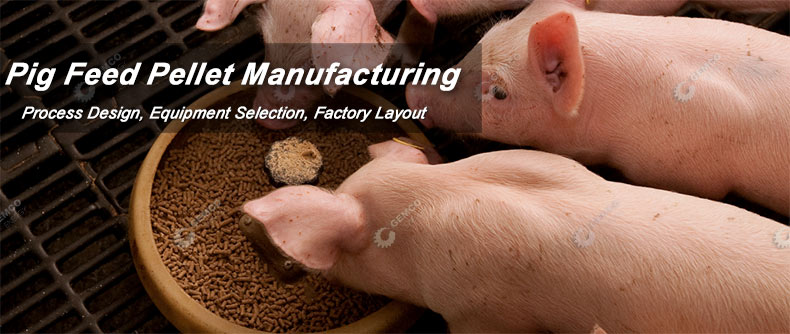 Professional Guide for Pig Feed Pellet Making
And nowadays, pig feed pellets are welcomed by more and more farmers over traditional pig feed forms due to its numerous advantages and benefits:
Enhanced Digestibility: it ensures better nutrient absorption and can improve growth rates;
Improved Feed Conversion: it can improve feed conversion rates for increased meat production and can also reduce feed cost;
Reduced Wastage: it is resistant to decomposition, reducing the quantity of wasted feed;
Convenient: it is easy to handle, store and transport.
How to Make Pig Feed Pellets?
Pig feed pellets manufacturing process involves multiple process and equipment, from raw materials preparation to final produced pig feed pellets. However, the whole pig feed pellet production process can be designed based on specific needs and budget. (Related post: Poultry Feed Manufacturing Plant Cost >>)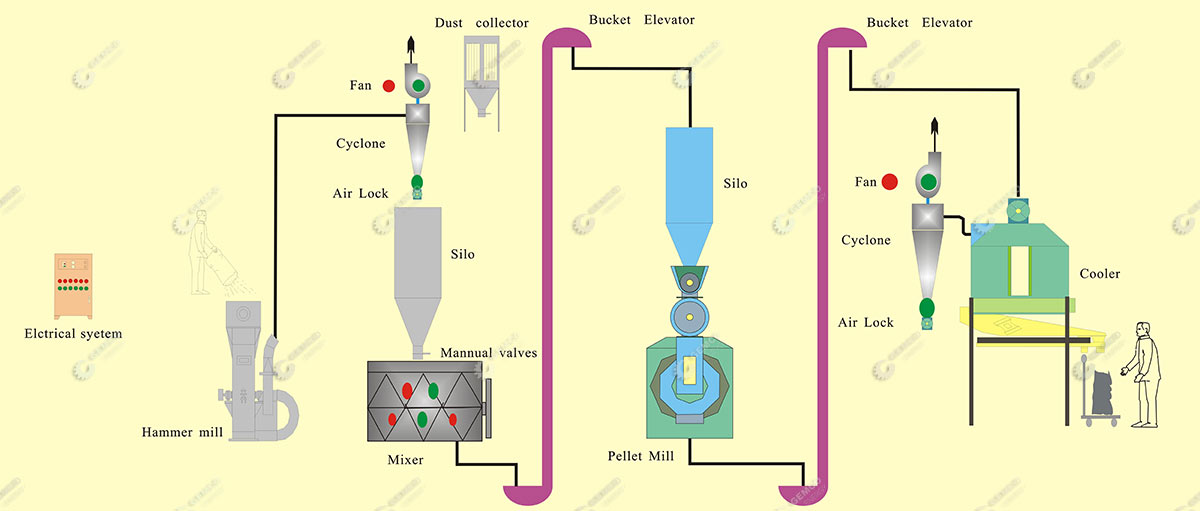 Commercial Pig Feed Pellet Mill Design - Process and Machines
Raw Material Selection and Preparation
Typical raw materials for pig feed pellet making have maize, soybean meal, wheat, barley, sorghum and more. Select the right raw materials and then process it into a fine powder with a hammer mill. This process is important since it can increase the surface area of raw components, making it simpler to combine them evenly. (Read more: How to Make Alfalfa Pellets for Pigs?)
How to mix feed for pigs? This may be a very common questions for pig feed making. Actually, it is so easy with a feed mixer since it can make ingredients distributed evenly. This is also a very important step during the pig feed pellet production process.
After all the raw materials are processed, it is time to make feed pellets with a pig feed pellet mill. The feed is transported to pig feed pellet machine where it is compressed into pellets. Then, produced pig feed pellets are cooling by nature or by a cooling machine.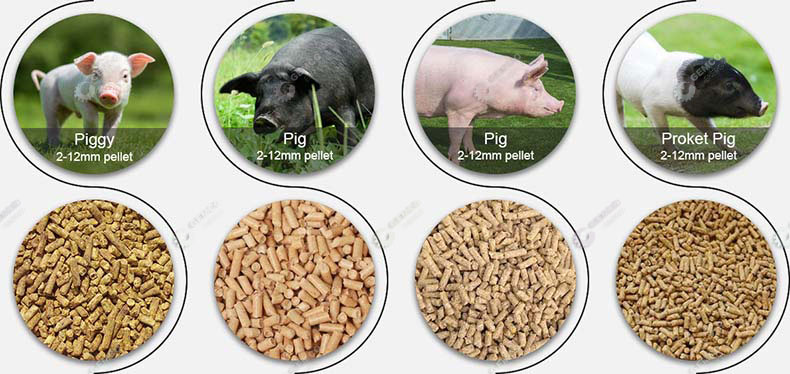 Pig Feed Pellets Size

Hot Sale Pig Feed Pellet Making Machines - GEMCO
Pig feed manufacturing process require several equipment, among which feed pellet mill is the core one and it is used to compress mixed feed into pellets. There are many pig feed mill manufacturer on the market. Before starting to make pig feed pellets, choosing a reliable supplier matters a lot for the quality and cost. The selection of pellet mill size and capacity will depend on the quantity of material you need to manufacture. Flat die pellet mills and ring die pellet mills are two common varieties of pig feed pellet mills.
GEMCO Pig Feed Mill for Sale
Pig feed pellets offer several advantages over conventional forms of feed, such as increased digestibility, feed conversion, and decreased waste. The market demand for pig feed pellets is increasing as a result of increased pig husbandry, a focus on animal nutrition, enhanced pellet quality, and cost-effectiveness. As the pig husbandry industry continues to expand, pig feed pellets are likely to play a greater role in the industry.

GEMCO is a leading animal feed processing machine manufacturer in China with over 20 years of experience in this industry. Our advanced technology ensures consistent and efficient performance, making our animal feed pellet mills popular in pig farms and feed production facilities worldwide. We can provide various types of pellet mills, feed mixers, and related equipment, all manufactured to international standards. We also provide services for complete pig feed plant, including installation, commissioning, and other after-sales support services. Welcome to contact us to get customized plan for your pig feed processing.
How Do You Mix Pig feed?
Mixing pig fodder is a crucial aspect of pig husbandry since this process can provide a diet that suits the nutritional needs of pigs. If you don't know how to do pig feee mixing, just follow these steps:
Step 1: Calculate the required quantity of fodder. This depends on the pig's weight, age, and degree of activity.
Step 2: Select the appropriate ingredients. The ingredients must be of high quality and satisfy the nutritional needs of the swine. Pig feed should typically include protein, carbohydrates, lipids, minerals, and vitamins.
Step 3: Grind the ingredients with a feed impact mill. Grinding the ingredients increases their surface area, making it simpler to combine them uniformly.
Step 4: Mix the components with a feed mixer. The mixer guarantees that the components are distributed equitably.
Step 5: Store the fodder in a cold, dry location. Pigs can be harmed by fungal growth, which is prevented by proper storage.
Get In Touch
We receive enquiries in
English, Español (Spanish), Русский язык (Russian), Français (French) and العربية (Arabic)
. Our professional team will reply to you within one business day. Please feel FREE to contact us!