Dos and Don'ts of Buying Pellet Mill Dies: Avoiding Common Pitfalls
GEMCO is a high-tech enterprise that mainly produces biomass pellet machine, feed pellet mill machine and relative auxiliary equipment for the production of biomass fuel pellets and animal feed pellets. We have advanced flat die drilling machine and high temperature heat treatment technology, which ensures to process more accurate pellet mill dies. And we can offer customized different sizes of aperture for pellet press dies according to customers' requirements. (Read more: GEMCO Pellet Machine Price >>)


Make Pellets for Biomass Fuel and Animal Feed
Pellet Mill Dies Introduction
Pellet mill dies are one of the core components for a pellet mill machine (the other is roller). Its quality directly affects the efficiency of pellet mill machine and the quality and output of compressed pellets, so it is necessary to choose good pellet press dies.
The holes in pellet mill dies are where pellets are extruded. So the die holes determine the diameter and density of pellets.

Custom-made Pellet Mill Dies for Sales
We offers various customized flat dies and ring dies for biomass pellet manufacturing factory or animal feed pellet production business. They can be made of stainless steel and alloy steel. (Related post: Wood Pellet Production Line Setup Cost >>)
The pellet mill dies manufactured by GEMCO are made from 4Cr13, which is an anticorrosive and wear-resisting metal. They are also processed by vacuum heat treatment to improve their hardness. So, for as long as every 600-800 production hours, they may wear out and you need to change a new one. Usually both sides of flat die can be used, which means you can use a flat die for 1200-1600 hours if maintained properly. But the ring die can only be used one side to produce 800-1000tons of pellets.
The pellet mill dies made by other pellet mill manufacturers usually wear faster than ours. So, we often advise our customers to choose one or sets of pellet mill dies in case of emergency and also save your shipping cost. And, the price of pellet mill dies are usually much more cheaper when buying together with your pellet processing machiens. Actually, if you buy spare parts like die or roller for the second time, the shipping cost may be higher than spare parts cost! You might be able to buy pellet mill dies at your local market, but no one can guarantee they will suit your pellet mill.

Compression Ratio of Pellet Mill Dies
Usually, the hole of flat die pellet mill dies are not cylinder but like the shape of a flashlight since both its ends are with certain angle (for ring die, only the inner side has such angle) to prevent abrasion and for better pressing. The ratio between the hole depth L and the hole inside diameter D is called compression ratio. The compression ratio of pellet mill dies depends on the species of raw biomass materials. For example, the best compression ratio for sawdust is 4.5:1. But it also depends on what kind of wood you have, since hardwood and softwood have different density. If the compression ratio of pellet mill dies is not suitable, it main cause no pellets produced or loose pellets. (Read more: Wood Pellet Manufacturing Process >>)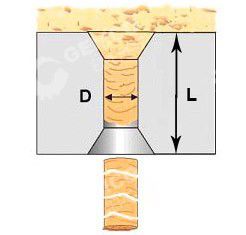 Flat Die Compression Ratio L/D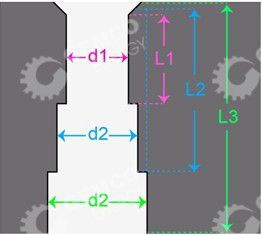 Ring Die Compression Ratio L1/d1
The compression ratio of biomass pellet mill dies is determined by the raw material. Different raw materials have different compression ratios. The harder the raw materials are, the smaller the compression ratio will be, and the fluffier the raw materials will be, the larger the compression ratio will be. That is to say, the fluffier the raw materials will be pressed into shape more easily. Fluffy raw materials contain more fibers, so the materials containing more fibers will be easier to be formed into pellets. (Related Post: Sawdust Pellet Mill >>)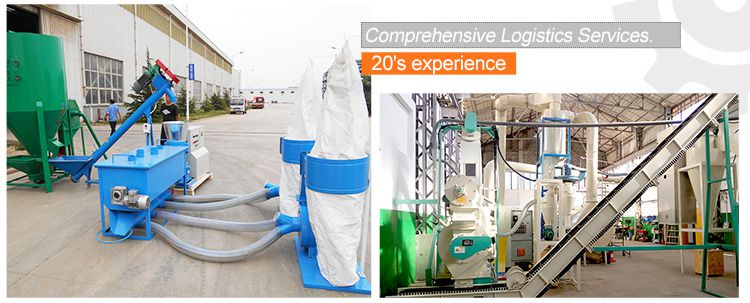 Setup Pellet Mill Plant at Low Cost


Years of experience in pellet mill manufacturing and pellets production have made GEMCO a leading pellet mill supplier in the world. We have built countless pellet mill plant projects for our customers with different raw materials, so we have obtained the best compression ratio for a specific biomass. If you are interested in, please just contact us to get the detailed list!
High Quality Pellet Mill Dies Ensures Efficient Biomass Pelletizing Process
Choose High Quality Pellet Mill Dies from GEMCO – Buy High Quality Pellet Mill Dies for Pellets Production: HOT sale pellet mill dies offered by pellet mill machine manufacturer or supplier, guide on process of pellet production and how to start pellet production business with limited cost in Tanzania, Egypt, Morocco, Ghana, South Korea, etc.
Dimeters of Flat Dies for Animals Feed
The breeding animal species are different, the diameters of flat die plates of animal feed pellet machine selected is also different. GEMCO factory provides a variety of pellet feed machine specification diameter of the die plate (2.5~12mm) for breeding users to choose.


Different Animal Feed Pellets
| 1 | Dimeter of Flat Dies | Animals Suitable for |
| --- | --- | --- |
| 2 | Super Fine 2.5 mm | micro birds, aquaculture fish animals, such as shrimp, crab, small fish aquaculture |
| 3 | 2.0 mm | parrots, thrushes, finches, and other pet birds |
| 4 | 2.5 mm | young rabbit, young chicken, young duck, young goose, young pigeon, young bird, young peacock, young fish and other small animals. |
| 5 | 3-4 mm | rabbit, chicken, duck, goose, pigeon, bird, peacock, aquatic fish and so on. |
| 6 | 5-6 mm | pigs, cattle, sheep, dogs, pigs and so on. |
Get In Touch
We receive enquiries in
English, Español (Spanish), Русский язык (Russian), Français (French) and العربية (Arabic)
. Our professional team will reply to you within one business day. Please feel FREE to contact us!