flat die pellet mill or ring die pellet mill
In choosing the correct pellet mill for pellets making, many people are confused by which type to choose, flat die pellet mill or ring die pellet mill? As a matter of fact, both types have their own advantages, but not of them suit all people.
Let's see their differences.
Flat die pellet mills
The main part of
flat die pellet mills
is a flat plate with small holes called flat die. Its capacity is 50-400kg/h. if you just need small productivity, flat die pellet mills are your best choice.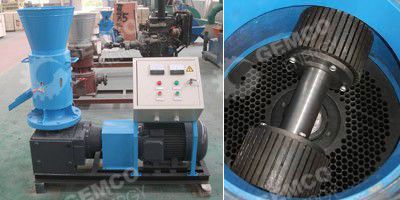 How do flat die pellet mills work?
When the material is fed into the hopper, it will be pressed between the roller and die. For D-type pellet mill, the die rotates and drives the roller to turn. For R-type pellet mill, the roller rotates while the die is stationary. The material is extruded through the round die holes, and pellets are formed.
Flat die pellet mills not only have small capacity, but also cheap price. At the same time, they do not take much space. So if you just get into pellets production field or do not need large productivity, just choose flat die pellet mills.
Ring die pellet mills
As to the ring die pellet mills, the roller is still, while a die (ring die) is in motion, which is similar to the washing machine. Its capacity is 500-2000kg/h. It is usually the key part in complete pellet plant.
The raw material first goes into the pelletizing chamber, and then squeezed by the rollers. Ring die pellet mills will not appear roller unevenness, and because of the inside distance equals to the outside, it does not appear weariness. So ring die pellet mills are more suitable for mass production:
1. The value loss of roller and ring die is relatively low;
2. It has higher energy efficiency. Due to additional friction caused by sliding rollers, ring die pellet mills consume less energy than flat die pellet mills.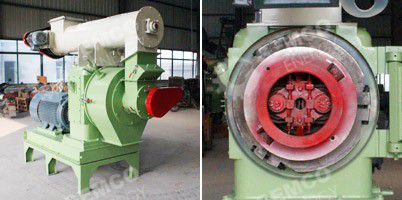 Ring die pellet mill features
GEMCO ring die pellet mills adopt air circulation technology to achieve the purpose of control temperature and remove excess water vapor. The temperature in pelletizing chamber exceeds 200 degrees, so to decrease it to 80-100℃ can greatly reduce the heat pressure caused to ring die, thus prolong ring die and roller bearing lifespan to realize continuous production and effectively reduce costs. The life of a single ring die is improved from pelletizing 250-300tons to 800-1000 tons.
Whether to choose flat die pellet mill or ring die pellet mill depend on your own requirement and actual situation. If you still do not know which to choose, just contact us and we will give you professional advice!
Get In Touch
We receive enquiries in
English, Español (Spanish), Русский язык (Russian), Français (French) and العربية (Arabic)
. Our professional team will reply to you within one business day. Please feel FREE to contact us!