[Booming Market] Analysis for Wood Pellet Making of North America and Europe
Wood pellets, as an effective carbon neutral energy source that balances environmental and economic benefits, are in constant demand in the global market. Therefore, the wood pellet making industry is recognized as one of the current industries with development prospects. More and more investors want to seize this good opportunity and occupy a place in this field. This feature will devote two articles to the booming wood pellet making markets (Europe, North America) and the developing potential wood pellet manufacturing markets (Asia, Africa, South America, Oceania). Next, this article will analyze the wood pellet making plant market in North America and Europe, and then provide useful information to every entrepreneur and investor planning to enter the biomass pellet making field to help them start their own wood pellet plant business plan. (Link to Market of Asia, Oceania, Africa, and Latin America>>)

Booming Wood Pellet Market in North America and Europe
Booming Wood Pellet Making Market: Factors Fueling the Growth

Development Tendency of Global Wood Market
Continuously Growing Wood Pellet Demand:
Due to the continuous pursuit of clean energy and sustainable development, the demand for wood pellets as an environmentally friendly biomass fuel pellet continues to grow. Especially in the last decade, the wood pellet market has grown by about 1.6 million tons of production per year, and the global industrial pellets demand has grown by 18.4% but the production of wood pellets has only grown by 8.4%.
Introduction of Renewable Energy Policies:
Many countries have renewable energy policies to encourage the production and use of wood pellets. These policies include subsidies, tax incentives, and emission reduction targets.
Increase in Global Trade:
Wood pellets are an international commercial market, with trade in pellets taking place between many countries. In particular, there has been an increase in trade activity between North America, Europe, and Asia. According to the estimated data of WOOD MARKETS, the international wood pellet trade is as high as 40-50 million tons in 2020, and will rise to more than 50 million tons in 2025.
Diverse Applications of Wood Pellet Products:
In addition to its well-known use for heating and power generation as biomass pellets in thermal power plants, wood pellets have also been used in recent years for construction materials such as high-density fiberboard and pellet boards, animal mattresses such as horse stall mattresses and pet mattresses, and biodegradable materials such as biomass plastics and biomass packaging materials. (A Complete Wood Pellet Production Line to Make Pellet for Fuel>>)
Improvements in Wood Pellet Plant Technology:
The wood pellet manufacturing process is constantly being improved to increase productivity and pellet quality. Examples include the introduction of digital monitoring and remote control, and the innovative wood pellet mill design to suit a wider variety of feedstocks for making wood pellets. New wood pellet making machines and production methods have reduced waste and increased yields. This reduces wood pellet making costs and contributes to market growth.
Wood Pellet Plant Setup in Thriving Market: Navigating Regional Dynamics
Industrial Wood Pellet Market Share by North America and Europe
| Region | Market Share 2020 | Market Share 2021 | Market Share 2022 |
| --- | --- | --- | --- |
| North America | 30% | 31% | 32% |
| Europe | 35% | 34% | 33% |
| Total | 65% | 65% | 65% |
Setup Wood Pellet Making Lines in North America
North America is a global leader in wood pellet production on a huge scale. Annual production is typically in the millions of tons or more, and although production has fluctuated in the last two years due to market influences, the overall trend is one of growth. This large scale of production makes North America one of the leading suppliers to the global biomass pellet market.


Commercial Wood Pellet Production Line in North America
Major Producing Countries:
The U.S. is one of the largest wood pellet producing country in North America, with major production positions including the Southeast and West, among others. Canada is also an important producer of wood fuel pellets, with major production positions including British Columbia, Ontario, and Quebec, among others. There are a number of other countries in North America that are also involved in manufacturing wood pellets, such as Mexico and a number of Central American countries, whose production is relatively small but has been on the rise in recent years.
Extensive forest cover provides a rich source of raw material for the wood pellet production plant. North America is home to a wide range of tree species that can be used for wood pellets, including but not limited to pine, birch, oak, maple, and juniper. In addition, waste and agricultural by-products from wood processing plants as well as the paper industry are important sources of raw materials. (Know more about Raw Material of Wood pellet>>)
Relevant National Policies:
The American Renewable Portfolio Standards (RPS) require a certain percentage of electricity to come from renewable sources. Canada's Clean Energy Production Tax Credit provides tax incentives for renewable energy projects. Mexico's Clean Energy Securities Program (Certificados de Energías Limpias, CEL) requires electric utilities to purchase a certain number of clean energy securities to encourage renewable energy development.
Overall, wood pellet production in North America is among the world's largest in size and quality, benefiting from abundant raw material resources and supportive government policies. Wood pellet processing industry not only provides an important source of energy and raw materials for the domestic market, but also contributes to sustainable energy and environmental goals on a global scale.
Contact us free of charge for more success stories and experiences about GEMCO wood pellet lines!

Start Wood Pellet Production Line in Europe
Europe is one of the world's important producers of wood pellets, with a significant scale of production. Annual production is usually in the millions of tons, meeting the wood pellet needs of both domestic and export markets.


Making Wood Pellet in Europe
Major Producing Countries:
Sweden is one of the largest producers of wood pellets in Europe, thanks to its abundant forest resources. Germany is also an important producer in Europe with a highly developed wood processing and production base. In addition to this, Baltic countries such as Latvia are competitive in wood pellet production, and their geographical location favors exports to Northern Europe and beyond.
As in North America, biomass fuel pellets are manufactured in Europe from a variety of wood raw materials, but the main species of trees used in biomass pellet production plants in Europe are pine, spruce, birch, oak and rowan. Waste and by-products from wood processing plants and the paper industry are also important raw materials for wood pellets in Europe. ( Making Wood Pellet from Waste Paper>>)
Relevant National Policies:
Germany's German Renewable Energy Act (Erneuerbare-Energien-Gesetz, EEG) establishes fixed buy-back prices for renewable energy sources and provides long-term support. France's Energy Transition Act (Loi de Transition Énergétique pour la Croissance Verte) aims to reduce reliance on nuclear energy and increase the use of renewable energy. Spain's Renewable Energy Support Act (Ley 24/2013, de 26 de diciembre, del Sector Eléctrico) provides fixed buyback prices and incentives. and Sweden's Renewable Energy Subsidy Program (Elcertifikatssystemet) provides certificates for renewable energy projects that can be used to sell to utilities.
Overall, Europe has an important position in the wood pellet manufacturing sector, which is large in scale, has significant policy support and provides important energy and raw materials to meet the needs of domestic and international markets. Wood pellet processing industry also makes an important contribution to sustainable energy and environmental goals in the European region.
---
Choose GEMCO: Your Reliable Partner for Sustainable Success!
---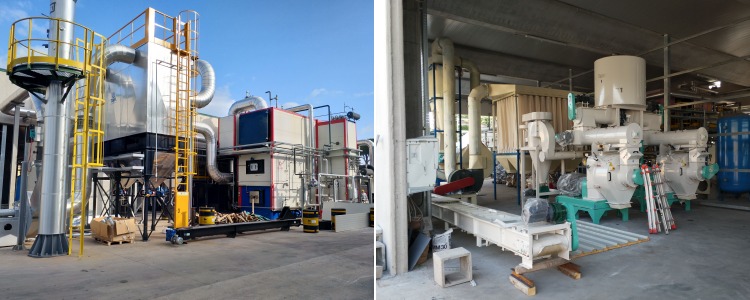 GEMCO Wood Pellet Making Project in Italy
It is important to note that this is a general overview and that the wood pellet manufacturing industry may develop differently in different countries and regions. If you are looking for a wood pellet consultancy to answer your questions about the competitive wood pellet making market in your country or region, or if you would like to know more about GEMCO's wood pellet machines for sale and GEMCO's biomass pellet production lines in different regions, please do not hesitate to contact us for a free consultation. GEMCO, as a wood pellet making machine manufacturer with 30 years of experience, can provide you with professional answers.
Get In Touch
We receive enquiries in
English, Español (Spanish), Русский язык (Russian), Français (French) and العربية (Arabic)
. Our professional team will reply to you within one business day. Please feel FREE to contact us!