How to Make Paper Pellets from Waste Paper
Waste paper is produced in our daily life, news paper, magazines, official copies, etc. They are not totally the waste, and they have a very high value. The waste paper has many usages, like packing some goods, being processed into the recycled paper, being processed into fuels, etc. During that, the waste paper pellet fuel is growing up gradually. While waste paper pellet machine is a key equipment to make biomass fuel from waster paper.


Waste Paper Pellets
Due to the world energy shortage and environmental pollution problem, people are searching for a reasonable and effective method to solve that problem. So the renewable energy source - biomass energy appeared. That kind of energy can not only be a substitute of traditional fuels, but also protect the environment, which is a kind of perfect energy. Waste paper pellets belong to that energy. So, how to make paper pellets from waster paper? Which equipment is needed? What's the price of paper pellet machine?
How to Make Paper Pellets with GEMCO Pellet Mill?
Waste paper pellet mill is the key machine to handle the waste paper. Firstly, you should decide your waste paper pellets production scale according to the materials. (Related Post: Biomass Pellet Making Machine >>)
The flat die paper pellet making machine has a higher requirement to the raw materials, the moisture content and the size should meet the processing requirement. While the complete pellet mill plant won't need the requirement, for during the production, the crushing machine can handle the materials into proper size and the drying machine can handle materials into proper moisture content.
When using pelletizer machine, the operator should handle the machine according to the instruction to guarantee the pellets quality and the operator safety. Under the high pressure and high temperature, the waste paper is pressed by the mold into pellets. The finished pellets have a high temperature, so if you use a single machine, you should cool the pellets by the natural method, while if you use whole production line, there is a pellet cooler to help you to cool the pellets. After that, the waste paper pellets can be used directly or be packed into bags.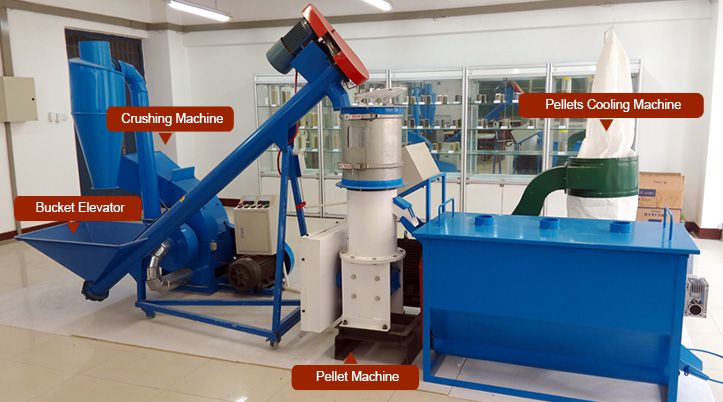 Small Pellet Mill to Make Paper Pellets
Equipment required to make paper pellet has pellet mill machine, crusher, dryer, cooler, bagging machine, etc.. Either to make paper pellets for your own use or make the paper pellets for business purposes, choosing suitable and cost effective pellet processing machine not only can ensure the quality of final produced paper pellets, but also can reduce the cost of pellet production. If there are any questions about paper pellet manufacturing, such as machine price, technical parameters, factory layout, project cost, and more, please contact us directly, we can offer customized plan or custom-made equipment to meet your requirements perfectly!
Investment Cost Ratio of Setting up Paper Pellet Production Plant
| Item | Investment Cost Ratio |
| --- | --- |
| Raw Materials | 43% |
| Pellet Production Equipment | 47.5% |
| Personnel | 6% |
| Peripheral Equipment | 2.5% |
| General Investment | 1% |
If you want to know about how to setup a biomass pellet plant to make papar pellets from paper waste, or you want to get the similar project report with project cost, please just feel free to contact us, we are here for all your needs!

Paper Pellet Mill Machine to Setup Small Paper Pellet Biomass Fuel Plant
Buy High Quality Paper Pellet Machine for Paper Pellet Biomass Fuel Making: HOT Sale Paper Pellet Machine Offered by Paper Pellet Machine Manufacturer or Supplier, Guide on Process of Paper Pellet Production and How to Start Paper Pellet Production Business with Limited Cost in Tanzania, Egypt, Morocco, Ghana,South Korea, etc.
Advantages of Using Paper Pellet Machine to Make Biomass Paper Pellets


Low Cost Settup Biomass Pellet Plant Makes Paper Pellets
If you use small paper pellet mill, the machine takes small place, and the output is high. And the pellets can be used for house heating, cooking, etc.
The large pellet production line has a high degree of automation, and that decreases the labor cost and enhance the productivity.
Waste paper pelletizer is built with superior materials, which is wear-resisting and corrosion-resisting, prolonging the machine service life time.
Paper pellets for fuel from waste paper peeletizer have high burning efficiency, low ash content without side effect to the environment.
The matched auxiliary equipments make the waste paper pelletizer a higher efficiency and increase the total output bringing more profits to the users.
GEMCO is a mature company with more than twenty years of selling experience, and we have superior experience and technology in producing waste paper pelletizing machine. gemco pellet machine price is the most favorable on the market. In addition, the quality has got the identification of CE and ISO9000 certificates. The after sale service is first-rate. Our products gain the good reputation of the customers at home and abroad. We will work harder to research and develop even higher quality of machines.
Get In Touch
We receive enquiries in
English, Español (Spanish), Русский язык (Russian), Français (French) and العربية (Arabic)
. Our professional team will reply to you within one business day. Please feel FREE to contact us!