Straw Briquette Machine for Sales
Straw, a kind of common seen biomass waste and agricultural by-product, includes wheat straw, rice straw, barley straw, oat straw, rye straw, etc. In order to solve the energy crisis, reduce environmental pollution and protect the ecological environment, the development and use of crop straw is particularly important. Now, straws can be made into fertilizer, feed, biomass fuel (pellets or briquettes) and more. Here we mainly focus on turning crop straw into biomass fuel, the most profitable sector. The biomass briquettes made from various straws by professional biomass briquette press are widely used for power and heating plants. (Related post: Straw Pellet Machine for Sale >>)


Start Straw Briquetting Business
Hot Sale Straw Briquette Making Machine - Punching Type
To turn straws into briquettes, there should rely on briquette making machine to improve the efficiency. Punching briquette machine newly developed by GEMCO can be the BEST equipment to make briquettes from various materials, like straw and wood, especially for commercial use. Updated design of straw briquette machine allows large capacity and fluent production. (Latest news: 5TPD Briquette Production Machine Exported to Kenya >>)
By the way, it can not only make round briquettes, but also can make pellets in smaller size, which allows flexible production for straw briquettes or straw pellets. So, this straw briquette machine make your business more likely to success in biomass fuel industry. Welcome to contact us to get the latest promotion price or technical instruction for your straw briquetting manufacturing business!

Straw Briquette Making Machine Manufacturer

If you are interested in straw charcoal briquette making machine, please check charcoal briquette machine price.
Factory Price Straw Briquette Machine for Sales
| Model | GC-MBP-500 | GC-MBP-1000 |
| --- | --- | --- |
| Capacity | 500 kg/h | 1000 kg/h |
| Total Power | 35 kw | 61 kw |
| Finished Briquette's Diameter | φ50 | φ70/φ22/φ10/φ8 |
| Weight | 4500 kg | 7000 kg |
| Size | 3200*1500*1500 mm | 3500*1800*1700 mm |
Why Buy Punching Biomass Briquette Machine to Turn Straw into Briquettes
It adopts 2-stage compression technology of screw prepressing and piston stamping technique to make the briquettes with higher density.
Low e-motor power, high productivity. The converter technique can save 30% of energy with stronger power and higher durability. It is more energy saving and environmental friendly.
It can work at the room temperature of below minus 20 degrees Celsius or above 40 degrees Celsius.
The operation is very simplified. Every trained staff can operate it correctly.
The straw briquetting machine is adopted with relay protection. When it overloads or breaks down, it will automatically go power off.
The oil forced cooling can guarantee the lubrication of machine, which solves the problems that common briquetting machines require more about raw material moisture and forming molds wear fast.

Some Technical Parameters of Straw Briquettes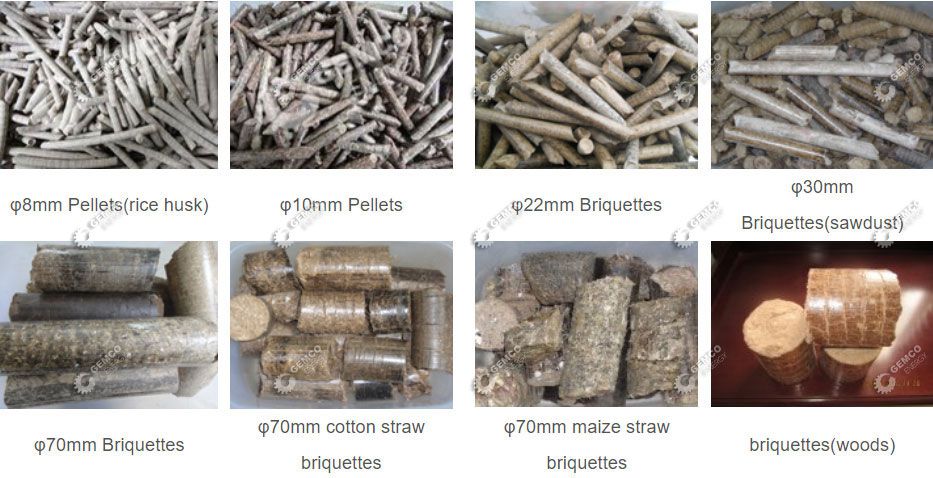 Pellets and Briquettes Made by Straw Briquette Machine
Technical Parameters of 70MM Cotton Straw Briquettes
Density: 800-1400kg/m3
Heat Value: 3700-4500kcal
Ash Content: 1-20%
Moisture Content: ≤15%
Straw Briquetting Machine Working Principle
When making straw briquettes with briquetting machine, there is no need to add any additive or binder in the raw material. Like all biomasses, straw itself contains certain amount of cellulose and lignin. Lignin does not have melting point but it has softening point. When the biomass is impacted by multiple pressures, the friction will cause high heat, and the lignin will soften and become adhesive. Under the high pressure of briquetting machine, high density tight straw briquettes are formed.
We have built many briquetting plant project around the world. If you are interested in straw briquettes production business or other biomass briquettes manufacturing, and want to know whether it is feasible to built a briqutting plant in your areas or regions, maybe we can help your market analysis on cost evaluation and project report. The briquettes manufacturing plant we undertook can be found in Philippines, Chile, Nigeria, Canada, Malawi, Kenya, United Kingdom, etc. Welcome to contact us for detailed equipment cost and installation period.

Why Invest on Straw Briquetting Business?
Make straw into briquettes with biomass briquetting machine has been applied by European countries for more than 30 years. So it is very economical to make straw into briquettes. (Business project: Biomass Briquetting and Pelletizing Plant in Thailand >>)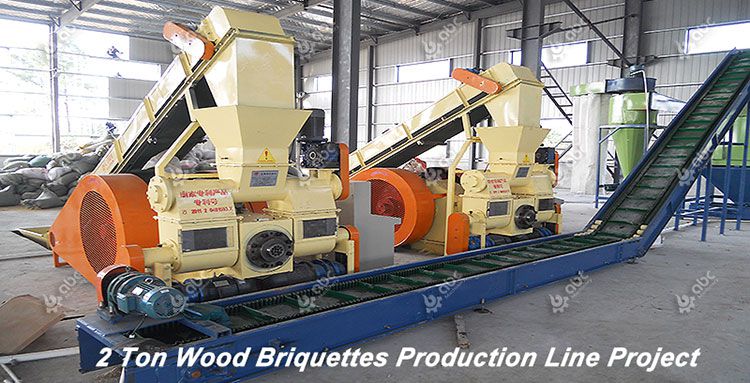 Increasing Market Demand for Briquettes
As an eco-friendly and natural biomass fuel for boilers and fireplaces, the market demand for straw briquettes keep increasing every year.
Biruqettes – Ideal Biomass Fuel for Heating
Straw briquettes are great as fuel. Compared to untreated firewood, straw briquettes feature less ash residues, lesss smoke and no odor. More important, the calorific value straw briquettes is up to 19,39 MJ/kg, which is almost five times the energy value.
Cheap Price Straw Lower Briquette Business Investment Cost
The raw material straw can be easily got at cheap price, which in the end helps to lower the cost of your briquettes production business. There are a wide of agricultural straw that are suitable for briquettes making, like
Get In Touch
We receive enquiries in
English, Español (Spanish), Русский язык (Russian), Français (French) and العربية (Arabic)
. Our professional team will reply to you within one business day. Please feel FREE to contact us!