Sawdust Pellet Production Line
Sawdust pellet production line
includes raw material feeding, crushing, drying, cyclone separation, pelletizing, cooling and packaging. To ensure the quality of finished pellets, each part of the sawdust pellet production line has strict quality control system. GEMCO have devoted in pellet production for ten years, have special technical teams, and excellent technical support.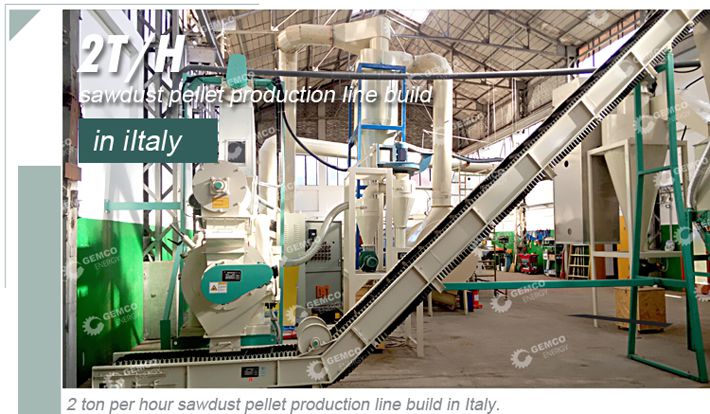 Raw material
Sawdust pellet production line is biomass fuel equipment which can process eucalyptus, birch, poplar, fruit and crop straw, bamboo chips into pellet. Which can effectively solve the coarse fiber difficult to pelletize. GEMCO sawdust pellet production line can make pellets into different diameter and length. Wood logs, wood chips, sawdust and other wood residues including pine wood are also suitable materials for pellets with this production line.
How to make pellets by sawdust pellet production line
Crushing
Some raw materials are too large, which will cause poor pelletize effect or damage machine. Crusher can make block materials into sawdust or bran shape.
Drying
Biomass pelletizing has strict requirements on the moisture content of raw materials. After crushing, the saw dust will be sent to roller dryer. In the dryer machine, the sawdust can be dried to preset moisture content through hot air.
Cyclone separation
After drying, there will be a lot of moisture in the air during transmission. With cyclone separator, the moisture will be obstructed. There are two sets of cyclone separator in this sawdust pellet production line. After cooling the sawdust pellets, another separation is needed to separate the pellets and moisture.
Pelletizing

Sawdust pelletizer
is the key equipment of the complete sawdust pellet production line. In this system, we adopt ring die pellet mill which is featured of stable operation. Over years of researching and practicing, GEMCO ring die pelletizer has been upgraded and patented. We have improved the ring die by adjust the technical parameters to prolong the service life of ring die and ensure no cracking in pelletizing. The capacity of 420 ring die pelletizing machine is 1-1.5t/h. You can also choose more than one die pellet machine parallel production to achieve the output you want.
Cooling
When discharging pellets from the pallet making machine, the temperature is around 80~90 ℃. The structure of pellet is relatively loose and easy to be broken. Through cooling system, the pellets will be cooled to room temperature and become tight and durable. Then, they can be packaged in bags. Except cooling fan, the cooling system is also designed with cyclone separator which is used to separate powder from the pellets and send the powder back to the front pelletizing procedure.
Finished Sawdust Pellets
Finally, you have got the final sawdust pellets with high quality. Package the pellets and send them to finished products storehouse, or directly transport the pellets into a storage silo.
Get In Touch
We receive enquiries in
English, Español (Spanish), Русский язык (Russian), Français (French) and العربية (Arabic)
. Our professional team will reply to you within one business day. Please feel FREE to contact us!