Low Cost Pellet Making Machine for Sale
Pellet Making Machine for You
Pellet making machine
is designed and developed to make biomass raw materials like sawdust, grass, barks, rice husk, crop stalk, wood chips and shavings etc into density cylinders with uniform diameter and length for use.
The pellet making machine is mainly composed of feeding, pelleting, transmission and lubrication system. When working, the raw material enters into the pelleting chamber through the feed port; under the large pressure between pressing roller, raw material would get through the die holes which are uniformly distributed on the inner surface of the die. During this processing, under the effect of high temperature and pressure, physical changing and some chemical change happened inside of the raw material, making the powder material into cylinders with uniform diameter. Then, the cutter cut them into uniform length.
Due to different applications of finished pellets,
pellet making machine for sale is divided into two types, including wood pellet making machine and feed pellet making machine
, each type has its own features and highlight.
Wood & Feed Pellet Making Machine for Sale
Wood pellet making machine
With the environment getting worse and worse and air pollution is most serious, the demand for renewable energy is becoming urgent and large. Wood pellet making machine was born in the age, aiming to produce green and clean fuel pellet. The raw materials used for making wood pellet mainly are agro residues and forestry wastes like wood chips and shavings, barks, twigs, shrub, peanut shell, coffee shell, corn rob, sugarcane shell, rice husk, coconut shell, palm fiber, stalks, bamboo shavings, sawdust, pineapple shell, grasses etc.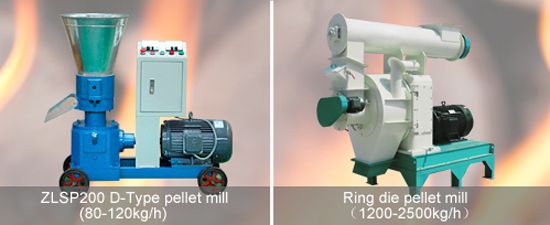 (large scale and
small scale wood pellet making machines
)
With different production range from 50kg/h to 2.5t/h equipped, the wood pellet machine can meet every scale of pellet production, widely used for home heating and cooking, household fireplace, BBQ, public and community heating, industrial boiler and biomass power generation.
Feed pellet making machine
Our feed pellet making machine for sale is designed and manufactured to make nutritional feed for animals, such as, cattle, sheep, rabbit, dog, geese, duck, pig, chicken, fish etc.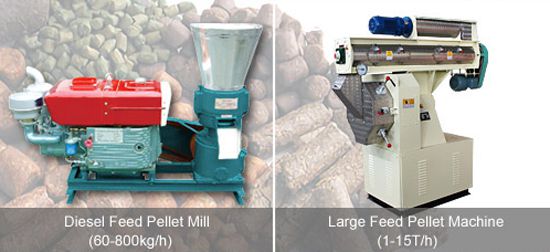 (large scale and
small scale feed pellet making machines
)
As we all know, different kinds of animals require different nutrition. In order to grow animals well and fast, feed for animals must be with rich required nutrition. Feed pellet making machine can help you to make nutritional feed for animals by mixing some raw powder materials together, like corn, potato, wheat, cabbage, rice, straw bran, cassava, soybean, carrot etc thus avoiding the animal become picky. Moreover, under the effect of high temperature in the pelleting chamber, the finished feed pellet is easy to absorb for animals. Therefore, no matter what kind of your animal is, feed pellet machine is the best choice for your animals.
Reasons Pellet Making Machine is Suitable
Ÿ All of our pellet making machine are manufactured with reasonable structure and bright layout, calls a low cost.
Ÿ The gear box adopts advanced grey cast iron material with low noise and good property of shock absorption.
Ÿ Our feed machine for sale is designed with new structure, the machine shell is added with stiffener and more thicker casting, enhancing the machinery strength and efficiently avoiding the machine shell damage.
Ÿ Our wood pellet making machine for sale is equipped with the most proper die hole structure for wood pellet production, which is obtained after amount of experiments, called optimum compression ratio of die hole.
Ÿ Safe electric control system totally meets the CE standard operating system, and the urgent stop bottom can stop the machine in emergency situation.
Ÿ With strict and standard manufacturing and technological management, the consistency and interchangeability of all the components is guaranteed, improving the confidence of customers in choosing our product.
Ÿ Both of our wood and feed pellet machine are equipped with type for home use, commercial use, industrial use, even investing use.
Whether you choose our pellet making machine for sale to make wood pellet or feed pellet, we will offer you the best service, please don't hesitate to contact us.
Get In Touch
We receive enquiries in
English, Español (Spanish), Русский язык (Russian), Français (French) and العربية (Arabic)
. Our professional team will reply to you within one business day. Please feel FREE to contact us!