Necessary Equipment for Setting Up a Biomass Pellet Manufacturing Plant
Are you still wasting your biomass wood waste? How to make biomass pellets from biomass waste? How to profit from your biomass/wood waste? The best way to make a profit is to set up your own biomass pellet processing plant. If you are interested in biomass pellet factory or other pellet processing and want to build a complete biomass pellet production line, but don't know how to choose suitable processing equipment, then this article will effectively solve your investment confusion.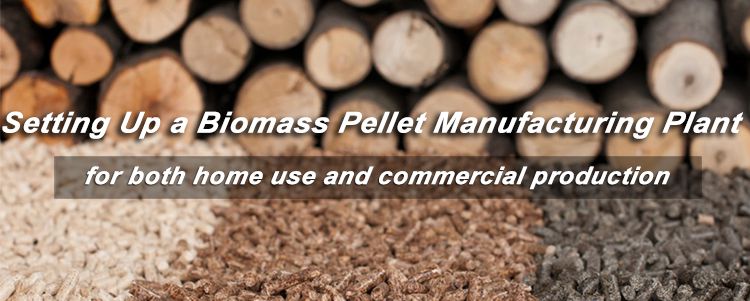 Set Up a Biomass Pellet Manufacturing Plant
ABC Machinery can supply complete pellet manufacturing equipment and turnkey pelletizing lines for the processing and production of wood or biomass pellets. We can provide pelletizing solutions with different construction characteristics and production capacity according to the investor's requirements and construction characteristics.

Equipment Necessary to Build a Biomass Manufacturing Pellet Plant
How to build a biomass pellet processing plant? Biomass pellet processing plants can be used to manufacture various wood pellets, such as sawdust, wood chips, shavings, straw, rice husks, peanut husks, forestry waste, biomass, etc. A complete pellet production line, from biomass raw material processing to final packaging of biomass pellets, including crushing, drying, pelletizing, cooling and packaging processes.
The following is the equipment required to build a biomass pellet processing plant for your reference. If you have any requirements, please contact us, our technical team will customize a professional project for you.
Raw material Pretreatment Section
Wood chipper: Processes large wood such as logs, branches and trunks into wood chips less than 3mm thick and 10-30mm long.
Hammer mill: pulverize the material into powder and make the raw material into a suitable size (below 3mm) for the pelletizing process.
Dryer: The dryer dries biomass raw materials with a humidity of more than 20% to ensure that the humidity of the raw materials is between 10% and 15%.

Raw Material Pretreatment Equipment
Pelletizing Section
Biomass pellet machine: The mixed raw materials are pressed into regular-shaped granules by high pressure between the main component drum and the mold. It is the soul of a complete biomass pellet manufacturing plant. According to the customer's raw material and production needs, it is very important to choose a suitable biomass pellet machine.

Commercial Biomass Pellet Machine
Packaging Section
The
cooler
is to store the biomass pellets produced by the pellet machine, and after the pellets are rapidly cooled, they are packaged by the
pellet packaging machine
.

Biomass Pellet Pakaging Equipment

Benefits of Setting Up a Biomass Pellet Plant As an Investment Business Plan
Biomass Pellet Processing Market Has Broad Prospects
The global biomass pellets market has experienced significant growth over the past decade. From 2012 to 2018, the global biomass pellet market grew at an average annual rate of 11.6%, from about 19.5 million tons in 2012 to about 35.4 million tons in 2018. From 2017 to 2018 alone, biomass pellet production increased by 13.3%.
Biomass pellet production is a growing industry due to the increasing importance of renewable energy. The energy value of biomass particulate materials, such as agricultural products and forest waste, is becoming a common fuel after thickening. The table below shows historical demand and future demand forecasts for the Industrial Wood Pellets market. Total demand in 2019 is expected to be around 21.6 million tonnes. This is equivalent to the daily capacity of a 65,000-ton Panamax cargo ship. Note that this demand forecast is based on current policy.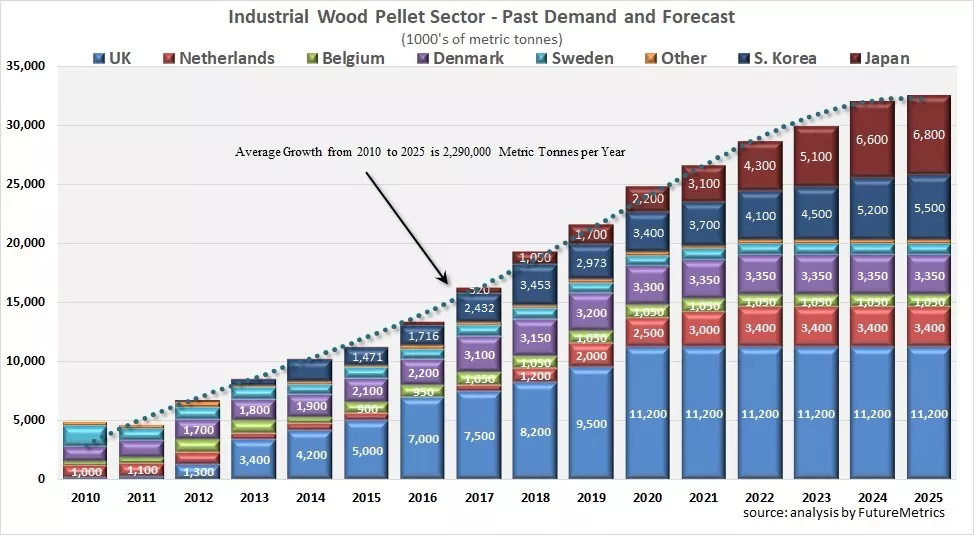 Global and Regional Biomass Pellet Consumption and Forecast in Recent Years
Biomass Pellet Plants Can Process Many Different Raw Materials
The biomass pellet equipment can process a wide range of raw materials, such as sawdust, shavings, bark, sanding powder, waste wood, branch wood left after wood processing and wood-based panels; agricultural food crop residues straw; and all kinds of biomass raw materials that can be used for heat energy, without adding any binder, can be made into pellet fuel through the processing of biomass pellet machines. It can be seen that there are three main sources of raw materials for wood pellet machines, namely crop residues, forestry residues and urban domestic waste.
(1) The first is the food crop residues in agriculture: rice husks, crop residues include wheat straw, cotton straw, rice straw, corn straw, corn cob and some other cereal straws.
(2) The second is the residues of the forestry industry: forestry, wood, and furniture manufacturers will leave some scraps after production, such as shavings, sawdust, wood chips, leftovers, etc., which can be used as raw materials for biomass processing plants.
(3) The last is the raw material from the municipal solid waste: the municipal solid waste refers to the organic matter contained in the daily life and production of human beings.
Biomass Pellets Can Be Used As a New Type of Environmentally Friendly Energy
Biomass fuel pellets processed from crops and wood materials are non-polluting, renewable and high-quality energy sources with promising prospects. Because the shape is granule, the volume is compressed, the storage space is saved, and the transportation is also convenient, and the transportation cost is reduced.
Secondly, the combustion efficiency is high, it is easy to burn out, and the residual carbon content is small. Compared with coal, it has high volatile content and low ignition point, easy to ignite, and the combustion duration is greatly increased, which can be directly applied to coal-fired boilers. In addition, when biomass pellets are burned, the content of harmful gas components is extremely low, and the emission of harmful gas is small, which has environmental protection benefits. And the ash after burning can also be used directly as potash fertilizer, which can save a lot of money.(Related post:Low-Cost And High-Quality Sawdust Pellets For Sale At Factory Prices>>)

Therefore, the establishment of a biomass pellet manufacturing plant has a broad market prospect, which can help you utilize and profit from biomass waste. If you are interested in starting a biomass pellet processing business, don't hesitate to contact us, GEMCO Machinery is not only a biomass wood pellet machine manufacturer and supplier, but also provides customers with biomass wood pelletizing solutions that bring high returns, Our knowledge and expertise can help investors truly optimize their operations and reduce processing cost. You can tell us your processing needs in the message form below, we will reply to you as soon as possible!
Get In Touch
We receive enquiries in
English, Español (Spanish), Русский язык (Russian), Français (French) and العربية (Arabic)
. Our professional team will reply to you within one business day. Please feel FREE to contact us!