Small Pellet Mill Machine Exported to Latvia
Biomass pellet production such as wood pellet production has increased many times as compared to their production level in the past years. The main reason behind this is that wood pellets are more budget-friendly and effective than conventional fuels such as coal, natural gas, etc. In order to reduce CO2 gas production globally, production and consumption of renewable energy resources was increased to 31 million t in the year 2017. Among top producers in Europe, Latvia falls at number three after Germany and Sweden. Latvia has highly developed and large wood pellet manufacturing plants in Europe. (Read more: Wood Pellet Mill Plans >>)


Biomass Pellet Production Demands
Small Pellet Mill Machine to Latvia
At the end of 2019, one of our client in Latvia purchased a complete set of small pellet mill machine. This is a biomass pellet mill company that is specialized in biomass fuels pellets manufacturing business. This company once brought a 10TPH Wood Pellet Production Line from us, which is used to make 6mm pellets from wood chips. Now, it brought our ZLSP400 Pellet Mill Machine to make pellets from wood chips, dolomite and peat. (Read more: Biomass Briquette Machine >>)
Below is the complete small pellet mill plant pictures, and the packaging picture at our factory GEMCO.
Small Pellet Mill Machine Production Video
Biomass Pellets Production Process
The general biomass wood pellet production process includes crushing, drying, pelletizing, cooling, packaging and storage. Each process is equipped with a strict quality control system to ensure the quality of pellets.


Biomass Wood Pellet Production Process
The main purpose of crushing is to crush the larger raw materials into short and fine granular raw materials by hammer mill so as to facilitate further pellets production process.
Biomass pelletizing fuel has strict requirements on the water content of raw materials. After sieving and crushing, the raw materials are transported to the roller dryer through hot air drying.
Pellet mill machine is the key equipment for pelletizing. This pellet mill plant adopts SLSP 400 small pellet mill machine that is small in size and has high output and stable performance.
When the pellet is discharged from small pellet mill machine, the temperature is as high as 80~90℃, the structure is relatively relaxed and easy to be broken. It must be cooled to normal temperature by a countercurrent cooling system before it can be bagged and stored or sent to the silo by belt conveyor and elevator.
The processed biomass pellet is sent to the finished product warehouse through the elevator for bagging and storage. The packing conveyor can be used to measure and pack the products into the finished product warehouse.
Biomass Pellet Production in Latvia
As the demand for wood pellets increased in Europe, wood pellet production in Latvia also increased four times in the year 2017. 90% of the wood pellets produced in Latvia are exported to other countries that do not have produce in abundance and depend on other suppliers. Only 10% of the total amount of wood pellets produced in Latvia is consumed in the country, out of which 80% is used in households. It is because it has few factories that use coal as a fuel due to which the need to use renewable energy sources is also low in factories. Wood pellets are mostly used in households for heating purposes in Latvia. (Related News: Customized Biomass Pellet Plant for Latvia Client >>)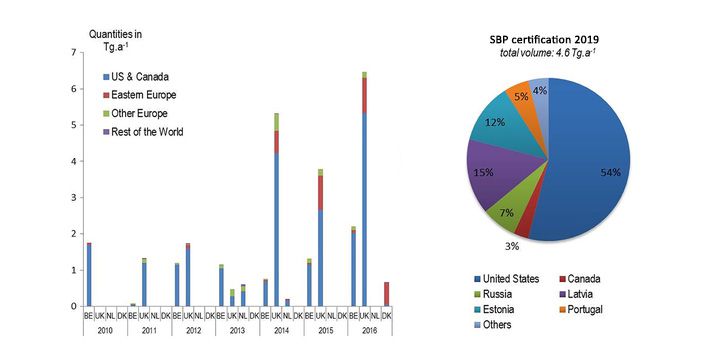 Start Wood Pellet Production Business in Latvia
The cost of wood pellets for domestic use is higher than the cost of wood pellets for industrial or commercial use. The reason is that industries buy in pellets large amounts so they get discount on prices. As the awareness and popularity of wood pellets is increasing in the country, more factories are being established to meet public demands. Latvia exports most of its wood pellets to the industries in Europe. It even imports from other countries to re-export wood pellets to European countries.
As it shows that Latvia produces and exports huge amounts of wood pellets to European countries (especially the United Kingdom and Denmark) so establishing a wood pellet production business is a great option to achieve success in a place where demand is still high. Latvia has easy access to the raw material as many factories produce this raw material as a by-product and there are many forests in Latvia that can also help in getting wood for wood pellet production. Domestic consumption of wood pellets is also growing so establishing a wood pellet production business in Latvia can help you make a huge profit not only by exporting the pellets but also by providing for the households.
Characteristic of wood pellet fuel

| | |
| --- | --- |
| Amount of heating generation (lower limit) | 4.7 kWh/kg = about4,000 kcal/kg |
| Kerosene conversion value | pellet:kerosene = about2.1tons:1m3 |
| Volume weight | 650 kg/m3 |
| Hydrous rate | 8-13% |
| Ash | wood except bark: under 0.5%, bark: over 2.5% |
ABC Machinery is a well-organized biomass pellet mill plant supplier in China. Through these years of development, we have gained rich experiences in designing and installing turnkey projects of biomass pellet production plants and we have built biomass pellet projects in many countries, including Canada, United States, New Zealand, Latvia, Chile, Morocco, Italy, Vietnam, and more. If you are interested in get the project report together with the total investment cost, please contact directly!
Get In Touch
We receive enquiries in
English, Español (Spanish), Русский язык (Russian), Français (French) and العربية (Arabic)
. Our professional team will reply to you within one business day. Please feel FREE to contact us!