Custom Small Pellet Production Line for Latvia Client
In Apr. 2019, the client from Latvia sent an email for inquiring the
wood pellet machines
, the context is as followed, which may help you who have interested in the wood pellet industry.
CUSTOMER
Hello, I'm writing you from Latvia.
I'm interesting about
wood pellet machines. Interesting model
STLP300.
What is the price and what include this
small pellet production Line.
If I want connect dryer to this STLP300, it's a possible? And what is the price about
dryer?
Can you send me, technical data info for this STLP300 and dryer?
GEMCO
Glad to know you are interested in our wood pellet machines--we are the leading manufacturer and exporter with 20+ year experience in this field.
However, normally our STLP300 is for
making animal feed
instead of wood pellets. So, please let us know your specific situation & requirement, so we can make a proper design for you accordingly. We've been helping our customers design and set up different
wood small pellet production line
with
different capacity & request
.
Please kindly tell us you use wood chips, tree branches or other wood materials to make pellets? What about their size? Thickness/diameter/ width, length, etc. If you can send us some pictures, it will be nice.
What capacity do you need for the pellet plant? What about 400- 600kg/h?
As you know: normally 10-18% moisture content is good for making wood pellets. If much bigger, a dryer is necessary. So please let us know the general moisture content of the wood materials you plan to use for making wood pellets. It's very important for the whole design.
We are waiting for your early response.
CUSTOMER
I want make pellets from wood chips, sawdust, straw, tree bough and peat. Pictures in attachment. Size can be different. What size hammer mill can to mill? Hammer mill can mill only sawdust and materials wood chips size, tree bough size ~10mm to100mm?
I think capacity 400-600kg/h is good.
Yes, this I now. Dryer is necessary, because moisture can be ~20% to 40%. In winter it`s bigger and summer it`s smaller.
GEMCO
As we all know, it's true that the demand of pellets fuel keep growing in recent years. Only this morning, we received the payment for 3 pellet production lines, one is 2tph, one is 3-4tph, one is 4-5tph. So currently you intend to set up a small wood pellet plant to sell pellets as business, right? If yes, where do you get the wood materials? Some customers are forest farm owners, some are sawmill owners, some purchase the wood materials from the market. What about you?
As per your situation & requirement, we recommend the small simple pellet production line with small investment as below: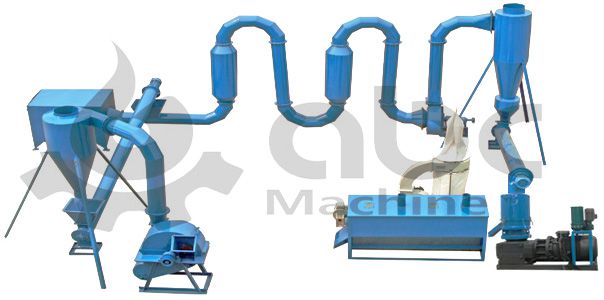 Crushing ------Drying------Pelletizing-----Cooling (design drawing)
Wood Crusher (can deal with both wood chips and tree branches into sawdust, 15kw, 500-600kg/h)
Conveyor (1.5kw)
Dryer (11kw, 600-800kg/h, can turn 40-50% to suitable moisture for making pellets) with conveyor
Wood Pellet Mill (37kw)
Pellet Cooler (0.75kw)
Here attached a reference picture FYI.
FOB price with electric control system.
CUSTOMER
I`m a private person who want make some pellets for little business. Yes, I want a small wood pellet plant for myself and a little business. Materials I buy in from forest farm owners and sawmill owners company`s and myself from my woods.
Yes, that nice. Please explain the FOB price? This is the final price for small pellet production line? Can you show me
detailed layout
? With price. If I want buy, what is the
next step?
How about
payments?
And
how I can get it?
GEMCO
About FOB price: We can understand the price without shipping. In other words: This price does not include shipping costs in Latvia.
Some customers have their own transportation agents to ship goods from China to the destination port. They need FOB prices.
Some people need us to arrange goods from China to the destination port. They need CFR (marine shipping price) or CIF price (sea freight and insurance price).
What about you? Is this your first time importing goods from China?
If you still need us to arrange delivery for you: For Latvia, we usually ship the goods to the port of Riga. Is Riga close to your location?
At last, the client has purchased a small woo d pellet production line with the capacity in ;400-600kg/h. Please
contact us
for more questions about pellet making machine.
Get In Touch
We receive enquiries in
English, Español (Spanish), Русский язык (Russian), Français (French) and العربية (Arabic)
. Our professional team will reply to you within one business day. Please feel FREE to contact us!