The Complete Guide to Make Your Own Chicken Feed
Poultry refers to artificially raised bird animals, including chickens, ducks, geese, etc. There are also other families of birds, such as turkeys, pigeons, quails and various songbirds. Today we are talking about chickens which make up the largest proportion of poultry farming.


Small Chicken Feed Pellet Mill Price
Do you know how to make chicken feed pellets? When making chicken feed pellets for your own use or commercial use, there are more factors to consider besides the price of a feed pelletizer. When you want to buy animal feed pellet processing equipment, all you can do is find a reliable manufacturer or supplier and buy a cost-effective feed pellet machine, which directly affects the returns of investors.

How to Make High Quality Chicken Feed in a Small Poultry Feed Mill?
This problem usually comes from small poultry feed mills as well as chicken farms or poultry farms. The production process of chicken feed pellets is mainly a physical change. Poultry feed ingredients are mixed with additives without altering the nutrients contained in the ingredients. Since the quality of chicken feed pellets directly affects the feeding status of animals, and ultimately affects the quality of products and the interests of farmers, it is very important for farmers to produce high-quality chicken feed pellets.
Small Poultry Feed Factory Chicken Feed Pellet Manufacturing Process
Selection of raw materials
Select chicken feed ingredients and suitable chicken feed additives to provide chickens with the different nutrients they need. In addition, the ratio of each raw material must be strictly controlled, because this will directly affect the durability of poultry feed pellets for chickens.
The raw material of chicken pellets is sent to the crushing system of the small poultry feed factory for processing chicken pellets. The raw material of chicken feed is firstly crushed into suitable size by the chicken feed crushing system, and then it can be turned into suitable chicken feed pellets. This helps poultry achieve greater nutrition, thereby making them more capable and healthy.
The mixing system is a process of proportioning chicken feed raw materials according to the consumption requirements of chickens. This process usually occurs after the chicken feed is crushed, usually using a chicken feed mixer.
After batching, the feed is sent to the final piece of equipment, the pellet mill. In the process of chicken feed pelleting, the modulation of raw materials and the control of physical state are the keys to the quality of chicken feed pelleting. Heating, water addition time, water addition and evaporation are all important factors in granulation. The die hole diameter and die thickness of the ring die chicken feed pellet machine also affect pellet quality, relative hardness and yield.

Chicken Feed Pellet Process Design
Chicken feed ingredients are pelletized into dense pellets that are easy to store and transport. These chicken feed pellets are formed by passing soft pellets through metal holes and cutting them into small pieces based on the animal's consumption.The manufacturing process of this chicken feed pellet is very important as it is responsible for providing proper nutrition to the chickens eating these feeds. This controls their calorie intake through chicken pellets. Pellets are also helpful when the chicken diet needs to be increased or decreased.
In addition, there are cooling, screening, packaging, crushing and other parts, but these parts can be configured according to the actual needs and costs of investors. For example, if free cooling is used, there is no need to configure a cooler;If manual packaging is used, no packaging equipment needs to be configured. Of course, these are all based on small-scale chicken feed processing, such as small-scale poultry feed processing plants or chicken farms.
Advantages of Setting Up Your Own Small Poultry Feed Factory to Make Chicken Feed Pellets
Easy to install and operate: Setting up your own small poultry feed mill to process chicken feed pellets only takes a few minutes to install all the parts. You don't need a technician to do it! Operation is as easy as installation.
Low Investment: Because of its small size, compact structure and low power consumption, only a small investment is enough to start a processing business.
Low production cost: Only 1 or 2 workers are enough to make the whole small poultry feed mill work. Less labor, lower cost, so it greatly expands your net profit.
Wide range of application: It can be used to make various animal feeds such as cattle, dairy cows, goats, sheep, horses, pigs, chickens, broilers, ducks, rabbits, fish, and geese.

Make Your Own Chicken Feed Pellets At Home
If you don't want to invest in a small poultry feed mill business, if you don't have the support of a large chicken farm, and if you don't have enough capital, we usually recommend customers to make chicken feed pellets at home. Under the trend of more and more expensive feed prices, more and more poultry farmers have begun to choose to buy a feed pellet machine to make their own chicken feed. So what are the specific processing steps? What issues need to be paid attention to?
Choose a high-quality feed pellet machine
If you are looking for chicken feed making machine supplier, GEMCO Machinery should be your first choice, we can ensure the best wholesale price because all poultry chicken feed pellet machines are sold directly from our factory! Just contact us to get the details of the chicken feed pellet machine quotation list for free!


Hot Sale Chicken Feed Making Machine
This type of feed has recently become popular due to the many advantages of feeding chickens with pellets over meal or other forms of feed. The reasons for their popularity are:
Improved feed conversion: Most studies and field tests show that pelleted feeds can improve feed conversion rates for chickens compared to meal feeds.
Reduced dust: Pellets have almost no dust, unlike powdered feeds, which have more dust. These dusty feeds can put chickens at risk of respiratory disease.
Less feed loss: Pellets greatly reduce feed loss.
Small storage area: In the process of bagging and storage, the pellet feed occupies a small space per unit weight, which is convenient for storage.
Avoid picky chickens: The feed is all mixed into solid particles, so chickens can't be picky eaters and only eat what they like.
Hygiene: The high operating pressure and high temperature during chicken feed pelleting will kill most of the parasites found in chicken feed, thereby naturally reducing the parasitic load of the chicken.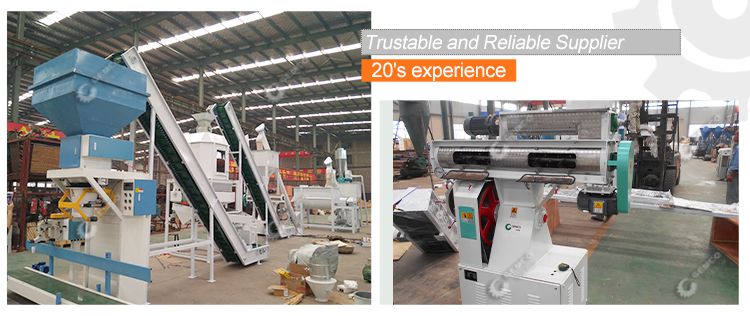 2TPH Chicken Feed Pellet Mill Project Report
GEMCO Machinery is a top poultry feed production equipment supplier, we are a high quality chicken feed pellet machine manufacturer in China, specializing in animal, poultry, chicken feed manufacturing machines for many years.We focus on technical research and development of high-quality feed pellet production lines. Our chicken feed making machines can maximize functionality in your poultry feed mill, providing you with great profit and convenience.Buy from GEMCO Machinery, we promise to give you the most favorable price for chicken feed making machine, for more information, please feel free to contact us!
Get In Touch
We receive enquiries in
English, Español (Spanish), Русский язык (Russian), Français (French) and العربية (Arabic)
. Our professional team will reply to you within one business day. Please feel FREE to contact us!