1~100TPH Commercial Livestock Feed Manufacturing Plant at Low Cost
Livestock feed refers to specially formulated and nutritionally balanced food designed to meet the dietary needs of various livestock species, including cattle, poultry, pigs, and more. And, setting up a animal feed processing plant for livestock can be a profitable business investment as the global demand for livestock products, such as meat, milk, and eggs, continues to rise, creating a constant need for high-quality livestock feed. (Read more: Small Animal Feed Production Line for Sales >>)


Setting up Animal Feed Pellet Plant for Livestock to Start Business
Livestock Animals: cattle, cow, sheep, goat, pig, camel, deer, rabbit, alpaca, etc.
Livestock Feed Pellets: Pure Forage Feed Pellet, Complete Feed Pellet, Concentrated Feed Pellets, Premix Feed Pellets;
Commercial Livestock Feed Processing Plant Designed by GEMCO for Sales
GEMCO stands as the unrivaled leader and trusted partner in setting up livestock feed processing plants, captivating investors with its premium quality feed mill machines and incomparable service. As an industry trailblazer, GEMCO brings an unparalleled blend of expertise and innovation for livestock feed manufacturing technology. Our efficient and cutting-edge animal feed processing technologies, seamlessly integrating automation and precision control systems to optimize productivity and elevate profitability of feed mill plant. GEMCO offers investors with cost-effective animal feed processing plant to capitalize on the booming animal feed market to maximize profit. (Related post: Low Cost Business Plan to Make Chicken Feed for Broilers >>)
Mini Livestock Feed Pellet Mill Plant for Sales - 500~1000KG/Hr
Small Scale Livestock Feed Pellet Processing Plant at Factory Price – 1~3Ton/Hr
Commercial Livestock Feed Pellet Manufacturing Plant – 1~100Ton/Hr

We can provid a detailed guide of step-by-step instructions on equipment installation, layout design, and operational procedures for livestock feed manufacturing plant setup. We can cover everything from selecting the right machinery and sourcing raw materials to ensuring proper pelletization techniques and storage solutions. With clear illustrations and concise explanations, our guide will empower you to set up an efficient and productive feed pellet plant for your livestock feed manufacturing business. Additionally, we also help to offer valuable insights on quality control measures, maintenance schedules, and safety protocols to ensure smooth operations and maximize output. Whether you are a seasoned professional or a newcomer in the industry, we can be your best partner.
How to Make Livestock Feed Pellets?
Livestock feed pellets manufacturing process can be simple or automatic in a complete animal feed pellet plant based on the investment and requests. Here's a general guide on how to make livestock feed pellets: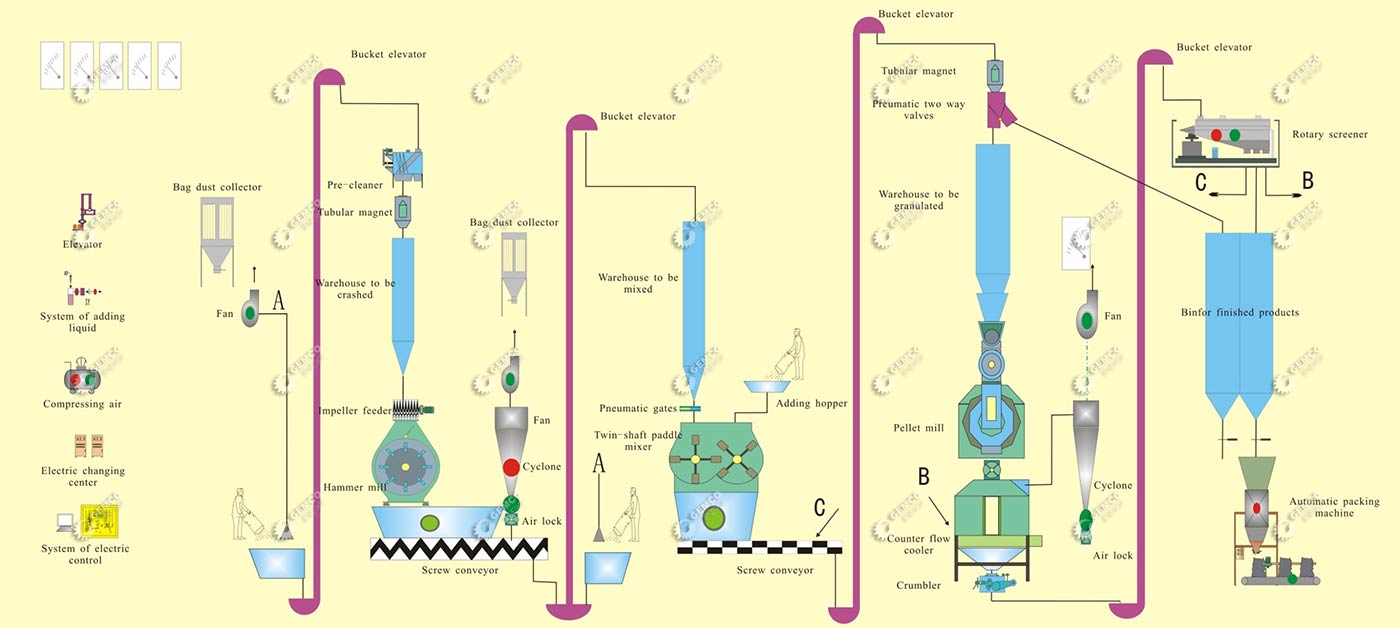 Commercial Livestock Feed Pellet Manufacturing Process Flow Chart
Raw Material Preparation: Gather the necessary ingredients for the feed pellets. This typically includes a combination of grains, protein sources (such as soybean meal), vitamins, minerals, and additives. Ensure the ingredients are of high quality and suitable for the specific livestock you're targeting.
Grinding: Grind the raw materials into a fine powder using a hammer mill or a similar grinding machine. This step improves digestibility and enhances the overall quality of the pellets.
Mixing: Thoroughly blend the powdered ingredients together in a feed mixer. This step ensures uniform distribution of nutrients throughout the mixture and enhances palatability.
Pelletizing: Feed the mixed ingredients into a feed pellet mill. The feed pellet mill compresses the mixture under high pressure, forming compacted pellets. The heat generated during the process also helps to sterilize animal feed pellets. (Latest news: 5TPH Grass Feed Pellet Making Machine to Indonesia for Livestock Feed >>)
Cooling: After pelletizing, the hot pellets need to be cooled down to prevent spoilage. Use a pellet cooler or a similar device to reduce the temperature and remove excess moisture.
Screening and Grading: Pass the cooled pellets through a vibrating screen to remove any fines or irregularly shaped pellets. This step helps ensure consistent quality and size.
Packaging: Once the pellets are screened, package them in appropriate containers or bags for storage or distribution. Label the packages with relevant information such as the feed type, date of production, and nutritional specifications.

Forage Grass Grinder for Livestock Feed Processing


Livestock Grass Feed Grinder at Factory Price
The forage grass grinder newly provided by GEMCO is a versatile hammer blade crusher designed to meet your diverse crushing needs for livestock feed manufacturing. Its unique water-drop-shaped crushing chamber, equipped with a secondary crushing chamber and a cutting device in the lower section, ensures exceptional crushing efficiency. The rotor boasts a special design featuring two different hammer-screen clearances, allowing for easy adjustment to achieve various crushing particle sizes. The hammer blades are reinforced with hard-wearing materials, ensuring extended durability and longevity. Mounted on a robust base, the large electric motor and shredder rotor are seamlessly connected through a column pin coupling, providing a reliable and balanced operation. With its ability to crush a wide range of granular materials such as corn, sorghum, wheat, and beans. Our forage grass ginder has been proven have experience reliable performance, efficient crushing, and exceptional durability. (Read more: How to Use Grass Pellet Machine to Make Grass Pellets for Feed?)
Get In Touch
We receive enquiries in
English, Español (Spanish), Русский язык (Russian), Français (French) and العربية (Arabic)
. Our professional team will reply to you within one business day. Please feel FREE to contact us!