How to Operate the Poultry Feed Mill Machine Correctly
The economical
R-type flat die poultry feed mill machine
, specially designed for professional feed production, is a new product researched, developed and launched by our excellent technical team through drawing up reasonable suggestions and following up users site for several years. This pellet mill is featured with scientific and reasonable structure and design, easy operation, high output, low consumption, high forming ratio, suitable for processing corn, bean pulp, straw, grass, peanut shell etc.
Best Cost for Investment of Small Poultry Feed Machine>>
). However, there are still some clients say that the output is low, it will be covered, the component is easy to damage etc. So, why do these problems occur? Improper operation causes those problems. Properly operating the feed pellet machine ca not only increase its output, but also improving its lifetime.
How to Operate The Poultry Feed Pellet Machine?
First of all, control the incoming raw materials well.
Moisture Content: The requirement of moisture depends on different kinds of raw materials. The moisture content of raw material is specified to 10%-18%. The materials should be mixed evenly.
Requested Size: The maximum size of the materials cannot exceed the diameter of the pelletizing hole. For example, if the diameter of the hole is 6mm, the length of the raw material cannot be more than 6mm. Please ensure the proper size of raw material according to the diameter of the hole.
Composition: This mill can process both single kind material and mixture with different materials. Pieces of stone and iron or other hard impurities cannot be mixed into the material; otherwise they will damage the die and roller.
Binder: Our mills are designed to pelletize without any additive binder. However we recommend using a binder in order to increase capacity and extend service life of die, roller and other wearing parts.
New poultry feed mill machine needs running-in for the first time use.
The die you have received has never been used. Therefore you need to grind in the mill. Please grind in before the first operation.
Oily mixture ingredients:
Mix 20% fine sand, 65% biomass material (sawdust) and 15% waste engine oil evenly. Total weight can be 10% of the feed capacity.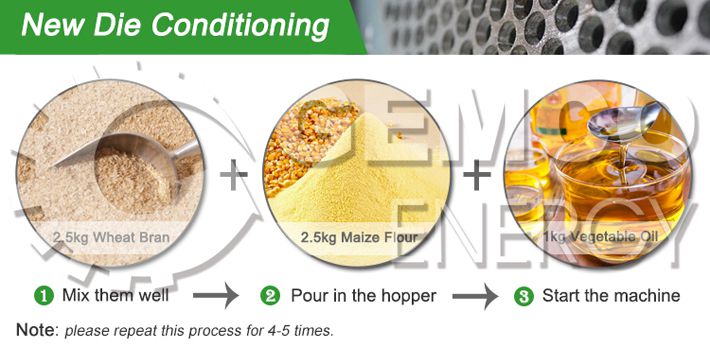 Die grinding-in procedures
Place a bucket under the discharge outlet. Collected material can be put back into the pellet mill to preheat the mill.
Start up.
Input suitable amount of oily mixture into the mill.
Continue to pour oily mixture in and let it run through pelletizing holes.
Re-use the oily mixture in a recycling manner for 30-40 minutes.
Pelletizing
Feed materials and run the mill after preheating.
Material with low moisture content may results in producing soft or powdery pellets; Material with high moisture content may leads to producing rough pellets.
Loosen or tighten the adjusting bolts on the both sides if it cannot produce pellets.
You may need to test several times on different materials or different moisture content to reach the best pellet quality.
Please contact us if it still does not work well after adjustments.
Shut Down the Mill
Before stopping the mill, please let oily mixture run through the mill at least 3 times. This procedure is imperative to the following operations. It saves a lot of time for starting and avoids material blocking the pelletizing holes.
Electric Motor: Press "Stop" button.
Diesel Engine: Switch off the clutch of the tractor to separate state when the tractor is idly running and move speed controller to "Stop" position.(For the clutch model tractor)
PTO: Refer to the diesel engine.
Get In Touch
We receive enquiries in
English, Español (Spanish), Русский язык (Russian), Français (French) and العربية (Arabic)
. Our professional team will reply to you within one business day. Please feel FREE to contact us!