Hot Sale GEMCO Feed Pellet Mill for Animals
Now, more and more farmers seek to buy reliable feed pellet mills to make high quality feed pellets for their animals or start animal feed pellet making business since pelleted feed has many advantages for the growth and development of animals, including


Make Animal Feed Pellet by GEMCO Pellet Mill
Avoid picky eaters. Compound feed formula has a variety of raw materials, comprehensive nutrition, can prevent animals to choose their favorite food and refuse to take other ingredients. Because pellet feed can be kept uniform during storage and feeding, the feeding loss can be reduced by 8%~10%.
High feed rate of return. In the pelletizing process, due to the combined effect of water, temperature and pressure, some physicochemical reactions occur in the feed, which makes starch gelatinize, the activity of enzyme is enhanced, can make feed of fed animal digest feed more effectively, translate into weight gain.
The storage and transportation of pelleted feed are more economical. It is also easy to manage and can avoid automatic grading of feed ingredients and reduce environmental pollution.
Hot Sale GEMCO Pellet Machine for Livestock and Poultry
Flat die pellet mill is also used to make animal feed pellets. In recent years, it has been widely used in the feed pellet production for pigs, cattle, sheep, chickens, fish, etc. The small feed pellet machine provided by GEMCO is new type flat die pellet machine and has been exported to many countries to help a great deal of farmers or businessman to manufacture high quality animal feed pellets. It is easy to operate and don't need too much professional technical knowledge. (Read more: GEMCO Pellet Machine Price >>)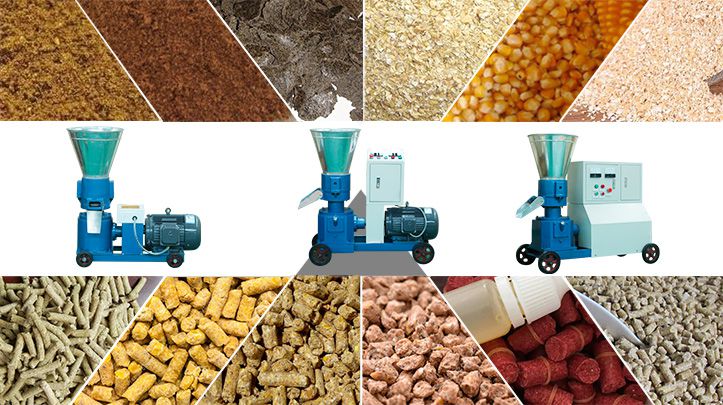 Gemco Feed Pellet Mill
BEST-selling GEMCO Feed Pellet Mill Models
Our ZLSP series pellet mills are the Hot Sale among GEMCO pellet mills, among which ZLSP 300B and ZLSP 400B are best-selling in the market due to its superior versatility. And, it is fairly easy to set up a small feed pellet line using them with other auxiliary equipment. Get the latest price list, please contact us directly!
| Model | Capacity | Power | Weight | Dimension |
| --- | --- | --- | --- | --- |
| ZLSP 300B | 600~800 kg/h | 22 kw | 380 kg | 1240*540*950 mm |
| ZLSP 400B | 800-1100 kg/h | 30 kw | 700 kg | 1560*640*1390 mm |
Please Note: GEMCO also provide other types feed pellet making machine that is driven by gasoline, diesel and PTO. And, the capacity of our mini animal feed pellet machine is about 60kg/h. If you are interested in knowing more types of GEMCO feed pellet mill and its latest promotion price, please just send us email directly!

Small GEMCO Feed Pellet Mill Testing Video
GEMCO Pellet Mill Hot Sale Now - Buy High Quality GEMCO Feed Pellet Mill to Make Animal Feed: Hot Sale GEMCO Feed Pellet Mill Offered by GEMCO Pellet Mill Manufacturer or Supplier, Guide on Process of Animal Feed Pellet Production and How to Start Animal Feed Pellet Making Business with Limited Cost in Tanzania, Egypt, Morocco, Ghana, South Korea, etc.
Notes to Use GEMCO Feed Pellet Mill for Animal Feed Making
It is fairly easy to operate GEMCO feed pellet making machine, but there are still some tips needed to pay attention when you are going to start the machine to make feed pellets. (Latest Post: How to Make Poultry Feed in Nigeria?)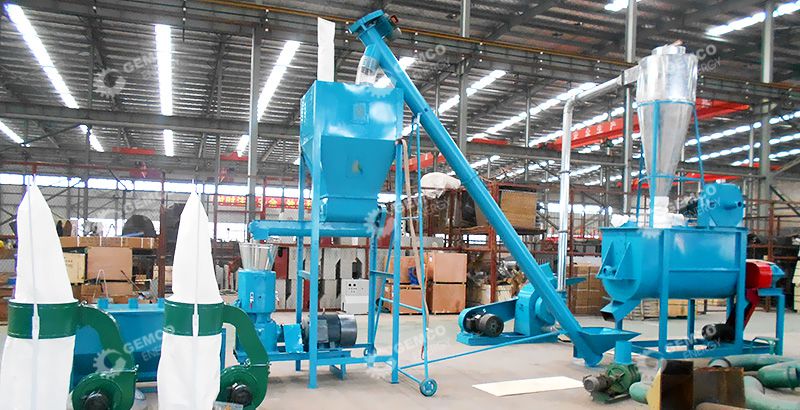 GEMCO Feed Pellet Mill for Animals
Raw Material should be Crushed below 6mm
Raw material crushing is an essential step before pelletizing. The materials only after the use of feed crusher to crush can be pressed by feed mill machine. Generally speaking, the crushing size of the material is related to the pellet diameter. The size of crushing particle size is the diameter of the pellet you want to press. For example, if your material pressing is 5mm, then the material needs to be crushed under 5mm. But, it is not strict in the actual animal feed pellet manufacturing process. Feed pellet mill manufacturer usually suggests that the raw materials should be crushed under 6mm, so it can be applied to all feed suppression.
Water Content Needs to be Kept at about

13%
When using the feed pellet machine, many people don't know the water content should be kept at about 13%. Most think that as long as the raw materials are crushed, then it can be processed by pellet mill machine. Actually, the pellet mill machine is dry in and dry out, which means the feed pellet manufacturing process has strict requirements for water content. Therefore, we recommend to keep the material moisture at about 13%. This moisture is very low, so the material is often required to be dried before pressing, if it is relatively wet.
Uniform Rate of Feeding is Required
Whether the feed processing machine has uniform speed feeding or not is related to its normal work. If fast feeding, easy to choke. If the feeding is slow, it is easy to cause empty running. So, keeping the uniform speed of feeding can ensure the normal operation of the machine, and can improve the work efficiency of the feed pellet making machine. If manual feeding is troublesome and inefficient, try to use screw conveyor for raw material feeding.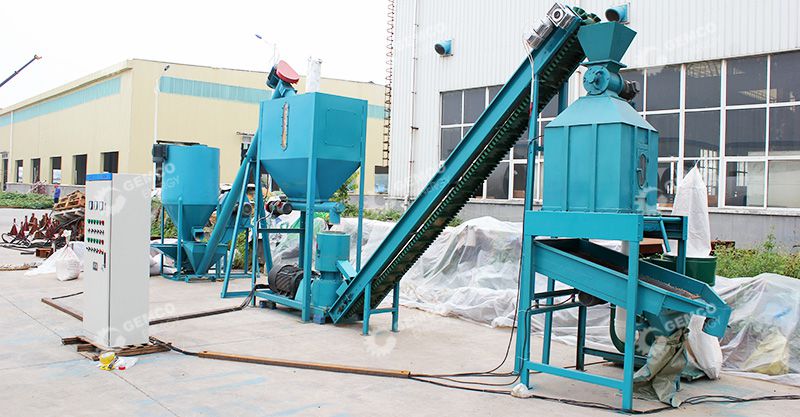 Small Feed Pellet Production Line Gemco
If there are some problems of your pellet mill, like the pellets are not smooth, or the pellet discharging speed is slow and there are too much powder in the pellets, in most cases, it is largely because the improper operation. If there are any questions, please get in touch with us, we can offer the full technical information for your reference!
Why GEMCO Feed Pellet Mill So Popular?


GEMCO Feed Pellet for animals
GEMCO pellet mills are all made from high quality raw materials like high steel alloy; all parts are processed by advanced equipment and technology. So the pellet mills for sale can meet CE, EU, BV standards.
GEMCO pellet mills have been exported to over 100 countries and areas in the world. All the machines run extremely well. Some buyers become our agents in their local market, some purchase again and again from our company, while some others tell their friends about our company and our products. All these have proved the good quality of GEMCO pellet mill.
GEMCO pellet mills can process various raw materials like grass, oil cake, peanut shell, straw, maize bran and so on to make feed pellets.
GEMCO keeps developing new technology to apply to the pellet mills to make their better and more efficient.
With GEMCO feed pellet mil, you will spend the least but make the most. Perhaps the prices of our pellet mills are not the lowest, but GEMCO can promise you the best quality with the same cost. Even if you encounter some problems when using our pellet mills, our professional after sales service team will help you find solutions at the earliest; this can greatly save your time cost. So, with GEMCO pellet mill, you do not need to worry any more. If you are also interested in buying a pellet mill to make animal feed pellets, GEMCO is your best choice!
Get In Touch
We receive enquiries in
English, Español (Spanish), Русский язык (Russian), Français (French) and العربية (Arabic)
. Our professional team will reply to you within one business day. Please feel FREE to contact us!