Fish Feed Mill Offering Best Fish Feed for Fish Diet
Diverse Fish Feed Mill for Sale
Fish feed mill
is specially
manufactured to produce feed for fish and other aquatics
. Through high pressing between die and roller, the raw material is formed into cylinders with uniform diameter and length. According to different working principle, fish feed mill is divided into two kinds,
flat die type and ring die type fish feed mill
.
Flat die fish feed mill has two types, respectively are D-type and R-type based on the rotating style, the former adopts die rotation while the latter is roller rotation. The production capacity of this flat die fish feed machine ranges from 50kg/h to 400kg/h, suitable for small scale fish feed workshop, farmed fishier, fish farming etc.
Differ from flat die fish feed machine, the pelleting die of ring die type is just like a 'ring', that is the name origin. It has two types, which are vertical type and horizontal type. Ring die fish feed mill is designed in large production capacity ranging from 400 kg/h to 2.5 t/h, more suitable for large fish feed production factory, large fishing farm etc.
Besides the two kinds fish feed mills, there also has a type of fish feed maker, which is called fish feed extruder for producing floating fish feed, the production is divided into two kinds, including wet type and dry type, the difference between them is the addition of steam or not.
All these fish feed mill can make good quality fish diet, you can choose one of them according to your own requirement. If our single fish feed mill can not meet your requirements,
we also can customize fish feed production line for you
.
Floating Fish Feed or Sinking Fish Feed?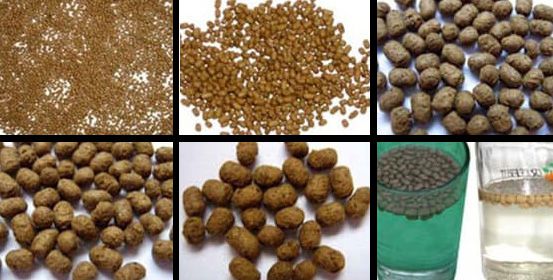 Fish feedstuff is classified into two kinds, floating and sinking, which one is the best? Actually, no matter what form the fish feed belongs, only necessary nutrition is contained inside, they can help fish grow well. Fro fish, what nutrition most they need are protein, saccharides, fatty and vitamins and mineral elements. Generally, the type of fish decides the form of fish feed, thus the floating fish feed is suitable for weever, fish fry and invertebrate aquatics, while the sinking fish feed is suitable for shrimp, crab etc. And different fish has different feed in-taking habits, you should choose or produce the fish feed according to the actual situation of your fish.
Fish Feed Mill Processing Details
Before you making fish feed, you should prepare the required raw materials well, this fish feed machinery can produce various of raw materials like oil cake, rice dust, maize, wheat chaff, cotton seed etc, if needing, you can add some other nutrition agents into it.
Fish feed mill has a strict requirement for raw material in moisture and size, the moisture should range from 12% to 18% and the size can not over than the die hole diameter. If your raw material doesn't meet the requirements, you should equip crushing machine for size reduction and dryer for moisture content adjustment.
For pellet extruding processing, when you place the raw materials into the fish feed machine, the die and roller will rotate under the transmission of driven shaft. Then, the raw materials would be pressed into the die hole under the great pressing. The finished product is cut into uniform length by the cutter in the discharging hole.
After pelleting, the finished fish feed pellet should be cooled for better use. you can put them in a cooling place for self-cooling, and we can offer you a cooling machine for saving your cooling time and prolonging the quality period of fish feed.
Want to make high quality fish feedstuff? Using fish feed mill can make it came true, don't hesitate and hurry to contact us for more information!
Get In Touch
We receive enquiries in
English, Español (Spanish), Русский язык (Russian), Français (French) and العربية (Arabic)
. Our professional team will reply to you within one business day. Please feel FREE to contact us!