straw pellet mill for sale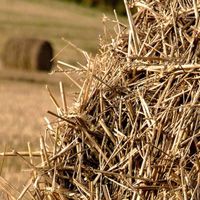 Straw pellet mill is used to make straw into pellets. The straw includes rice straw, wheat straw, barley straw, etc. Usually they are used to produce paper pulp, carbon black, animal bedding, cattle feed, or used as fuel. But to be used as feed or fuel, it is better to make straw into pellets.
Why do you need to make straw into pellets?
Used as fuel: the biomass straw pellet mill can make straw into compact pellets with high density, so that they are easy to store and transport. Straw pellets will generate more heat than raw straw, since for the same volume, pellets have much higher density than straw. Besides, the straw pellets will release less smoke than raw straw, since the straw is crushed before pelletizing, and the straw pellets can burn more fully. After burning, the ash left can be used as field fertilizer.
Also the straw pellets can be used as horse bedding. The straw pellets bedding are light-coloured, good absorbant, dust and mold free, and with natural smell.
Used as feed: straw is a good source of cattle feed. If made into pellets by feed straw pellet mill, they will be easier for animals to chew. And when making pellets, you can add other additives, such as corn powder, protein powder and other nutrients into the straw powder to make the pellets more nutritious and tasty for the cattle like sheep, cow, horse, donkey, rabbit, goose, etc.
About straw pellet mill
The small straw pellet mill for sale made by GEMCO is very hot sale all over the world. All parts of the straw pellet mill is made from high quality raw materials and processed by advanced technology.
| | |
| --- | --- |
| | |
| Fuel pellet mill | Feed pellet mill |
As one of the leading manufacturers in China, we can guarantee that our straw pellet mills have the same quality as straw pellet mill UK but with much lower price! Many customers from UK, America and other European countries have bought straw pellet mills from GEMCO. So you do not need to hesitate before choosing straw pellet mill from us!
By Shirley Wang
Get In Touch
We receive enquiries in
English, Español (Spanish), Русский язык (Russian), Français (French) and العربية (Arabic)
. Our professional team will reply to you within one business day. Please feel FREE to contact us!