make charcoal briquettes with charcoal briquettes machine
Charcoal briquettes made by charcoal briquettes machine are now widely used in industrial and agricultural fields as well as people's daily life. In fact charcoal briquettes can be made from biomass waste like sawdust or wood shavings. So many people who have large quantity of wood waste want to invest into charcoal briquettes machines. But most of them are not clear about how charcoal briquettes are made.
The production process of charcoal briquettes machine
Raw material drying.
To guarantee the quality of charcoal, first good quality wood briquettes must be made. Besides the charcoal briquettes machine and charcoal making technology, the moisture content of raw material is also an important factor that affects wood briquettes quality. Generally the raw material moisture content is required to be lower than 10%. So the first step for charcoal briquettes making is raw material drying.
When drying the sawdust that contains too much water, we can put it outdoor for 1-2 days to let its surface moisture vapor to decrease machine drying time and energy consumption. Then put the sawdust with proper particle size into the hot air dryer till its moisture content to less than 10%. The drying temperature is generally 140-300℃.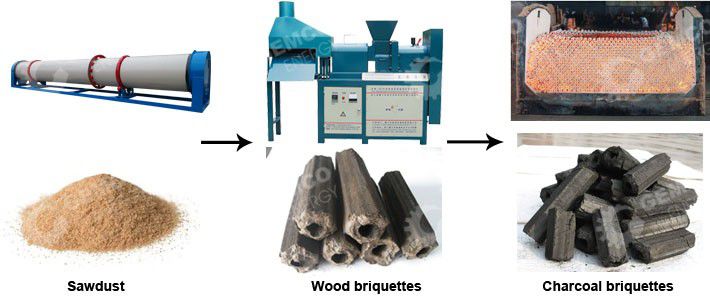 Briquetting.
The briquetting is realized by
charcoal briquettes machine
(also known as screw briquette machine). The forming sleeve of charcoal briquettes machine has a heating ring outside which can heat the forming sleeve to about 350℃.To guarantee the sawdust briquettes have smooth surface, high density and no cracks, we can select proper forming temperature according to the raw material species and moisture content. But the most suitable temperature is finally determined by field test.
Carbonization (charking).
The sawdust briquettes are carbonized inside the furnace with little oxygen. Generally this process can be divided into 3 temperature periods:
Drying period. From ignition to the furnace temperature reaches 160℃. In this period, the moisture inside the sawdust briquettes is mainly evaporated by heating and their own combustion. The chemical composition of briquettes is unchanged.
Initial carbonization. In this period, the furnace temperature increases to 160-200℃ by the heat generated in the combustion of briquettes. Some components like hemicellulase are decomposed into CO2, CO and others.
Comprehensive combustion period. In this period the temperature reaches 300-650℃, and its components are thermally decomposed sharply while abundant of liquid like acetic acid, methyl alcohol and wood tar and gases like methane and ethylene are generated. These combustible gases burn inside the furnace and increase its temperature. The wood briquettes are destructively distillated into charcoal.
The charcoal briquettes machine is the most important part in charcoal briquettes making. So to
choose a good charcoal briquettes machine
is the first thing that you should consider.
By Shirley Wang
Get In Touch
We receive enquiries in
English, Español (Spanish), Русский язык (Russian), Français (French) and العربية (Arabic)
. Our professional team will reply to you within one business day. Please feel FREE to contact us!