How to Make Elephant Grass Briquettes?

Elephant grass/napier grass is a large, perennial, tufted grass of the family Gramineae and Millet, often with underground stems. Its culms are erect, up to 4 m tall. Elephant grass is native to Africa and then was introduced and cultivated in Asia, Oceania and America. Elephant grass has an important economic value as a raw material for many industries:
| No. | Applications |
| --- | --- |
| 1 | Emerging biomass energy source; |
| 2 | Raw material for high-quality animal feed; |
| 3 | Ideal for the protection of ecosystems; |
| 4 | Raw material for paper industry; |
Compared to other new energy crops, elephant grass is very cheap to cultivate and harvest, has high yields, can be harvested three times a year, and has a high ethanol content, making it ideal for biofuel development. Elephant grass can be made into biomass pellets and biomass briquettes. This article focuses on how to make elephant grass into biomass briquettes, if you are interested in how to make elephant grass into biomass pellets at low cost, please see Elephant Grass Pellets Production Process. Any questions about how to process elephant grass, just contact our professional engineers!

How to Make Elephant Grass into Briquettes?
Elephant grass is a great raw material for biomass briquettes making. So, how to make briquettes from eleplant grass. Actually, elephant grass briquetting process should rely on a series of professional biomass briquetting machine. Below is the main steps to make biomass briquettes from elephant grass.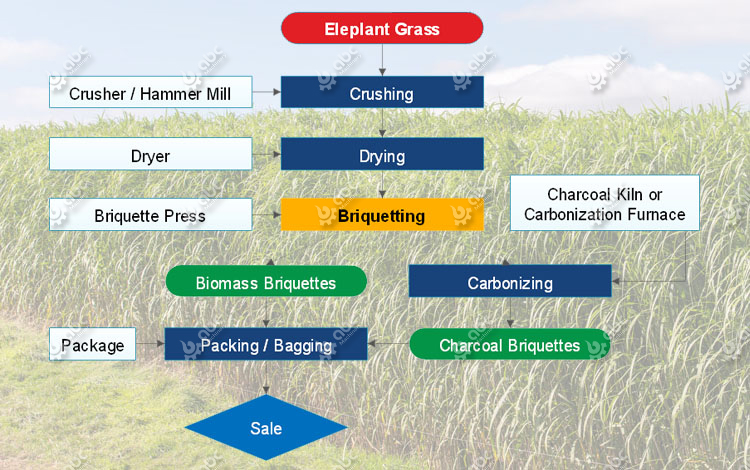 Crushing: Because elephant grass is relatively long and can't be directly processed into briquettes, it needs to be crushed into small pieces for further processing. And, this process also can help to protect biomass briquetting press machine.
Drying: Wet elephant grass, even after crushing process, can't be sent into biomass briquette machine since it should be dried through the dryer to meet moisture requirements for briquetting. If the elephant grass is dry and the moisture content reach the standard, this process can be ignored.
Briquetting: When elephant grass is prepared, then the next step is to process into briquettes into biomass briquett machine to get briquette as required sizes and shapes.
Some clients may also need to further process these elepant grass briquettes into charcoal since charcoal briquettes business is profitable and the demand also keeps increasing. To turn elephant grass briquettes into charcoal, the whole briquetting plant can be designed with carbonation process, that is to add carbonization furnace. If you are interested in making elephant grass into charcoal briquettes, please contact our briquetting engineers to get more informations!

Napier/Elephant Grass Briquette Making Machine for Sales
The GCBC series briquette making machine is our latest innovation and designed to make high density briquettes from a very wide range of biomass raw materials, like wood waste, sawdust, bagasse, banboo, coffee shell, nut shells, olive pomace, etc. This state-of-the-art machine is the result of our ongoing commitment to provide our customers with the best possible solutions for their specific needs. (Read more: How to Make Briquettes from Sawdust?)


Factory Price Elephant Grass Briquettes Machines
Our elephant grass briquette machine offers efficient and reliable performance, with a long service life, making them ideal to start biomass briquetting making business. With their ease of operation and low maintenance requirements, they are perfect for biomass briquetting business to reduce operation cost and increase briquettes production efficiency. (Related product: Straw Briquettes Machine for Sale >>)

Business Plan: Setup Complete Briquetting Plant to Process Elephant Grass
To set up a complete briquette plant to process elephant grass into briquettes, a reliable supplier plays a key important role on your business, including lower biomass briquettes manufacturing plant cost.


Mini/Small Elephant Grass Briquetting Plant
GEMCO-ENERGY has been focusing on biofuel machinery since the establishment in 2004. we are committed to providing our customers with long-term value and to becoming an industry leader in terms of biomass pelletizing and biomass briquetting. We strive to continually improve our equipment and services to ensure our customers are receiving the best possible experience for their briquetting business. Just contact us directly to get more briquetting plant project report and machine price list!
How A Complet Briquette Plant Works?
We have built many biomass briquette plant projects around the world, including Thailand, Philippines, Pakistan, Chile, Uganda, Canada, Zambia, Uganda, the United Kindom, etc. If you are intestested in knowing the total cost to set up a complete elephant grass briquettes production line, just contact us to get more details!
Get In Touch
We receive enquiries in
English, Español (Spanish), Русский язык (Russian), Français (French) and العربية (Arabic)
. Our professional team will reply to you within one business day. Please feel FREE to contact us!