Wood Pellet Production Line
Wood pellets are known as the best biomass fuel pellets of high heat value.
GEMCO wood pellet production line
can not only make small wood pellets with different diameter, but also can product different kind of raw material. Wood logs, wood chips, sawdust and other wood residues including pine wood are also suitable materials for making pellets with the extruding plant.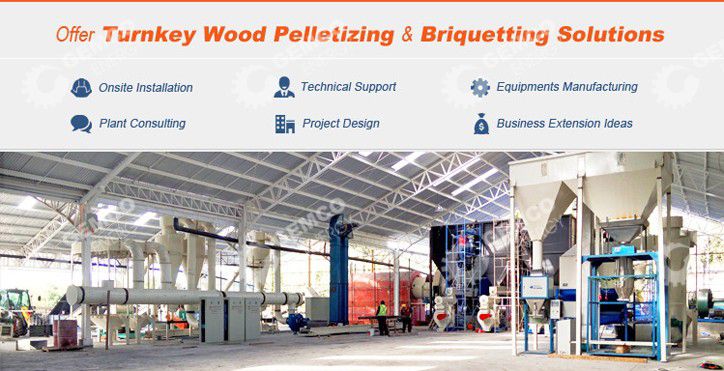 Mostly an integral wood pellet production line is composed of
wood chipper/skiving machine, hammer mill, conveyor, dryer, cooler, wood pellet machine and package machine.
In fact, except the main wood pellet mill, not all other auxiliary equipment is essential for a pellet plant. You should drop one or two equipment depending on your production scale and make your own customized pellet plan. For small pellet production plan, you can drop some kind of process equipment to save money.
Flow chart of complete wood pellet production line:

The Key Wood Pelletizing Line Equipment:

Wood Pellet mill (ring die type suggested)
Ring die pellet mill is the key part in a complete pellet making line. It is mostly used to process wood materials like wood chips, sawdust, tree branches, logs, and so on, so it is a kind of large scale wood pellet mill.
Why it is called ring die pellet mill?
The reason is that the main part of this machine is a circular ring, which is called a "die". and there are 2 rollers inside the ring to rotate and extrude the biomass in the middle to go through the die holes and cylindrical pellets are made. It is one of the most important parts in wood pellet production line.
Advantages of ring die pellet mill over flat die pellet mill:
As the main part of wood pellet production line. Ring die pellet mill have so many adventures.First of all, it is a large pellet equipment. So it is mostly used in industrial pellet production.
The ring die pellet mill is especially suitable for processing wood and palm fiber. So many investors with large quantity of wood or palm fiber material choose ring die pellet mill instead of flat die pellet mill.
A set of ring die pellet mill has relatively longer service life compared to flat die pellet mill. Otherwise it won't be cost-effective.
The pellets made by ring die pellet mill have larger density and smoother surface since ring die pellet mill has higher pressure.
In brief, if you want to produce pellets in large scale, ring die pellet mill is your best choice.
Over years of researching and practicing, GEMCO ring die pellet machine has been upgraded and patented. We have improved the ring die by adjust the technical parameters so that to prolong the service life of ring die and ensure no cracking in pelletizing. (One GEMCO ring die can be used to make nearly 1000 tons of wood pellets). Wood pellet production line is multi-machine parallel to expansion production and all automation operation. It can be customized by costumer.
Get In Touch
We receive enquiries in
English, Español (Spanish), Русский язык (Russian), Français (French) and العربية (Arabic)
. Our professional team will reply to you within one business day. Please feel FREE to contact us!